2018 Volkswagen Golf R Support Now Available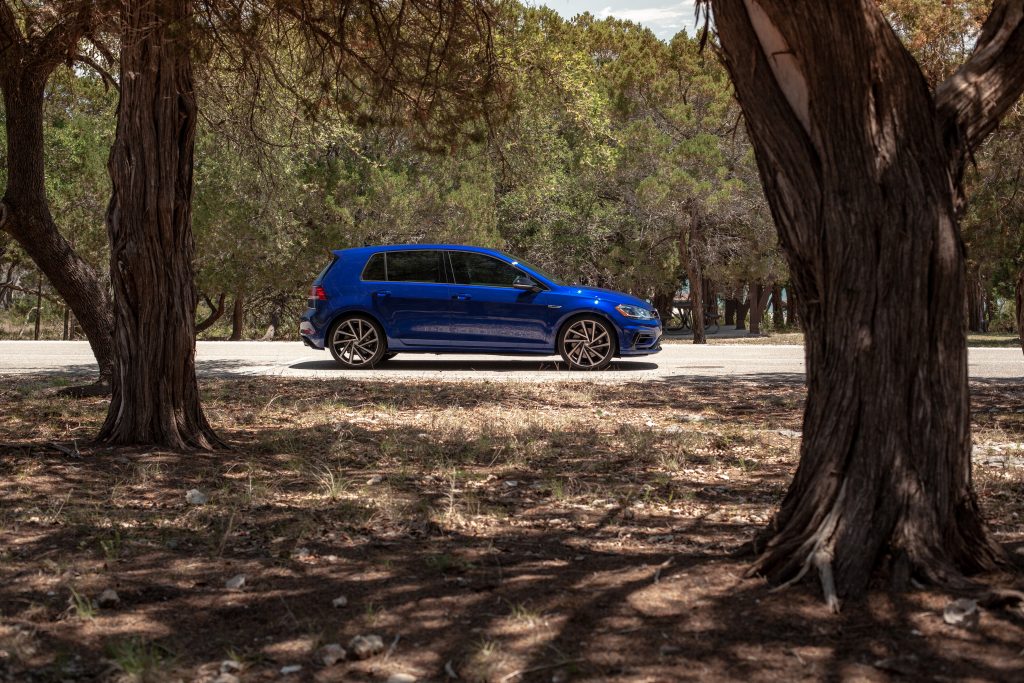 2018 Volkswagen MK7 Golf R Accessport support is now available! A full line-up of off the shelf maps, several hard parts, and available custom tuning have also been released! A complete list of currently supported vehicles is below.
2018 Volkswagen Golf R (Mk7) DSG USDM
2018 Volkswagen Golf R (Mk7) MT USDM
The Accessport provides handheld DME flashing that you can do in any location at anytime.  No special tools or dealer/tuner visits are required!  The Accessport comes pre-installed with Stage 1, Stage 1 High Boost, Stage 2 and Stage 3 Off-The-Shelf (OTS) maps for the Manual Transmission Golf Rs.  Stage 2 and 3 maps with reduced torque for DSG cars are available on the Accessport for vehicles with no DSG tune (v107 maps).  Stage 2 and Stage 3 maps with increased torque for DSG cars will need to be downloaded from the COBB website (v108) as they require a DSG tune (not yet available through COBB).  Downloaded maps from the website are packaged in "map packs."  More details on how to download and transfer map packs can be found HERE.
---
Stage Power Packages
We are very excited to release Staged Power Packages along with Off The Shelf maps.  Hundreds of hours go into this R&D process and we take great pride in making our own OTS maps. OTS maps are included for free on the Accessport and any updates are a free download on your home computer, then easily installed on your vehicle using the Accessport, no dealer trip required. OTS maps are a great way to follow a proven upgrade path using tested and known Golf R parts.
The Accessport V3 is the world's best selling, most flexible ECU upgrade solution. Unlock power hidden within the vehicle by replacing conservative factory settings with more aggressive calibrations. Upgrade forever with off-the-shelf (OTS) calibrations for most bolt-on modifications. It's the last engine management solution you'll ever need. The Stage 1 Power Package will include an Accessport V3 and COBB High Flow Filter.
Note that the Stage 1 High Boost and higher Off The Shelf maps can be used but an upgraded clutch is recommended.
---
Upgrading the intake on a turbocharged vehicle helps to decrease pre-turbo vacuum. When a restriction is opened up, it allows the engine to produce additional power while under less stress. Want the world's best selling, most flexible ECU upgrade solution along with COBB's Intake System to increase air flow? Start here, down the modifying road with the best bang for your buck by treating your vehicle to parts that will increase your power and improve overall driveability. The Stage 1+ Power Package includes an Accessport V3 and COBB Volkswagen Big SF Intake System.
---
| | |
| --- | --- |
| | |
The Stage 2 Power Package will completely change the attitude of your MK7 Golf R.  Replacing the factory intake and front mount intercooler will help get more air in and keep it cooler prior to entering the engine. That cooler charged air contributes to a significant bump in power over the Stage 1 Power Package. The Stage 2 Power Package includes an Accessport V3, Volkswagen Big SF Intake System, and AMS Performance Front Mount Intercooler.
---
Stage Power Package – Power Gains
Power gains are represented by percent gains over stock. Peak gains are measured as the difference between the highest points of the two plots. Largest gains are measured as the largest gain at any single point between the two plots. For additional information regarding Off The Shelf Maps, visit our Map Notes Page.  Note that a Stage 3 power package is not yet available but soon will be!  In the meantime, in addition to the parts in the Stage 2 Power Package, the COBB Downpipe and any compatible upgraded cat-back system will work with the Stage 3 Off The Shelf Maps.
Additional Hard Parts
 
 Volkswagen GESi Catted 3″ Downpipe Golf R (Mk7) 2015-2018 USDM

Improve exhaust flow on your Golf R with the COBB Catted Downpipe! This downpipe features a High Output GESI catalytic converter, a resonated mid-pipe, and, with the included adapter, is compatible with either stock or stock-replacement 3″ cat-back exhausts. A heat shield is also included to protect engine components from high levels of heat associated with the downpipe.  Tuning is required when installing an upgraded downpipe.  The COBB Stage 3 OTS Maps are compatible.

 
 Volkswagen Eibach Anti-Sway Bar Kit Golf R (Mk7) 2015-2018 USDM
Our ANTI-ROLL-KIT reduces body roll through increased design stiffness over stock Sway Bars. The result: increased handling and cornering grip in any performance-driving situation. Manufactured from cold-formed, high-strength aircraft-grade steel for precision performance, and finished with a long-lasting red powder coat finish, the ANTI-ROLL-KIT comes complete with greased urethane bushings for improved responsiveness and all mounting hardware and instructions for easy installation.
 
 Volkswagen Eibach Lowering Springs Golf R (Mk7) 2015-2018 USDM

The Eibach PRO-KIT is the perfect answer for most frequently-driven street cars. It's a legendary sport spring system that dramatically improves both a vehicle's performance and appearance. Every Eibach PRO-KIT is designed and tested by suspension engineers and performance driving professionals to deliver aggressive good looks and high performance handling, without ever compromising safety or ride quality. By using the proprietary, progressive spring design, PRO-KIT Performance Springs provide the ultimate balance to take your passion for driving to a whole new level. As we have learned from racing and independent testing has proved – lowering your car or truck's ride height also improves your aerodynamic efficiency by forcing more air over the car and less underneath (where most of the drag is found on any vehicle), resulting in higher top speeds on the track and better MPG on the highway.

Volkswagen Boost Tap Golf R (MK7) 2015-2018 USDM

Utilize the COBB Boost Tap for your Golf R to cleanly gain access to a boost reference. This installs between the factory MAP sensor and intake manifold and allows for one boost reference line. Includes required hardware for installation as well as a set screw for capping the port if needed.

Volkswagen COBB Knob

The COBB Knob is designed to keep those extended shifting sessions exhilarating. The billet aluminum base is anodized in your choice of red or black to help set the mood and is internally threaded to provide a tight fit onto the shifter shaft that won't come loose in the most frenzied of gear changes. The satin black or white delrin knob feels incredible and has a perfectly round contour to fit right in the palm of your hand. The package is complete with a COBB logo boldly laser etched into the base to let everyone know whose knob you hold. The knob weighs in at a lightweight 117 grams, encouraging fast, smooth thrusts into every gear. Spin on a COBB Knob and go for a ride!

The included set-screws lock the threaded adapter onto the factory shifter. The COBB Knob then securely threads onto the adapter.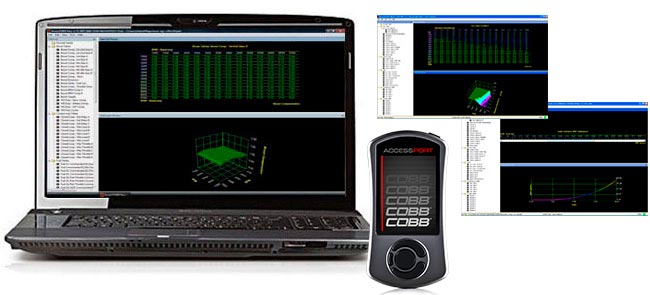 Ready to push the car a little harder? Have modifications done outside of a typical OTS map? We couldn't be any happier to let you know there is finally a solution: Accesstuner. A Protuner in our worldwide network can create a custom map for your exact car, your exact fuel, your exact climate, your exact modifications, and your exact driving style. Full control of the DME using OEM tuning tables and OEM tuning strategies melded with COBB Custom Features for the ultimate VW tuning solution.
Find your nearest Protuner by using our online Dealer Locator.