Mitsubishi Evo X Stage 4 Hard Parts and Off The Shelf Maps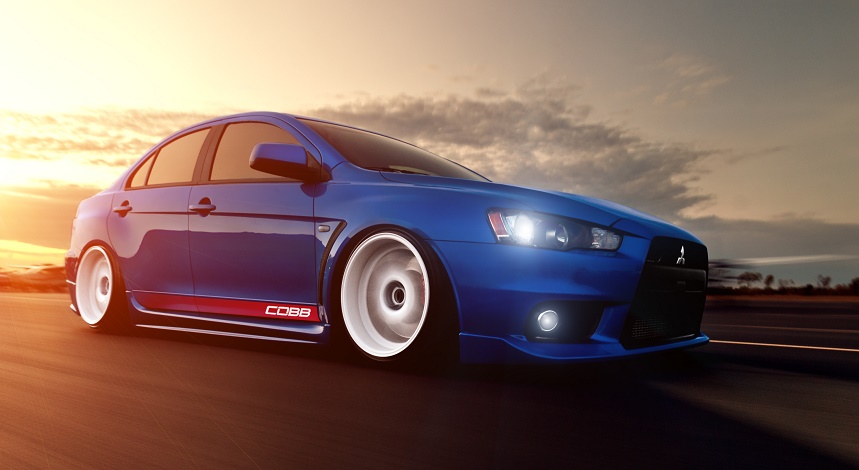 Today, we're happy to announce the Evo SF Intake + Airbox, the  Stage 4 Off The Shelf maps, and the additional turbocharger and other Evo X parts that go with it!
The Stage 4 Power Package includes ALL of the bolt-on goodness that will quickly and easily transform your Evo X into one of the fastest cars on the street.  The full line-up of parts in the COBB Stage 4 Power Package is guaranteed perfect fitment and easy to install.  The choice of quad tip or oval tip cat-back exhaust is available.  The COBB Accessport is included and comes with the Stage 4 Off The Shelf map which is compatible with all the Stage 4 modifications.
| | |
| --- | --- |
| | Hardware Requirements: Stage 4  |
This package is capable of even more power.  Below is an example of what can be done with a Protune on E85 fuel.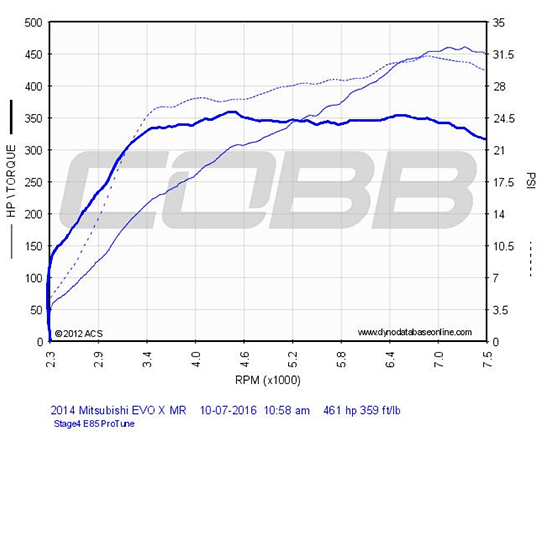 This was done on a 2014 Evo X MR with the Stage 4 Power Package as the only modifications!  This package can make even more power but the motor should be built for power levels not too far beyond what is shown above.
---
This release also includes reworked Stage 3 Power Packages which now includes the Airbox with the SF Intake.  The Turbo Oil Supply Line, Turbo Gasket Set, Turbocharger, and Fuel Pump which make up the Stage 4 Power Package are also available separately.
| | |
| --- | --- |
| | The COBB Tuning Stage 3 Power Package combines our Accessport V3, SF Intake + Airbox, Turbo Inlet Hose, 3-Port Boost Control Solenoid, and free-flowing turboback exhaust (choice of quad tip or oval tip) to fully outfit your EVO X! Simply plug-in and bolt-on these components for excellent power gains, outstanding build quality and an impressive exhaust note. |
---
Newly Added Hard Parts
The C.A.R.B. certified COBB Tuning SF Intake + Airbox utilizes our custom design to optimize flow for ideal performance. The custom conical cloth filter feeds filtered air directly to the engine, while maintaining optimal intake velocity and minimizing turbulence. The COBB SF Airbox for the Evo X will help to prevent hot and turbulent air from being ingested into the engine.
The Mitsubishi FP MHI TF06-18K Upgraded Turbo for the Evo X is a direct bolt-on application that delivers dramatic increases in performance with stock-like spool and driveability. Use with the COBB Stage 4 Package and Off The Shelf map for a full furn-key solution.
 The high flow replacement oil supply line for the Evo X vehicles are now available. This new high flow oil supply line allows plenty of oil to get to your turbo to keep you from oil starving the bearings. Included with this line is an inline oil filter to help protect your turbo from any contaminants your oil may pick up.
 The Evo X turbo gasket set can be used to replace worn or leaky gaskets on your factory turbocharger.  It can also be used during the install of your upgraded MHI TF06-18K turbo.
 AEM's 320lph E85-Compatible High Flow In-Tank Fuel Pumps feature robust internal construction that is designed to withstand the low lubricity characteristics of ethanol and methanol fuels, and are tested to work with ethanol fuels up to E100, methanol fuels up to M100 and all types of gasoline. Its compact, short body design (65mm length) with mounting hooks also makes it ideal in universal applications that have fuel tanks with tight tolerances.

The 320lph E85-Compatible High Flow In-Tank fuel pump includes a wiring harness, pre filter and O-rings. Every AEM 320lph E85-Compatible Fuel Pump is tested to flow 320 lph at 43 PSI before it is packaged for sale.