Ford
Accesstuner for Ford
$ 0.00

---
Emissions
This part is not an emissions-related part and therefore can be used on Emission Controlled Vehicles.

---
Description
Accesstuner is undergoing various updates and is not available at this time
Accesstuner is engine tuning software created for enthusiast tuners. Accesstuner allows the user to get into the heart of the OEM ECU and create custom calibrations for vehicles equipped with virtually any performance modification. The end result is a tune that is custom tailored to the vehicle's unique modifications, producing maximum power gains while maintaining the drive-ability and sophistication inherent in the OEM ECU.
COBB Tuning does not provide calibration support for Accesstuner users. For information regarding tuning strategies and tips, reference the Tuning Guides mentioned below.
System Requirements: Windows 8.1, 10; (Windows ARM not supported) & 11.
Accesstuner does not support emulated or virtual environments.
Accesstuner is only compatible with V3 Accessports.
Accestuner for Ford F-150 Raptor/Limited does NOT include TCM tuning.
---
Why?
Accesstuner Software for Ford
---
Features
Accesstuner for Ford
Simple Interface with Tuning Flexibility
Same tuning capabilities as our Accesstuner Pro shop grade software
Access to a huge number of tables for full tuning control
COBB Tuning provided tuning documentation
Compatible with V3 Accessports Only
---
Gallery (7)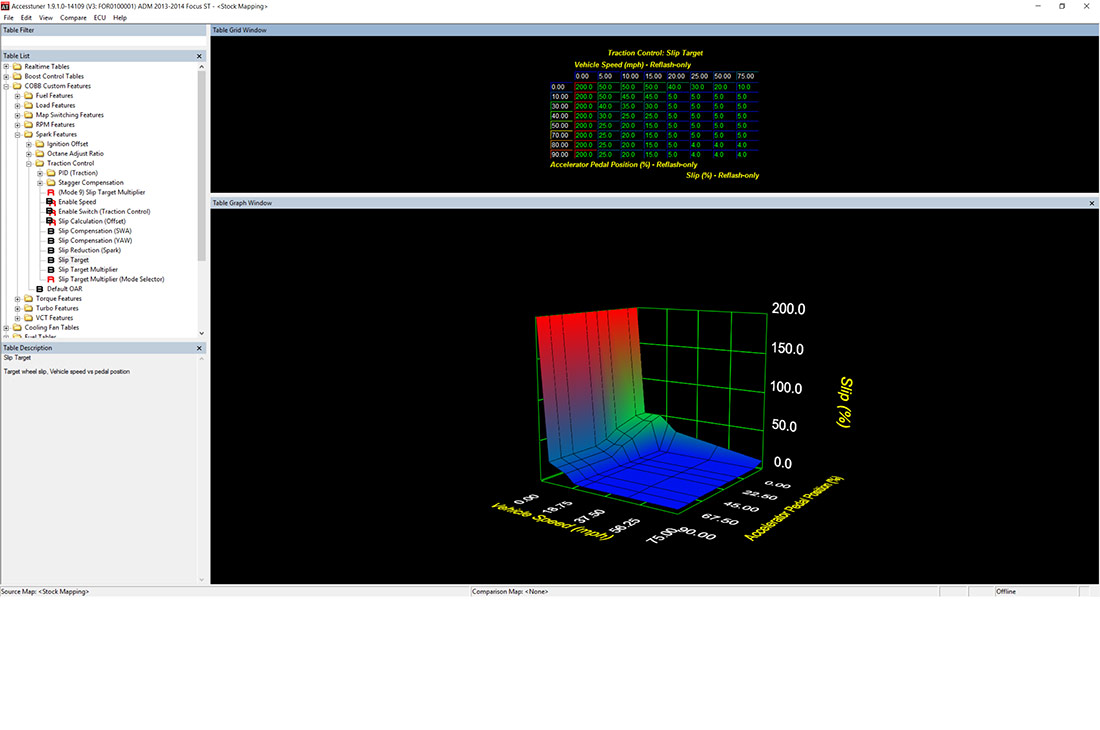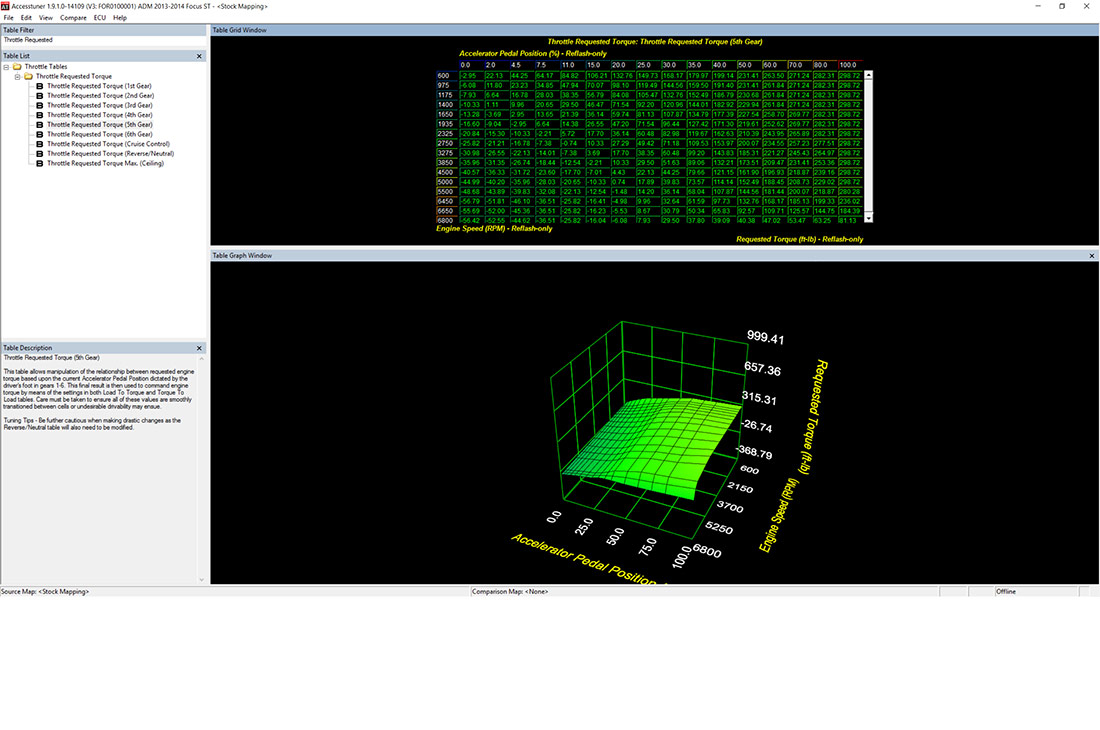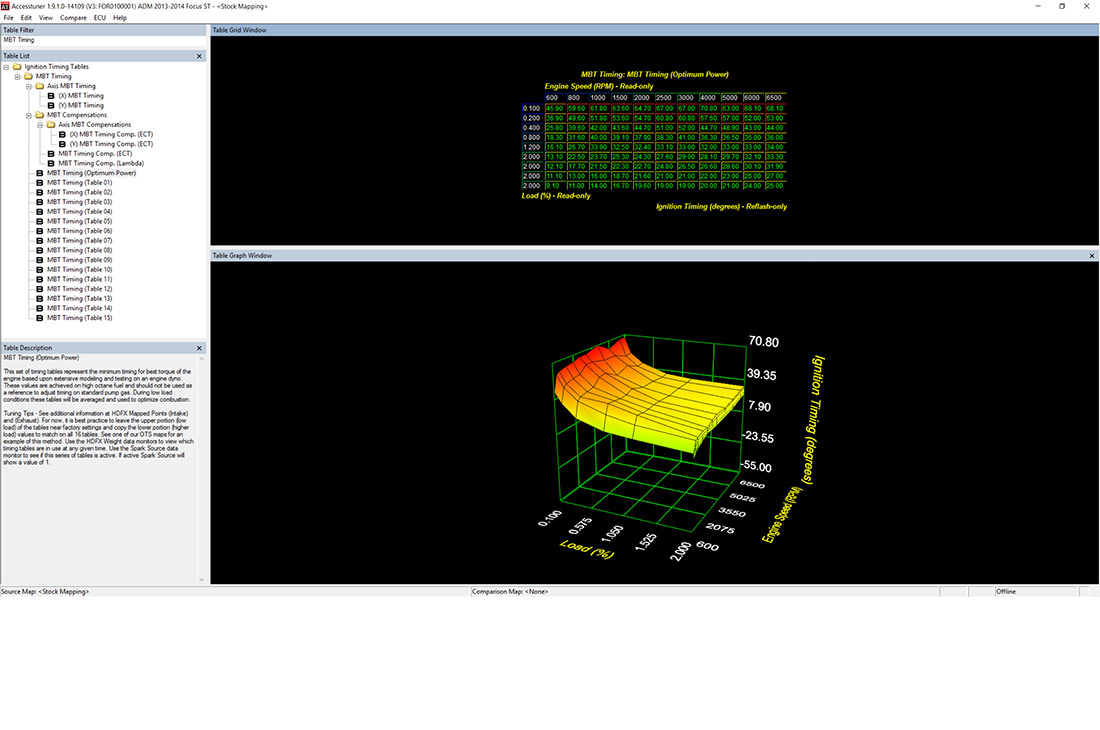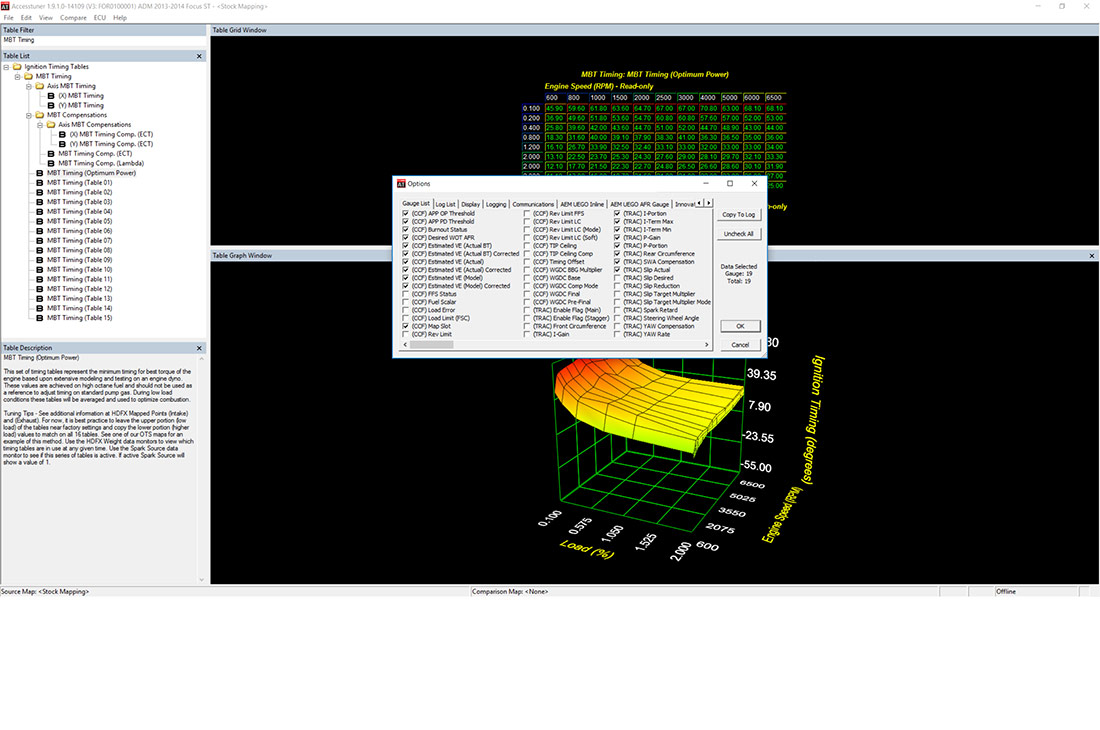 ---
Details
ACCESSTUNER SUPPORT & UPDATES DOCUMENTATION:
Accesstuner Support Page
---
CUSTOM TUNING FEATURES: 

COBB Traction Control: New COBB Advanced Traction control bridges the gap between your tire and the road. Traction control allows you to adapt your cars power to the maximum that your road and tire can accept. This continuously variable system not only adds a level of safety from reduced wheel slip it will also make your Fiesta ST, Focus ST, Focus RS and Mustang EcoBoost preform its best at all times, whether on the street or track!
COBB Realtime Tuning: Make value changes to realtime tuning tables instantly and immediately see the results without needing to wait for a typical ECU flash.
COBB Improved Launch Control (LC) Functionality:
All MT Applications - Updated launch control strategy to improve traction off the line.
All MT Applications (minus Focus RS) – On the Fly Launch Control switching. Launch with boost or no boost using the factory cruise control buttons.
COBB Map Switching: Create up to 5 different maps for On-The-Fly switching. Uses the steering wheel cruise control buttons to quickly switch between customized map slots. Selected map slot is indicated on tachometer.
Customize WOT Fueling, Ignition Timing, Boost Limits, Rev Limits, LC/FFS, and more!
Waste Gate Duty Cycle Compensations – Blend between COBB and OEM WGDC strategies to maximize boost control under all conditions.
Boost By Gear – Get only the boost you need in any gear! • Rolling Map Switch – Map switch between enabled slots while the car is moving!
Hot swappable LC – Quickly switch between Throttle Cut and Fuel Cut Launch Control strategies.
Fuel Scalar – Tune for different fuel types like Ethanol, Race Gas, and pump gas on a single calibration!
COBB Flat Foot Shifting (MT Only): Adjust Flat Foot Shift RPMs for no lift throttle shifting. Standard (Single Value) or Advanced (Per Gear).
COBB Burnout Mode: All Applications (minus Focus RS) - Warm up the tires without over-revving the engine for maximum launch grip at your favorite drag strip. View Burnout video here.
COBB Speed Density Tuning: (Focus ST and Fiesta ST Only): Simplify the process for tuning upgraded turbos by using VE based speed density logic.
COBB Ford EcoBoost Transmission Brake and Bump Box: Allows you to hold the car at a set RPM limit (Transbrake) Enabling bump box will allow the car to be on the Transbrake and deep stage the car bumping it forward for a a drag race scanrio. (FOR-003 Mustang 15-17 AT Transmission only) Additional feature information can be found here.

---
STANDARD FEATURES:

Tuner Auto Updater: Users can access tuning software updates through the "Help/Updates" menu.
Integral Data Logging: Unlimited data logging of multiple channels of data from the ECU for detailed analysis of engine performance.
Integral Dashboard: Shows tuner chosen gauges to be displayed on-screen throughout the tuning process.
Unit Conversion: Ability to easily convert between metric and standard units so the tuner can use units he/she is most familiar with.
Map Database: Free access to the Off –The-Shelf (OTS) map database from COBB Tuning that provide excellent starting points for specific modifications.
Hot Keys: Convenient one-touch short-cut keys allow easy data manipulation of common tuning operations.
Wideband O2 Interface: Open wideband O2 interface integrates with a wide selection of available wideband O2 sensors.
Embedded Stock Data: Stock tuning data (ROMs) are self-contained inside the software itself, providing the OEM baseline tune for each vehicle supported by the software.
Tuning Documentation: Step-by-step Accesstuner Help File provided by COBB Tuning Calibrators explains ECU logic and procedures for properly tuning your specific application. For release notes, update instructions, monitor & table list, tutorials, help documentation, Click Here