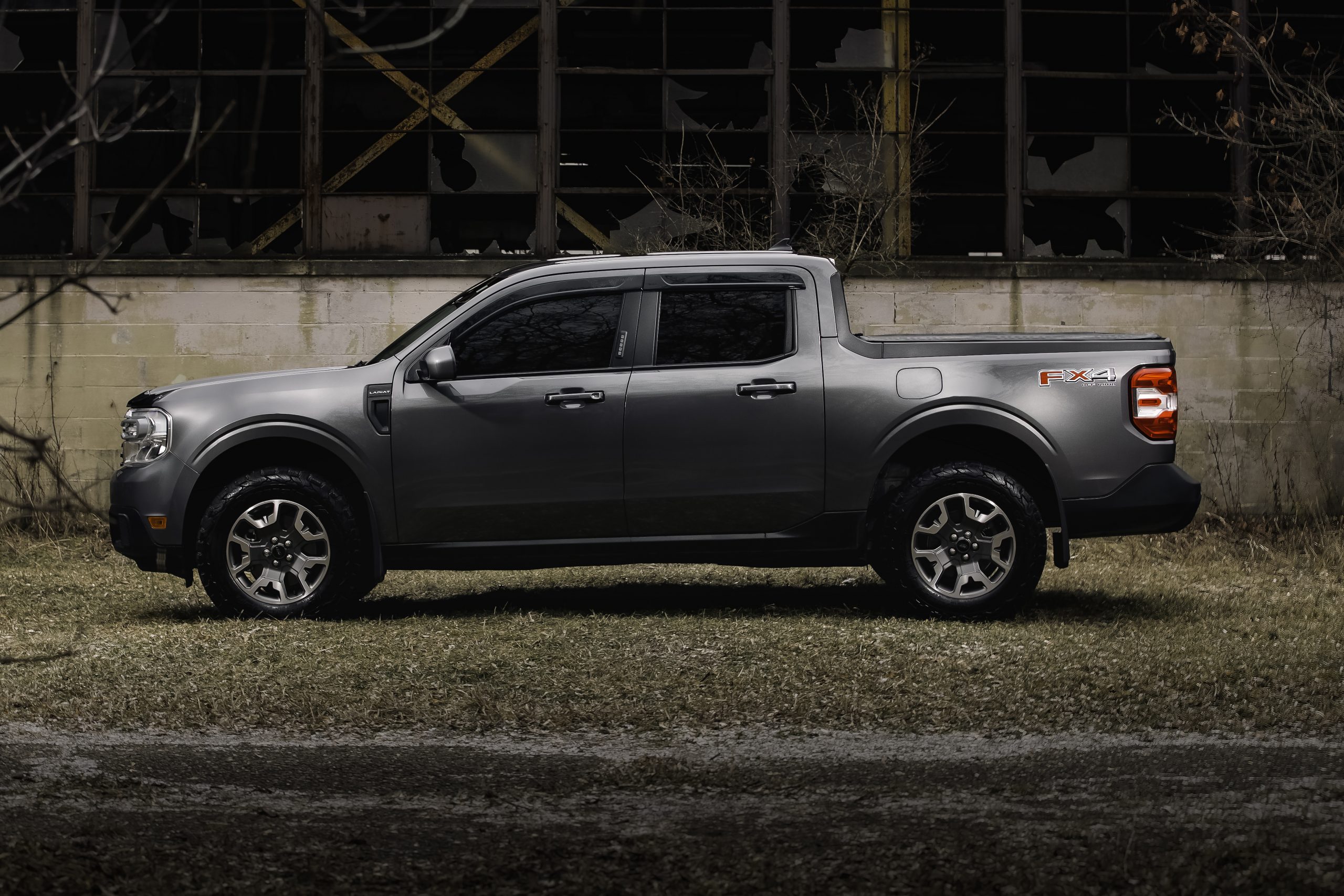 History of the Ford Maverick
The Ford Maverick, a name synonymous with innovation and accessibility, first made its debut in 1969 as a compact car designed to provide an affordable and fuel-efficient option during a time of changing consumer preferences. The Maverick swiftly carved its niche in the automotive landscape, offering a blend of style, economy, and practicality. Its sleek design and budget-friendly pricing made it an instant hit, capturing the hearts of a wide range of drivers. The Maverick's initial success laid the foundation for Ford's ability to adapt to evolving market trends and deliver a vehicle that resonated with a diverse audience.
As the automotive industry evolved, so did the Ford Maverick. The model underwent a series of updates and redesigns, reflecting both technological advancements and shifts in consumer demands. The Maverick remained a symbol of attainability while embracing improvements that catered to modern driving preferences. The latest iteration of the Maverick, with its innovative hybrid technology, carries forward the model's legacy of offering efficiency without compromise. This fusion of tradition and progress has ensured that the Maverick remains relevant, embodying Ford's commitment to delivering value, performance, and forward-thinking features.
In its current embodiment, the Ford Maverick embraces the power of turbocharged performance to meet the expectations of today's drivers. The latest model offers a turbocharged engine option, delivering a balance of exhilarating acceleration and fuel efficiency. This turbocharged powertrain not only enhances the driving experience but also aligns with Ford's dedication to sustainability and forward momentum. As we venture into the future, the Maverick's trajectory continues to be shaped by a fusion of innovation and tradition. With a strong focus on versatility, advanced technologies, and efficient powertrains, the Maverick is poised to carve a path as a modern icon, maintaining its reputation as a trailblazer in the automotive landscape.
Why Choose COBB for Your Ford Maverick Mods
COBB has been the leader when it comes to aftermarket parts and tuning for nearly two decades.  From the humble beginnings of AccessFlash, which initially required ECU removal, to the current Accessport V3 with infinite capability, COBB continues to push the envelope on what's possible with the stock ECU.
COBB Tuning approaches design by taking the entire vehicle-platform into account as a complete system. Our ultra-high-quality Ford Ecoboost performance parts, aftermarket parts and industry-leading services are professionally engineered, thoroughly tested and backed by industry-leading customer service to ensure that they meet our objectives and exceed customer expectations.
We are a one-stop firm with an enviable set of qualified skills and the exceptional ability to design, engineer, manufacture, test and service our own performance modification parts under one roof. Whether it's our state-of-the-art Accessport ECU programmer, our exceptional bolt-on performance products, COBB Tuning has the experience, skill and attitude to turn your ride into a completely modified Ford Maverick.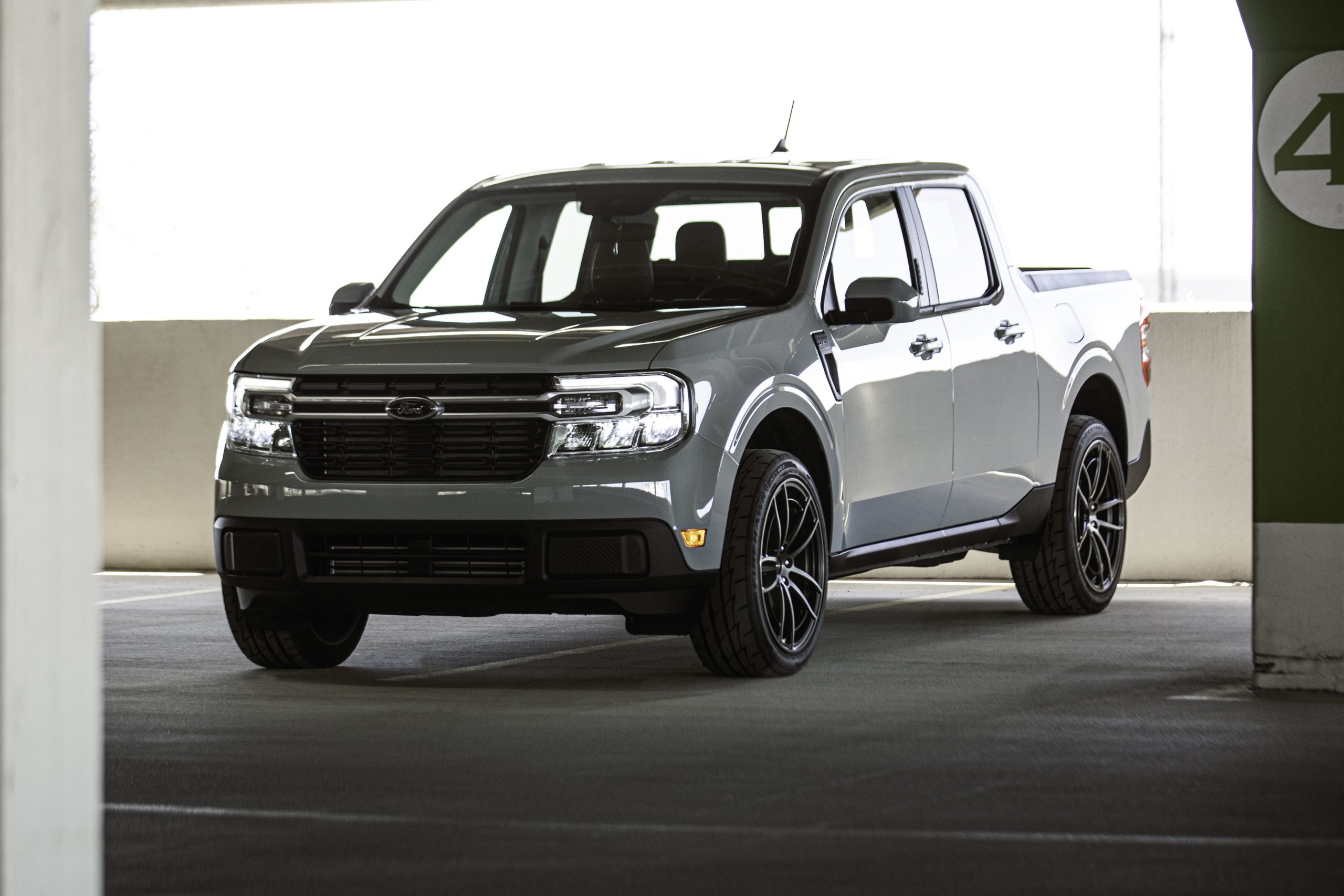 Ford Maverick Stage Packages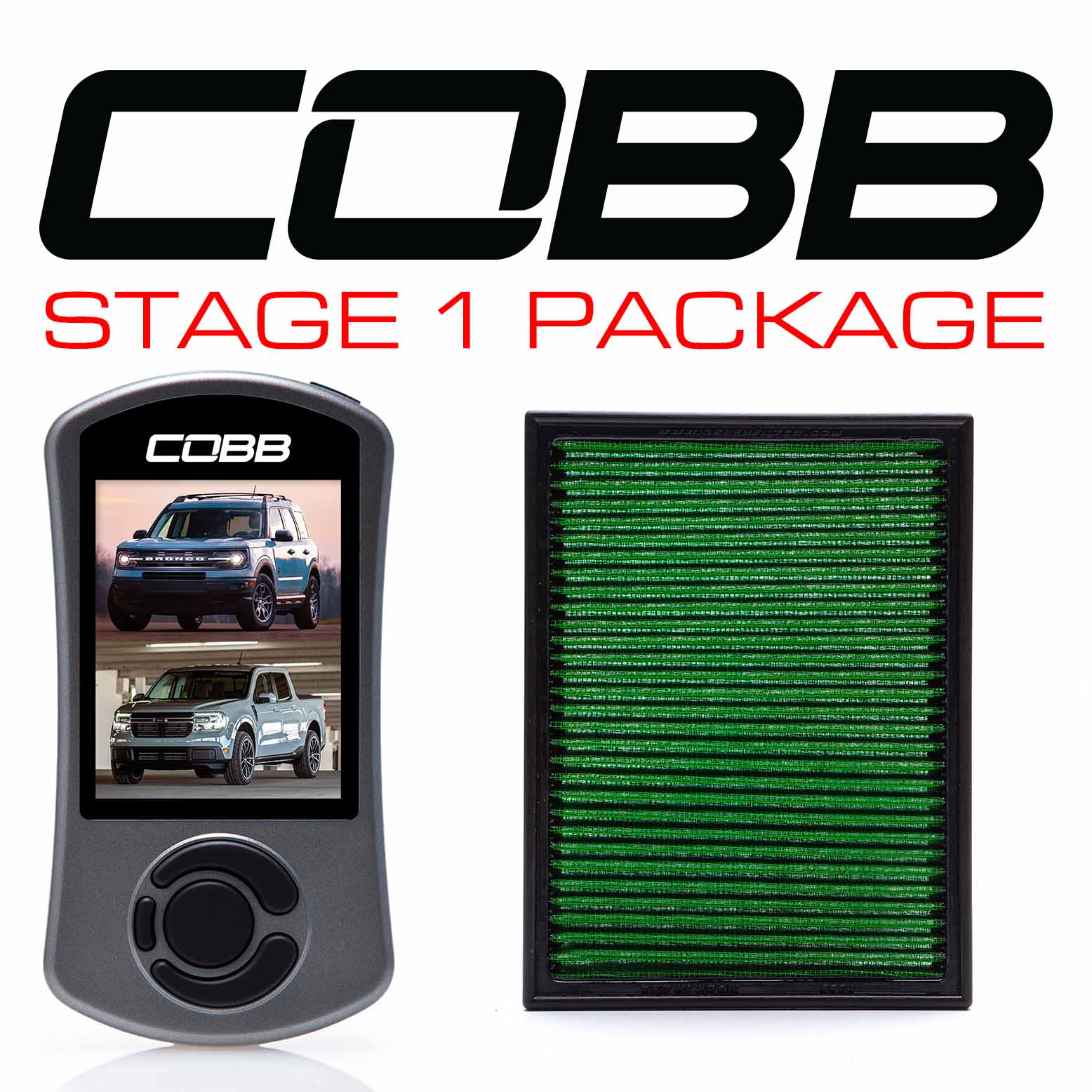 Stage Packages
The COBB Stage Packages take all the guesswork out of modifying your Ford Maverick.  Each Power Package comes together as a simple bolt-on and tuning solution that allows you to easily improve the performance of your Ford Maverick by giving you the best combination of Ford Maverick XT parts.  Our engineers rigorously test our Hard Parts to find the right order and combination for the best incremental power gains. Maps are created and tested to tune the ECU to take advantage of each part.  At the heart of every Package is the Accessport which comes will ALL of the off the shelf maps for each stage at no additional cost.  You can start with Stage 1 and continue to add performance parts incrementally, or, immediately get all the best mods everything and go straight to Stage 2! Learn more about Ford Maverick tuning – The COBB Way.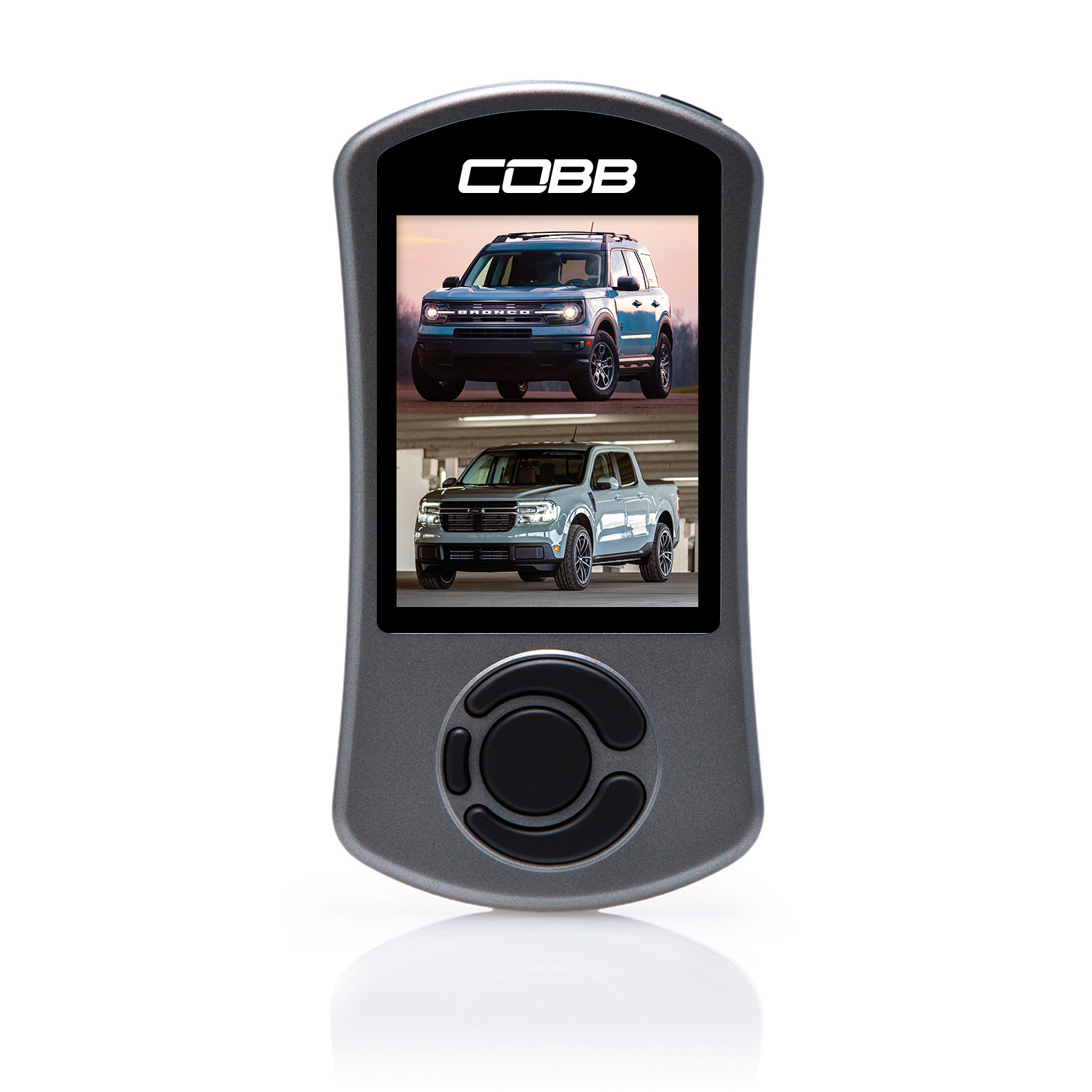 Accessport
Looking for Ecoboost Ford Maverick aftermarket performance upgrades?  It all starts with the Accessport! The Ford Maverick Accessport is the world's best selling, most flexible ECU upgrade solution for your Ford Maverick  Simply plug this device into your car's OBD port and you have the capability to reflash the ECU to enjoy power gains, custom features, and other improvements immediately!  All of the off the shelf maps are included at no additional cost and free updates are simplified with Accessport Manager. It's the last engine management solution you'll ever need for your Ecoboost Ford Maverick!
Ford Maverick High Flow Filter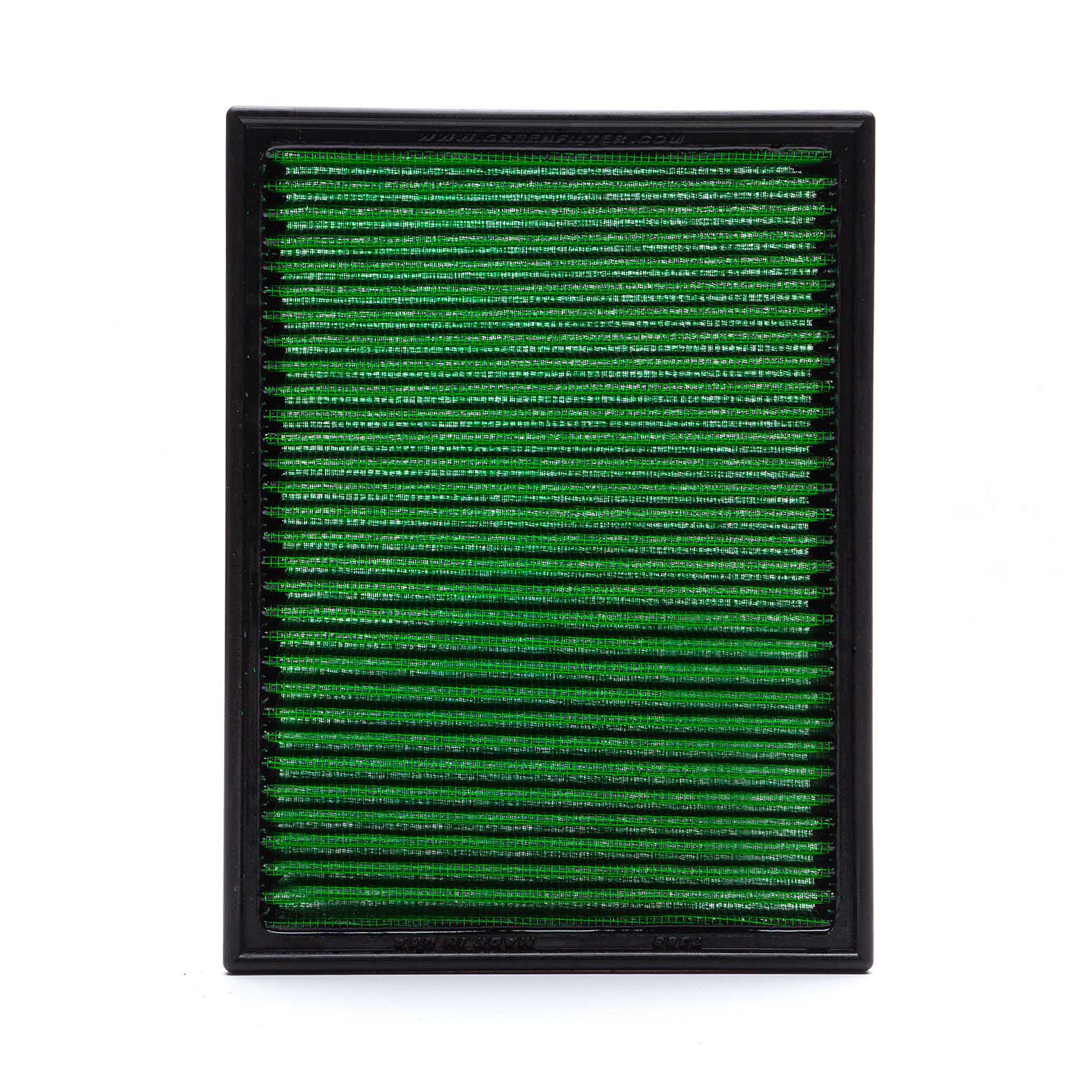 High Flow Filter
COBB High Flow Filters are designed to permit very high flow rates, minimize restriction, maximize filtration and provide a long life filter. Using proprietary woven cotton and metal mesh with a precision molded rubber base, the COBB High Flow Filter ensures that only clean air passes into your engine for maximum efficiency. Why not treat your car to fresh air with a COBB High Flow Filter and let it reward you with increased power and fuel economy!