Porsche
Accessport Update to PDK Flashing for Porsche 911 (991.1 / 991.2) GT3 / GT3 RS
$ 700.00

---
Description
Accessport PDK Flashing update from AP3-POR-013 to AP3-POR-013-PDK.

Select this part number if you already own an Accessport for your 911 (991.1 / 991.2) GT3 / GT3 RS.

Contact COBB Customer Service via [email protected] or (866)922-3059 to order. You will then receive an email with instructions to perform a custom firmware update using Accessport Manager.

Warning! Installation of this Accessport over anything other than OEM or COBB software may result in ECU/TCU failure. Please contact COBB Support if you have any questions.
---
Why?
The Accessport V3 is the world's best selling, most flexible ECU upgrade solution for Porsche. Unlock power hidden within the vehicle by replacing conservative factory settings with more aggressive calibrations. Upgrade forever with off-the-shelf (OTS) calibrations for most bolt-on modifications. It's the last engine management solution you'll ever need.
The Porsche dual clutch transmission is one of if not the best OEM street car transmission money can buy…but that doesn't mean it can't be a little bit better. The optional PDK upgrade for the Accessport allows for the owner to apply an improved calibration to the PDK as well as the ECU resulting in an enhanced shift schedule during high throttle driving conditions while maintaining the tame but crisp behavior of the stock setup for normal driving.
991.1 and 991.2 GT3, GT3RS PDK Transmission Flash
Simulated Stock
COBB Sport
---
Features
Accessport Update to PDK Flashing for Porsche 911 (991.1 / 991.2) GT3 / GT3 RS
Larger, full color, higher resolution screen
Customizable multi-gauge display
In vehicle mount, with on/off switch
User-Customizable Start Up Screen
Interchangeable faceplates
---
Gallery (10)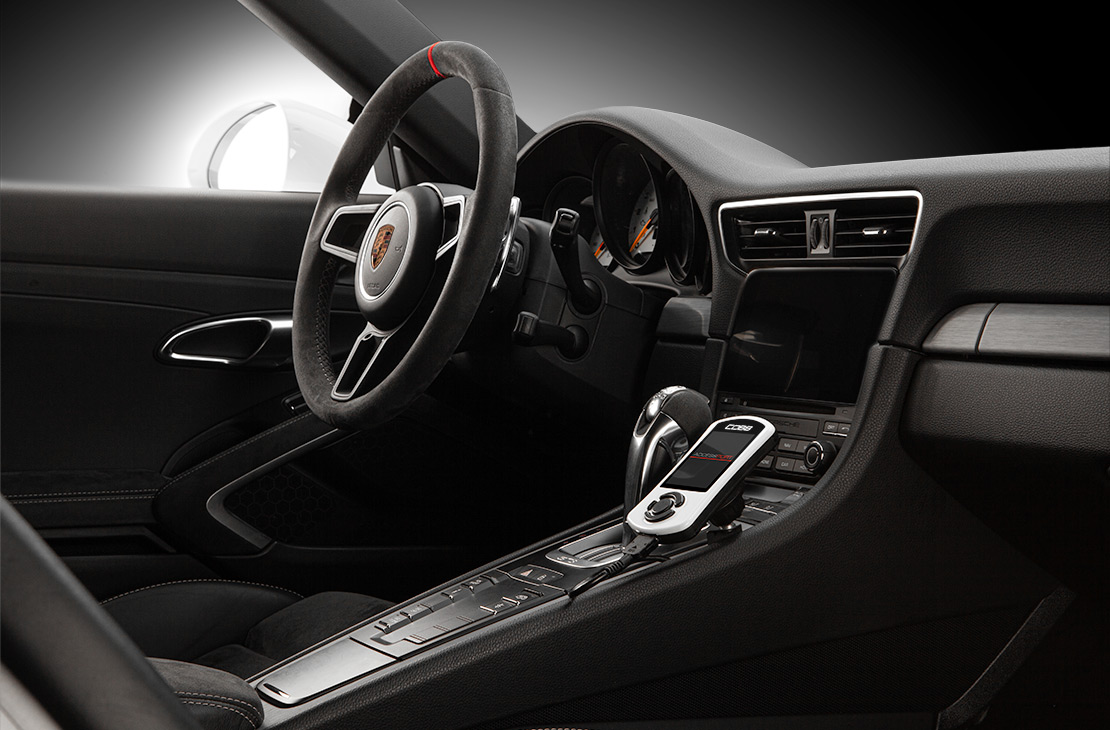 ---
Details
Accessport V3 Features:
Simple Installation:
 Everything is included for the simple installation!  Intuitive on-screen instructions identify your exact vehicle and available maps.
Simple Uninstall:
 Remove Accessport programming with the easy to use Uninstall option in the main menu.
Trouble Codes:
 Read engine trouble codes to diagnose issues.  Clear them when resolved.  Prevent expensive trips to the dealership.
Change Maps: 
Store up to 100 maps from our OTS map database or from your favorite COBB tuner and quickly switch between them for any need.
Gauges
? Use your Accessport as a gauge to monitor boost or any other live information, directly from the ECU.
Data Logging:
 Record multiple data channels simultaneously for in-depth evaluation of engine performance.  Stores up to 10 hours.
Performance Measuring:
 Welcome to your own performance evaluation suite!  Measure 0-60 mph time, 60 foot and ¼ mile ET's. and Trap Speed.
Shift Light:  
Set custom RPM warning lights for perfect shifts every time.
AP Manager: 
Use your PC or Mac to manage maps, download recorded datalogs, or quickly update your Accessport.  Download free from right
HERE
.