Subaru
Subaru SS 3" Cat-Back Exhaust WRX 2022-2023
$ 1,475.00

---
Emissions
This part is not an emissions-related part and therefore can be used on Emission Controlled Vehicles.

---
Description
BACK IN STOCK!
This COBB Stainless Steel Cat-Back Exhaust is a direct bolt on for the VB Subaru WRX.
Construction
The entire system is constructed of 304 stainless steel and is meticulously TIG welded for outstanding appearance and durability.
Mid-pipe
At the front, a high quality cast flange is machined to accept the factory donut gasket for leak-free installation. From there, 3" stainless steel tubing runs all of the way back to another 3" cast flange where it meets the y-pipe. A flex section in this pipe adds compliance to the system.
Y-pipe
The y-pipe in this exhaust system consists of a 3" tube that is divided into twin 2.5" tubes by way of an all new cast split section. This cast section improves durability and longevity when compared to other welded splits. All three connections of the y-pipe section are made with high quality cast flanges which resist distortion and allow for a leak-free installation.
Mufflers
As with the rest of the system, the muffler sections connect to the y-pipe section using high quality cast flanges. The heart of this exhaust system are two all new bespoke COBB designed mufflers. These new muffler sections feature a single 2.5" inlet and dual 2.5" outlets that accept slip-on 3.5" dual wall, slash cut tips with laser etched COBB logos.
Gaskets
Multi-layer steel (MLS) gaskets are included for all connections to ensure a secure, leak-free installation.
All of these features add up to a premier cat-back exhaust for your VB Subaru WRX. The exhaust note is crisp and noticeable over stock without introducing unwanted drone in cabin.
Want to customize the look of your stainless steel cat-back? Our Titanium Exhaust tips are compatible!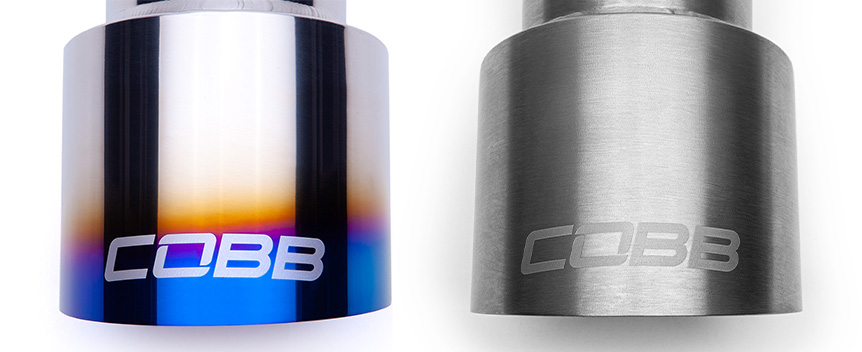 ---
Why?
The COBB Tuning catback exhaust is heralded often for its quality, performance, and subtlety. Engineered to be a vehicle specific unit, the catback exhaust uses the highest quality stainless steel piping and a muffler designed for direct and efficient flow of exhaust to achieve the highest performance while still retaining a stock like appearance and sound level.
---
Features
Subaru SS 3" Cat-Back Exhaust WRX 2022-2023
Bespoke COBB Muffler Design
304 Stainless Steel for Corrosion Resistance
TIG Welded
High Quality Cast Y-Split & Flanges
Adjustable Slip-Fit Tips
---
Gallery (9)