2019 Ford F-150 Raptor Support and Additional Ford Updates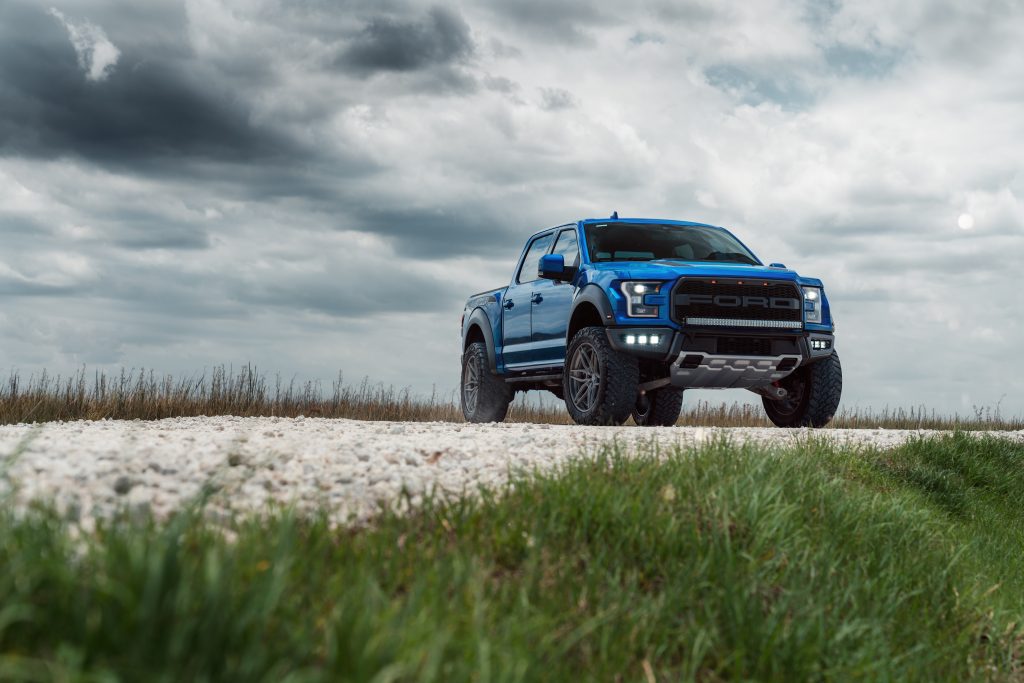 Support for the 2019 Ford F-150 Raptor is finally here!  This includes the Accessport along with custom features and confirmed fitment of all Hard Parts COBB offers for the Raptor.  The initial support for the 2019 F-150 Raptor Accessport includes the Stage 1 v103 map represented below.  Additional maps will soon be released!  Firmware and Accesstuner updates affecting other vehicles in the Ford platform have also been added.  These are detailed below.
---
Parts and Accessories
| | |
| --- | --- |
| | The Accessport is the world's best selling, most flexible, and easiest to use ECU tuning solution for your 2nd Gen Ford Raptor.   It allows you to increase power by replacing conservative factory settings with more aggressive calibrations, and more!  The Accessport is in-cabin mountable and has a large, full color, high-resolution screen which allows you to monitor up to six parameters in real time. It is fully customizable from the look (multiple bezel colors), layout (set up race, street, or dyno gauge clusters), and mounting options (choose from 1,000s of standard vehicle mounts). |
| | The COBB Intake for the second generation Ford Raptor checks every box that enthusiasts expect from a high quality bolt on upgrade. The restricitve factory piping to the turbos is replaced with twin 3″ mandrel bent aluminum tubing to maximize air flow while custom silicone couplers ensure a perfect OEM-like fitment.  The injection molded – fiber reinforced airbox lid incorporates a closed-cell foam gasket to seal the filter from mud, dirt, and debris. Plus, the powder coated tubing, composite material, and COBB nameplate transform the engine bay to look as sharp as the iconic Raptor exterior.  Combining the improved airbox design with a fancy filter produces a more audible turbo sound when spooling building boost at low RPM. |
| | Combined with an Accessport, upgrading the stock intercooler is a no brainer as the best bang for your buck modification on a F-150 Raptor. Efficiency is the name of the game and this intercooler will get the most out of your stock turbos and still has plenty left over for future upgrades to go along with it.  It's also available in three different finishes! |
| | Even great things can be improved! Although there are already a few mounting options offered for the F-150 Raptor none of them are as quite robust as this! Regardless of the terrain or workout you're putting your Raptor through, you can hoon assured the Accessport will stay in place. The mount fastens to the A-pillar which offers a solid mounting point. This location is in an ideal line of sight over the top left of the steering wheel but out of the way of the air vent, cluster, and windshield. |
| | Aside from disguising the unattractive factory reservoir. This cover is made of high-quality materials and is expertly fabricated to handle the abuse that a Raptor is meant to take… and look good doing it. |
| | These floorLiners are laser measured to protect the front, back and even up the sides of your vehicles footwell. For ultimate strength and dependability, FloorLiners feature high-density core materials and are engineered with advanced surfacing that carries messes away from shoes and clothing. WeatherTech products provide complete automotive interior carpet protection from mud, dirt, snow and more. |
| | Whether you're taking your Raptor to the back country, sand dunes, or fireroads, exploring off road terrain can lead to a very gritty air filter. Use the COBB air filter sock to prevent that grit from entering the system. |
Off The Shelf Maps
The initial release for the 2019 Raptor will only include the Stage 1 map.  Although the Stage 2 map is not yet available, the COBB Front Mount Intercooler (and all other hard parts above) is compatible with the 19 model year and can be used with the Stage 1 map.  Off The Shelf maps are available via a simple download or firmware update at no additional cost.  If you install modifications outside the scope of the Off The Shelf maps, compatible maps can be created via custom tuning though a massive COBB Protuner network.  For more specific information about our OTS Maps, visit the Map Notes Page.  The graph below shows the power gains for the 2019 Ford F-150 Raptor using the Stage 1 Map on an otherwise stock truck.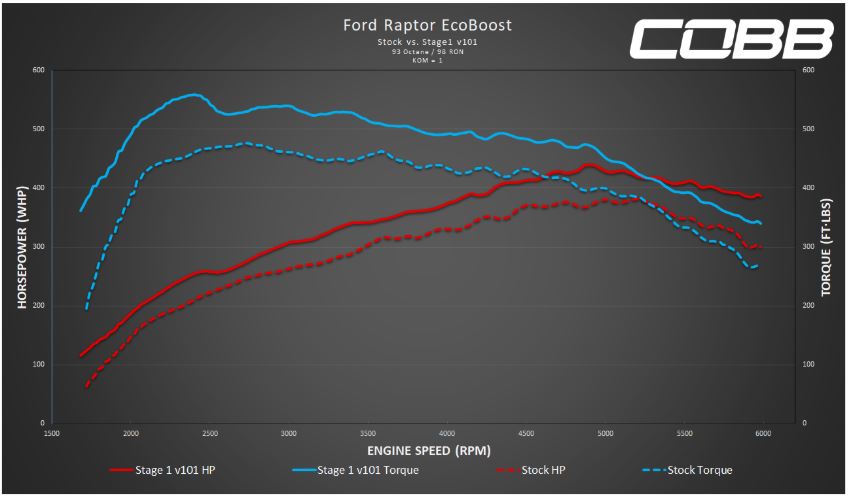 Additional Raptor Updates
Maps for 2017 and 2018 USDM Ford Raptor have been updated to v103 to include some improvements that were made during 2019 Raptor development.  Using aggressive settings with the dynamic pedal control feature could have led to some driveability issues like jerking or hesitation.  This was mostly during during some partial throttle situations.  Several tables have been adjusted to prevent this behavior in all off the shelf maps.
---
Ford Accessport Firmware Updates
New Features
Updates for the Focus and Fiesta ST, Mustang EcoBoost (not yet available on the 18+ model year), and Focus RS Accessports have been released.  Each of these Accessports now offer the ability to reset the remaining "Oil Life" to 100% using the Accessport.  This can be found through the "Troubleshooting" section of the main menu and selecting "Reset Oil Life" as shown below.
This functionality can be had with FOR-001, 003, and 004 part numbered Accessports on firmware 1.7.3.0.-18242 or newer.  Visit this page for step by step details on how to update the firmware on your Accessport.
Additional Firmware Updates
The only additional updates are specific to the 18-19 Mustang EcoBoost and Ford Raptors and concern the Octane Adjust Ratio (OAR) monitor.  This monitor is a dynamic multiplier on timing based on fuel quality.  Ford changed the monitor name to Knock Octane Modifier (KOM) with the 18+ model year ECU change.  Our initial thought was to keep the OAR monitor for these vehicles.  That is now being changed to KOM.  It is important to note that KOM and OAR are the same thing and are the same address in memory.  However, they are inverted from one another and with different labels applied. If OAR is -1, KOM is +1.  For '18 Mustang, we are using a factory pid for the OAR monitor; this factory pid takes the current KOM value and multiplies it by -1.
---
Accesstuner Pro Updates
Accesstuner Pro HL is designed for professional tuning shops equipped with chassis or engine dynamometers to give them OEM ECU tuning capabilities to tune for nearly any engine modification on an unlimited number of vehicles supported by the software.  The following is a list of updates to this software for the Ford Platform.
Support has been added for the 2019 USDM Ford Raptor.
All OAR tables for 2018-2019 Ford EcoBoost Mustang have been changed to KOM. Values of +1.0 are now the highest (good) value and -1.0 is the lowest value.
Added the table "Maximum KOM vs Engine Speed"
The "Octane Adjust Ratio" folder under "Ignition Timing Tables" is now "Knock Octane Modifier"
Added the monitor "Knock Octane Modifier"
Removed the monitor "Octane Adjust Ratio"
Several transmission tables have been added to 2018-2019 Automatic Ford EcoBoost Mustang under the following folders:
Transmission Tables >
Shift Pressure Control > Boost Pressure
Shift Pressure Control > Line Pressure
Shift Schedules > Coastdown
Shift Schedules > Downshift
Shift Schedules > Upshift
Torque Converter > Converter Schedules