Porsche 718 Cayman/Boxster GTS 4.0, GT4, Spyder 4.0L Tuning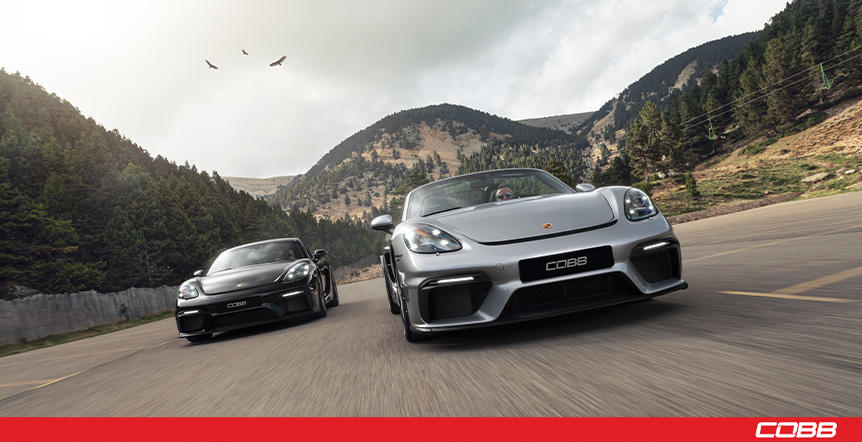 We allllll remember when Porsche introduced the 718 platform with two small displacement turbocharged 4-cylinder power plants.  Uproar. Blasphemy. Turbocharging is cheating. Give us back our naturally aspirated engines and smooth power bands! While the team here at COBB was excited about the tuning potential of the turbocharged 2.0L and 2.5L 718s, we wholeheartedly agree that the song of a flat 6 is hard to beat.  Luckily, Porsche listened and shoved one of their best N/A motors to date right smack in the middle of a chassis that is more than capable of handling it.  The 718 Boxster/Cayman GTS 4.0, Cayman GT4, and Spyder come equipped with an all new 4.0L motor which, surprisingly, has great power left on the table.
We are extremely excited to announce 49-state legal (with CARB EO Pending) tuning support for these cars by way of a new Accessport, the POR-015.
Vehicles Included
2021-2022 Porsche 718 (982) 4.0L Cayman/Boxster GTS USDM
2020-2022 Porsche 718 (982) 4.0L Cayman GT4 USDM
2020-2022 Porsche 718 (982) 4.0L Spyder USDM
The Accessports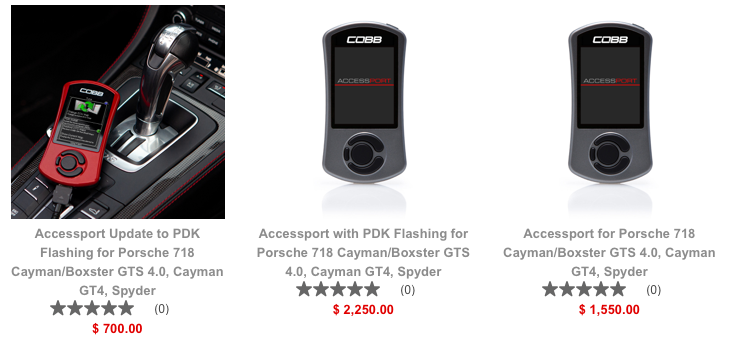 There are three options for Accessport tuning on these vehicles.  The primary decision is based on the support of PDK transmission tuning, the base part number (AP3-POR-015) offers ECU tuning only and can be used on either a manual transmission or PDK transmission car.  Our AP3-POR-015-PDK version of the Accessport comes offers both ECU and PDK tuning.  The third option can be used to add PDK tuning support to the base part number if PDK tuning is not desired or needed at first.
Engine Tuning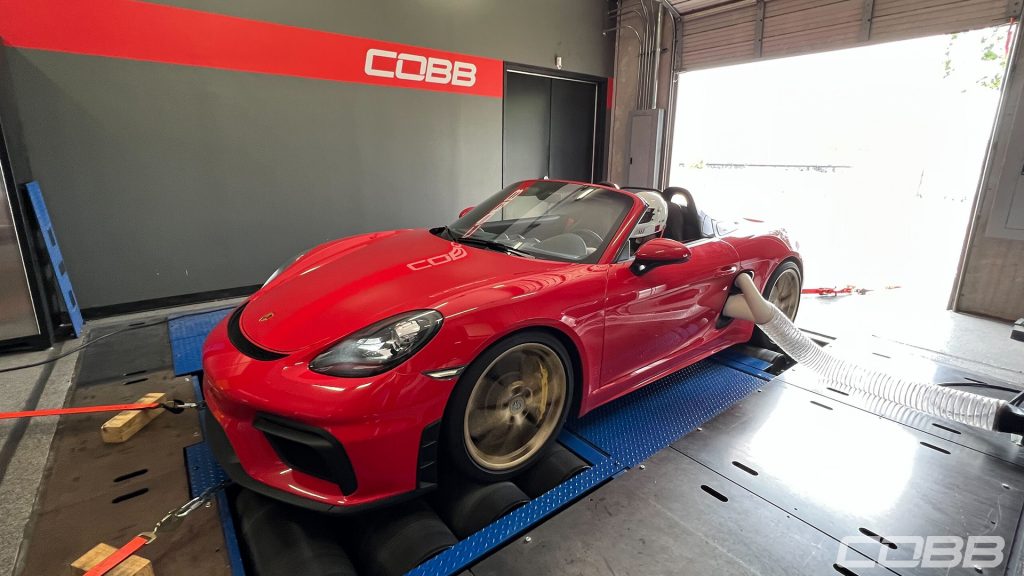 With these cars all sharing the same 4.0L power plant, tuned power output ends up being the same.  Baseline runs are shared between Spyder and GT4 and come in slightly higher than that of the GTS due to Porsche's factory tuning differences.  Full details for each calibration can be found on our Map Notes Page, but we know you're really here for the power numbers below.  Also of note, the GTS cars are able to take advantage of additional RPM.  We have moved their redline up from 7800 RPM to 8000 RPM, now matching that of the Spyder and GT4.
Engine Map Files Included:
Stage0 (factory tuning data)
Stage1 91 OCT or 95 RON
Stage1 93 OCT or 98 RON
Spyder/GT4 Power Gains
Boxster/Cayman GTS Power Gains
PDK Transmission Tuning
Transmission tuning has become ever popular for our supported Porsche vehicles.  With some tweaks to shift schedules and the implementation of a few custom features, the behavior of PDK-equipped cars becomes much more lively.
PDK Maps
A selection of three maps are available to to be flashed to supported PDK equipped 718s.  These files are included on the Accessport and can also be downloaded from the Maps Section of the COBB website.  For the Boxster GTS and Cayman GTS maps with and without 'creep' enabled are available for OEM+, Sport, and Aggressive.
For more details on each, visit the PDK Map Notes Page.
COBB OEM+ (GTS – only)

This file retains the OEM shift schedule with quicker shift times as well as enabling Race Start and Dual Paddle Neutral Custom Features.

COBB Sport

This file utilizes a slightly more aggressive shifting schedule and quicker shift times with both Race Start and Dual Paddle Neutral enabled.

COBB Aggressive

The quickest shifting time and most aggressive shift schedule with both Race Start and Dual Paddle Neutral enabled.
Shift Points by RPM
Shift Points by Speed (MPH)
Custom Features – Race Start, Decreased Shift Time, Dual Paddle Neutral
The ability to custom tune the PDK transmission in these vehicles allows for some of our COBB Custom Features to be implemented.  The two main features highlighted here are Race Start and Dual Paddle Neutral being enabled for the GTS trim cars.  These features are, of course, standard on the Spyder and GT4 and persist through into our PDK Maps.

For more details on each, visit the PDK Map Notes Page.