2022-2023 Subaru WRX 6MT Stage 2 Upgrades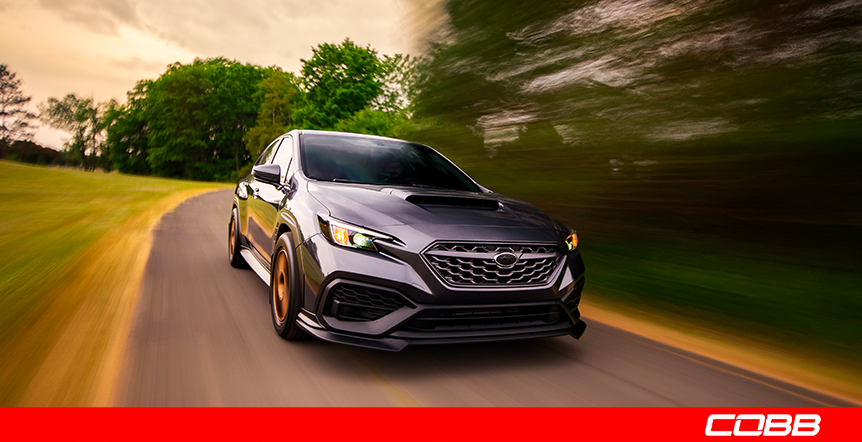 ALL NEW Bolt-On Upgrades for VB WRX
The past year of tuning Subaru's 2.4L DIT powered VB WRX has really impressed us.  Our Stage 1 OTS maps have been making great power on otherwise stock engine configurations and now we are excited to announce the availability of all new bolt-on upgrades, our Stage 2 Power Package, and an accompanying Stage 2 Off The Shelf Map for both 91 and 93 octane fuel.  We're focused not only on adding power, but also functionality and a touch of class to the VB WRX's engine bay.  Best of all, the individual components AND full Stage Power Package are all covered by a CARB EO and are 50-State Legal.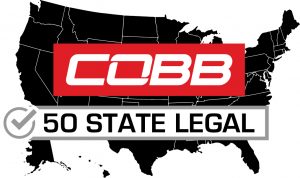 One note before we get started – In case you live under a rock and hadn't noticed, the 2022+ WRX (and many other cars) have a hydrocarbon trap integrated into the stock airbox.  Since that is a federally mandated emissions component, COBB upgrades will retain the factory airbox.  Luckily, it has not proven to be a restriction thus far.  More on hydrocarbon traps in this recent video of ours!
---
Stage 2 Power Packages
WRX 6MT 2022-2023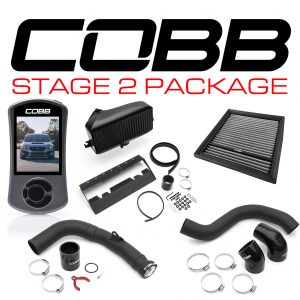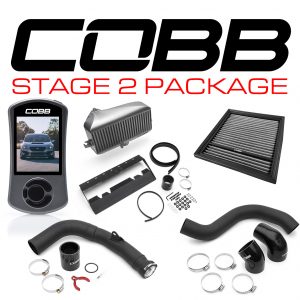 The COBB Stage 2 Power Package is the most complete and compliant upgrade solution for the VB WRX.  The combination of our bolt on upgrades and a supporting COBB Off The Shelf (OTS) Map takes the guesswork out of extracting power from Subaru's 2.4L WRX.  For more information on COBB Off The Shelf Maps, visit our Map Notes Page.
Accessport AP3-SUB-006
Aluminum Intake Tube
Aluminum Charge Pipe
High Flow Intake Filter
Top Mount Intercooler (Black or Silver)
Stage 2 Power Package Dyno Results
---

WRX 2022-2023
The COBB Intake Tube for your 2022+ Subaru WRX maximizes airflow potential while retaining the factory airbox. Since Subaru has chosen to integrate a hydrocarbon trap, more on that HERE, into the factory airbox it must remain as it is a federally mandated emissions component. This intake tube is designed to fit between the factory airbox and turbocharger inlet.
The 3″ mandrel bent aluminum construction means that airflow is unrestricted as it is summoned from the airbox to turbocharger inlet. A wrinkle black powder coated finish both protects the tubing and provides a classy aesthetic. Black 5-ply silicone couplers are held in place with included clamps for a leak free installation.
---

WRX 2022-2023, Ascent 2019-2023, Outback XT/Wilderness 2020-2023
COBB High Flow Filters are designed to permit very high flow rates, minimize restriction, maximize filtration and provide a long life filter. It uses a proprietary single layer polyester construction with a precision molded rubber base.
---

WRX 2022-2023
This kit is aimed at maximizing airflow of your WRX's intake system while retaining the factory airbox and hydrocarbon trap. It includes our High Flow Filter and the Aluminum Intake Tube for the 2022-2023 WRX.
---

WRX 2022-2023, Ascent 2019-2023, OBXT 2020-2023
This COBB Charge Pipe fits a wide range of turbocharged FA24 powered Subarus including the 2022+ WRX, 2019+ Ascent, and 2020+ Outback XT/Wilderness. It is constructed of 6061 aluminum tubing that transitions from 2.5″ at the lower portion to 2.75″ at the intercooler connection. An integrated billet transition smoothly takes diameter from 2.5″ to 2.75″ to allow for increased flow while maintaining clearance for larger aftermarket radiators. A wrinkle black powder coat finish gives an upgraded yet subtle appearance under the hood. The integrated billet turbo adapter utilizes a machined and anodized clip with ball detent to secure the charge pipe to the turbocharger housing and 5-ply silicone coupler at the opposite end makes for a straight forward and leak free installation.
Tuning is NOT required to safely install this part, but utilizing it in conjunction with the rest of our Stage 2 Power Package and OTS Calibration for the 2022+ WRX will maximize it's potential.
---

WRX 2022-2023
The OEM Coolant Overflow Tank does its job well enough but the cheap plastic material is ugly and can potentially crack over time, especially when exposed to extreme heat via hard driving or extreme climate. Its shape is also clumsy and obtrusive. Enter the COBB Coolant Overflow for your VB WRX!
Constructed of welded aluminum and carrying a capacity of 1.1L, the COBB Overflow offers more capacity than the OEM tank. Internal and external anodizing of the tank ensures a long lasting finish. Internally welded fill and vent tubes provide a leak-free construction. The fill tube extends to the bottom of the reservoir to prevent air ingestion as coolant level expands and contracts. The vent tube exits through the bottom of the tank and can be routed out the bottom of your car with included silicone tubing. An integrated dip stick is anodized red and allows for quick reference of coolant level.
The main reservoir cap is a snug fitting injection molded plastic. A blue anodized billet cap finishes off the included fill tube for windshield washer fluid.
The COBB Coolant Overflow is a sharp solution to an otherwise bland component of your VB WRX's engine bay.