2023 Porsche Cayenne GTS and Turbo Tuning Support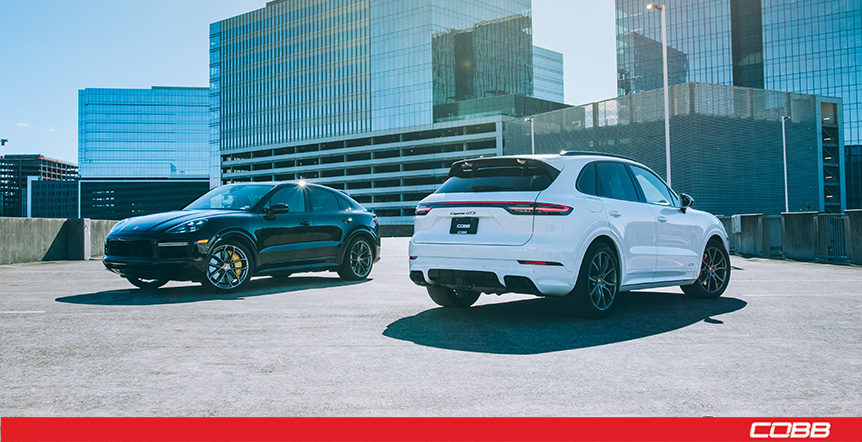 Tuning support for Porsche's 2019+ (9Y0) Cayenne has been wildly popular since our initial release.  Both the V6 and V8 powertrains respond very well to tuning, completely transforming how the trucks drive under heavy throttle while maintaining factory-like drivability and efficiency. Today we are excited to announce that our Accessport is now compatible with the latest 2023 Cayenne GTS and Turbo.  Best of all, these calibrations are emissions compliant and covered by a C.A.R.B. Executive Order making them 50-State Legal.
---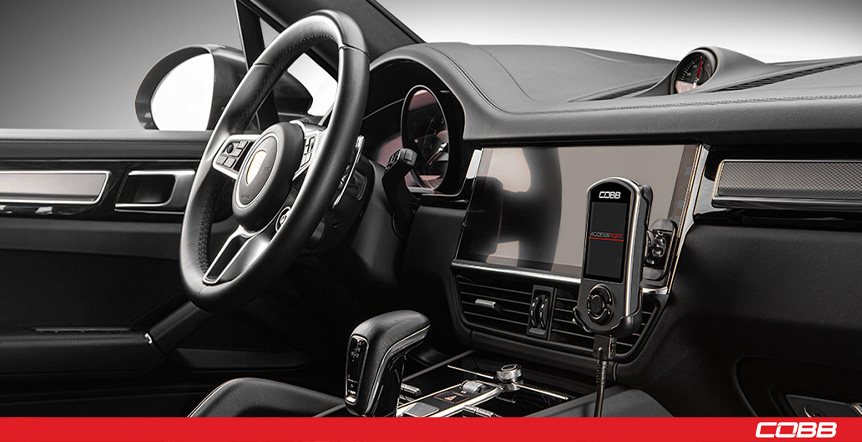 The Accessport V3 is the world's best selling, most flexible ECU tuning solution for Porsche. Unlock power hidden within the vehicle by replacing conservative factory settings with more aggressive calibrations. Upgrade forever with included off-the-shelf (OTS) calibrations and the ability to custom tune for most bolt-on modifications via Accesstuner Pro. It's the last engine management solution you'll ever need.  Installation takes just 20 minutes from the comfort of your own garage or driveway.  Simply connect the included OBDII cable to your Cayenne's OBDII port under the steering column and follow intuitive the on-screen instructions.
Vehicles Supported:
2019 Porsche Cayenne Base
2019 Porsche Cayenne S
2019 Porsche Cayenne Turbo
2020 Porsche Cayenne Base
2020 Porsche Cayenne S
2020 Porsche Cayenne Turbo
2021 Porsche Cayenne Base
2021 Porsche Cayenne S
2021 Porsche Cayenne GTS
2021 Porsche Cayenne Turbo
2022 Porsche Cayenne Base
2022 Porsche Cayenne S
2022 Porsche Cayenne GTS
2022 Porsche Cayenne Turbo
2023 Porsche Cayenne GTS
2023 Porsche Cayenne Turbo
---
Cayenne Turbo Power Gains
Our Stage 1 calibrations for the 9Y0 Cayenne GTS are available for either 91 or 93 octane fuel and their increase over stock is truly astonishing.  On 93 octane fuel, we are seeing 604 whp tuned compared to 519 whp stock and 684 wtq tuned compared to 530 wtq stock.  This means you have an additional 155 lb-ft of torque on tap in the mid range along with an increase of 116 hp pulling you through the powerband.
Stage 1 93
Peak: +16.5% HP / Max: +29.1% HP
Peak: +28.9% TQ / Max: +29.4% TQ
Stage 1 91
Peak: +15.9% HP / Max: +25.7% HP
Peak: +25.4% TQ / Max: +26% TQ
For additional information, See Map Notes.
---
Cayenne GTS Power Gains
The 9Y0 Cayenne GTS is mechanically identical to the Turbo model.  Same motor, same turbos, and even the same ECU.  The only difference between the two comes down to Porsche's ECU logic as it's strategy does vary slightly from that found in the Turbo.  This means that while the GTS does benefit hugely from tuning, it does not *quite make the same power at the tire as that of the turbo post-tuning.  The standard Stage 1 calibration file is available for both 91 and 93 octane fuel.  On 93 octane, the GTS will make ~570 whp compared to 437 whp stock and 639 wtq tuned compared to 460wtq stock, an increase of 136 HP and 185 TQ over stock.  Our "OEM+" file uses calibration data between stock and Stage 1, which provides the same power output as a Turbo model Cayenne and is compatible with either 91 or 93 octane.
Stage 1 93
Peak: +30.2% HP / Max: +40.5% HP
Peak: +38.8% TQ / Max: +41% TQ
Stage 1 91
Peak: +26.8% HP / Max: +35% HP
Peak: +33.3% TQ / Max: +35.5% TQ
OEM+ (91 or 93)
Peak: +28.1% HP / Max: +30.9% HP
Peak: +29.3% TQ / Max: +31.3% TQ
For additional information, See Map Notes.
---

For those interested in custom tuning, our Accesstuner Pro software also now supports these vehicles.  Any of our Authorized Porsche Protuners can create a custom calibration for use with your Accessport.  Find a COBB Porsche Protuner HERE.