ALL NEW COBB SF Intake for 2015-2021 Subaru WRX
While Subaru may have already moved on to the VB WRX, we are making sure that our VA WRX family isn't left behind.  After taking in feedback from our customers, dealers, and Protuners about our original Big SF Intake for the VA WRX, we wanted to make a few design tweaks to our introductory level intake for those cars.  During development of our premium intake offering, the Redline Carbon Fiber Intake, we took the opportunity to integrate certain changes to make them more consistent and reliable without sacrificing performance.  After the overwhelming success of that intake and positive feedback of its design, we wanted to apply some of those changes back down to the non-carbon fiber offering.  Introducing the all new SF Intake for 2015-2021 Subaru WRX (6MT and CVT).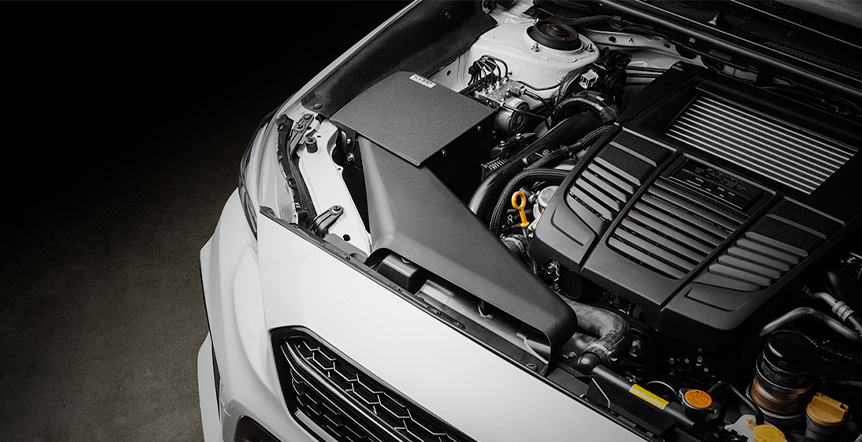 Replacing the factory intake and airbox with the COBB SF Intake will reduce pre-turbo restrictions. When a restriction is removed, it allows the engine to be more efficient while also enabling it to make more power!  Even better, the intake itself is covered by CARB EO D-660-110 and is legal in all 50 states.
---
Construction

The airbox is constructed of black powder coated aluminum. A slot in the front of the airbox accepts air directed through the factory air scoop. Air is filtered through a larger pre-oiled filter and routed to the velocity stack MAF housing. The wire-reinforced black silicone couplers are sealed on either end with clamps for a leak-free install.
Velocity Stack MAF Housing

This intake system utilizes several unique features in an effort to maintain optimal flow for performance while minimizing turbulence. A custom conical air-filter element, CFD-designed velocity stack and unique air flow straightener grid are designed to smooth the incoming air flow as it passes the Mass Air Flow sensor for precise readings. The one piece high temperature plastic composite design saves weight and reduces heat transfer.
Calibration Support
The SF Intake System is compatible with COBB Off The Shelf Maps. Look for maps denoted with "+SF" in your Accessport firmware or on the Maps section of our website. For a complete list of maps for your car, head over to the Maps Section of our website.
The following maps are covered by CARB EO D-660-109 and are available in Accessport Firmware.
Forget how to update your Accessport? LOOK HERE.
Stage1+SF 91 v400
Stage1+SF 91 v400 LWG
Stage1+SF 91 v400 HWG
Stage1+SF 93 v400
Stage1+SF 93 v400 LWG
Stage1+SF 93 v400 HWG
Stage1+SF 91 v400
Stage1+SF 91 v400 LWG
Stage1+SF 91 v400 HWG
Stage1+SF Economy Mode v400
Stage1+SF Valet Mode v400
The following maps have passed third party emissions testing and are available for download from cobbtuning.com/maps while we await EO coverage from CARB.
NexGen Stage2+SF 91 v401
NexGen Stage2+SF 91 v401 HWG
NexGen Stage2+SF 91 v401 LWG
NexGen Stage2+SF 93 v401
NexGen Stage2+SF 93 v401 HWG
NexGen Stage2+SF 93 v401 LWG
NexGen Stage2+SF Economy Mode v401
NexGen Stage2+SF Valet Mode v401
For specific information related to COBB Off The Shelf Maps, please see our Map Notes Page.
---
Our bespoke Stage Power Packages are also available with the new SF Intake System.  Our tried and true Stage 1+ Power Package combines the Accessport and SF Intake and for those looking to take their build a bit further, our NexGen Stage2 Power Package is available with either a Black or Silver Top Mount Intercooler upgrade.
---
Looking for more modifications for your WRX?  Hit one of the pages below!
2015 Subaru WRX Sedan CVT USDM
2015 Subaru WRX Sedan CVT USDM
2016 Subaru WRX Sedan CVT USDM
2017 Subaru WRX Sedan CVT USDM
2018 Subaru WRX Sedan CVT USDM
2019 Subaru WRX Sedan CVT USDM
2020 Subaru WRX Sedan CVT USDM
2021 Subaru WRX Sedan CVT USDM