Pikes Peak Hosts Accessport Tuned Ford Mustang EcoBoost
The Pikes Peak International Hill Climb is an annual event where maniacal motor heads race against the clock up a mountain.  The long standing event will celebrate its 100th anniversary this weekend making it the second oldest race in the US.  Skillful drivers ascend nearly a mile of elevation over the circuit's 12.42 miles and 156 turns.  Such a long, punishing circuit not only provides a challenge to drivers but also lends a hand to development.  The statement of PPIHC is to "demonstrate advancements in the practical application of motorsports technology" and these improvements can be seen year after year.  The Porsche below is evidence of those improvements.

Last year COBB joined forces with Porsche of Colorado Springs and David Donner propelling a 2014 Porsche 911 Turbo S to victory in the Time Attack 2 Class!  This was also a great opportunity for our COBB engineers to gain valuable insight.   This class required that the factory intercoolers be retained which was certainly taxing through such a grueling climb.  This year, Kash Singh with his Accessport tuned Mustang EcoBoost is up against the mountain with the same restrictions.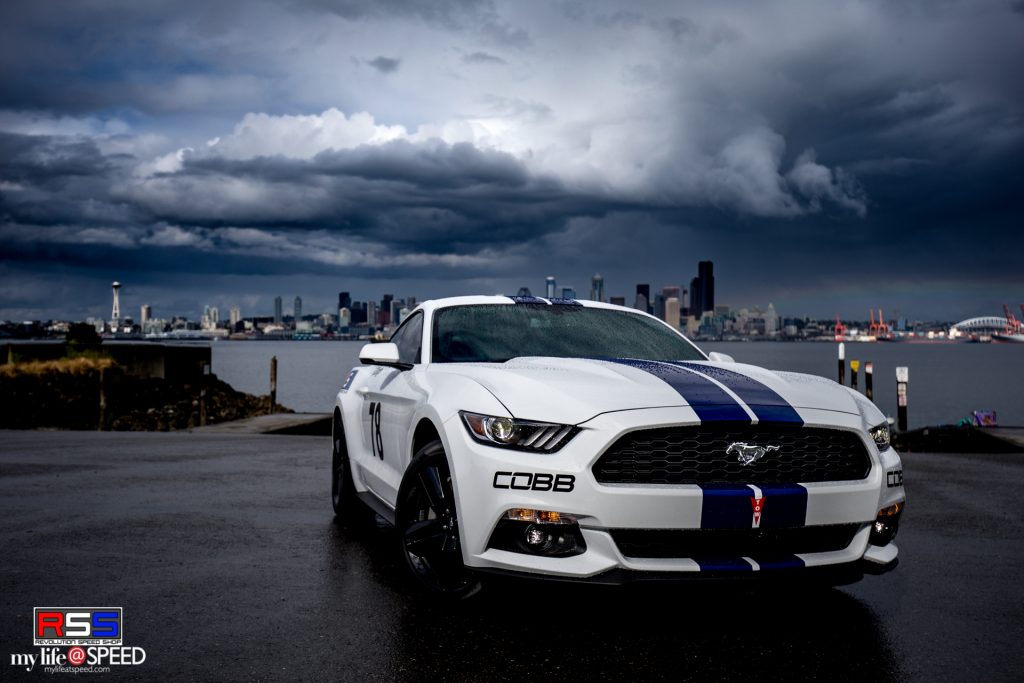 Kash is no stranger to Pikes Peak as this will be his 6th year.  The previous years have also been in a Mustang but this will be the first time he's piloted the EcoBoost variant through the circuit.  Aside from the safety equipment, Accessport, and the COBB Turboback exhaust, the vehicle is completely stock.  He actually drove the Mustang EcoBoost to Pikes Peak all the way from Seattle (and will drive it back).  Very few competitors are driving their race car to the event, let alone have a/c and a stereo, and to our knowledge, no one is driving a greater distance (about 3000 miles round trip.  Luckily the car still has cruise control!).
Kash is running the same Time Attack 2 Class with a couple of Vipers and an NSX so he's definitely got some tough competition.  Winning would be great but he's really shooting for a sub 12 minute time.  This will be quite a feat for Kash and the Mustang EcoBoost platform.  We at COBB wish him the best of luck!  To learn more about Kash and his Mustang EcoBoost, check out Ken Stoufer's full article with Q&A from my life@SPEED.