Stage 2 – 2019+ Golf R and Audi S3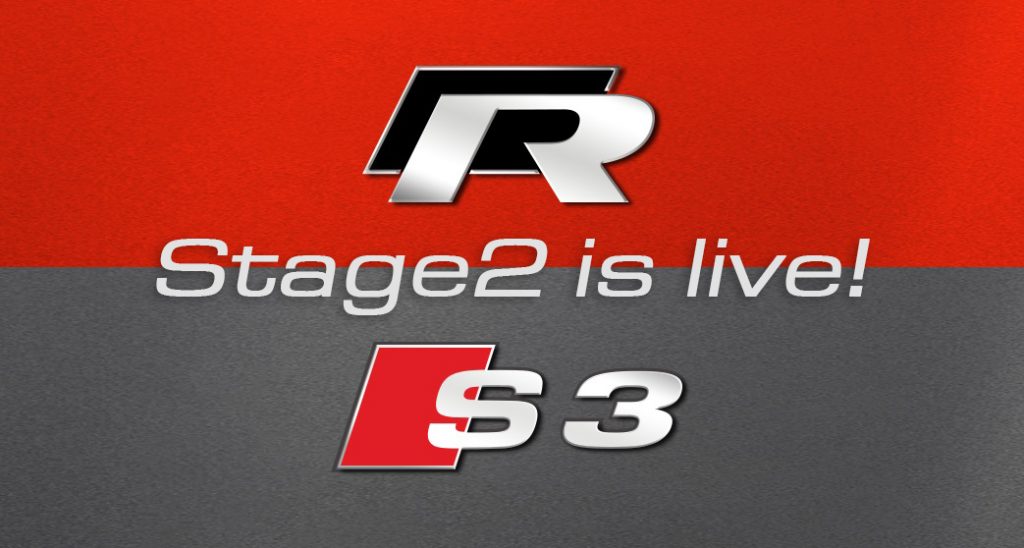 In our experience testing on the dyno, street, and the track, the best early step to take alongside an Accessport tune when attempting to quickly unleash the full potential of the current generation VW Golf R or Audi S3 is to upgrade the intercooler. Doing so opens up huge gains in horsepower and especially torque throughout the entire power band by allowing the engine to effectively run advanced timing and boost while maintaining safe temperatures and consistent response.
The latest COBB update extends support of that proven formula for even more of the MQB platform by adding all-new Stage 2 maps and packages to the USDM 2019+ VW Golf R and Audi S3!  The MK7 introduced the all new MQB platform which allows Volkswagen to create vw gti parts shareable over several different vehicles.
---
Stage 2 Map Details
Our Stage 2 Off-The-Shelf Maps are designed to work with the factory or aftermarket intakes while focusing on getting the most out of a much larger and stronger intercooler.  See the average percentage gains and dyno graphs below:

Click for complete Map Notes for Audi S3 or MK7.5 Golf R
---
Stage 2 Parts and Packages
If you already own an Accessport and are using the stage1 map on your S3 or Golf R. All you need to do is purchase and install an aftermarket intercooler, like the AMS Intercooler that we sell and used for map development, then update the firmware on your Accessport to receive the latest Stage 2 OTS Maps, then flash the appropriate version to your car. Easy, no need to go to a shop or contact a tuner, it's a simply DIY update you can do in a few minutes at home. And the best part is that if you already have the Accessport, it doesn't cost you a penny to get the Stage 2 maps!
If you're starting from scratch with a completely stock vehicle, you can skip Stage 1 and go directly to Stage 2 with one of our packages that include everything required to properly make use of the new Stage 2 maps!


---
Please contact our support team with any questions.
Email: [email protected]
Phone: 866-922-3059