TX2K18 – COBB Tuning Event Recap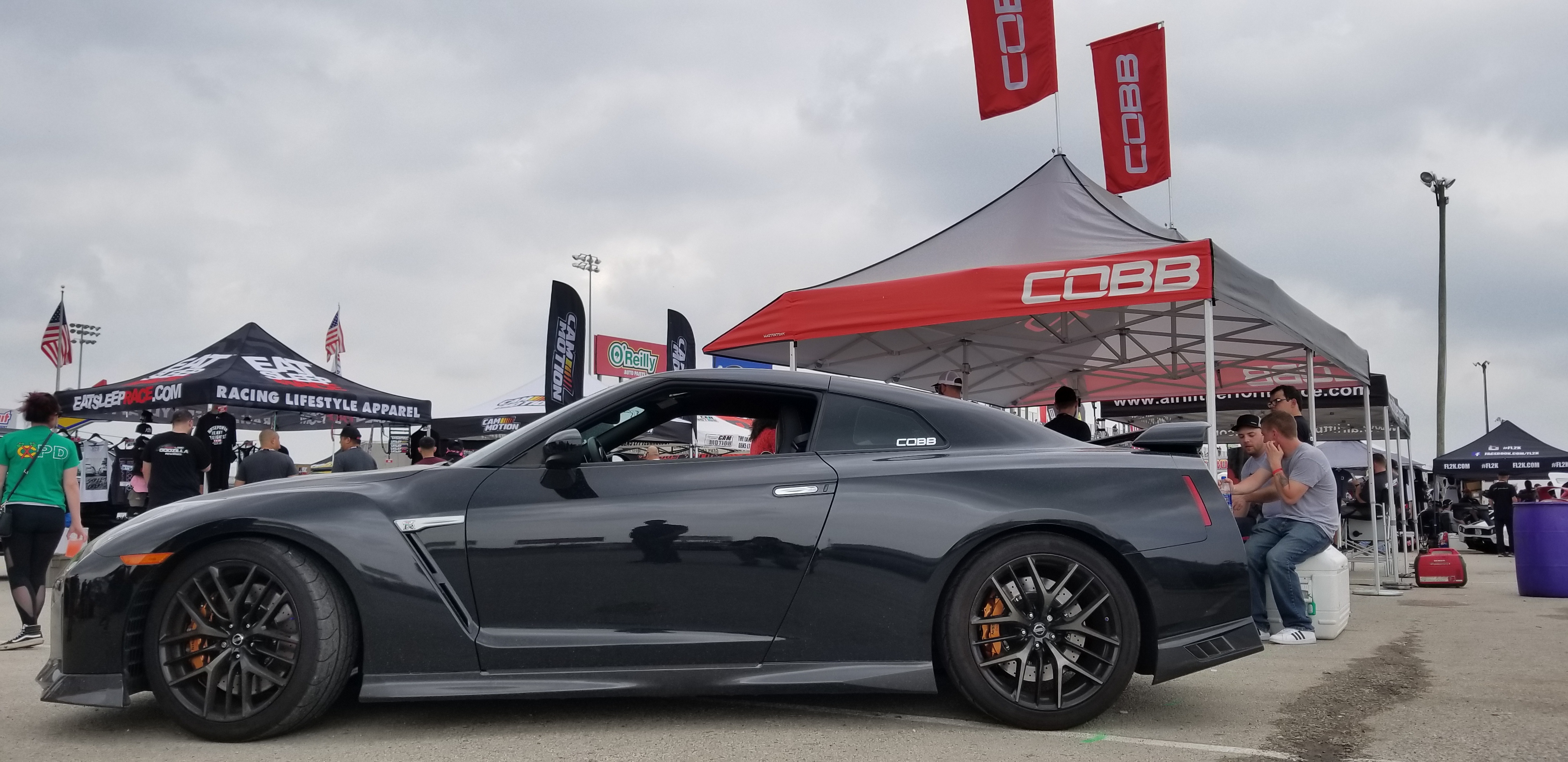 It's that time of year again. In mid-March, most people think about spring break and the beach…but not everybody. For fans of big turbos and smokey burnouts, TX2K has become the ideal destination of the season. In 2018 the event was hosted once again by Royal Purple Raceway in Baytown, Texas. The mix of a blue-collar town nestled between the big oil hub and massive shipping ports of Houston and the Gulf of Mexico is a perfect fit to show off some of the fastest street cars from across the country.
---
ROLL RACING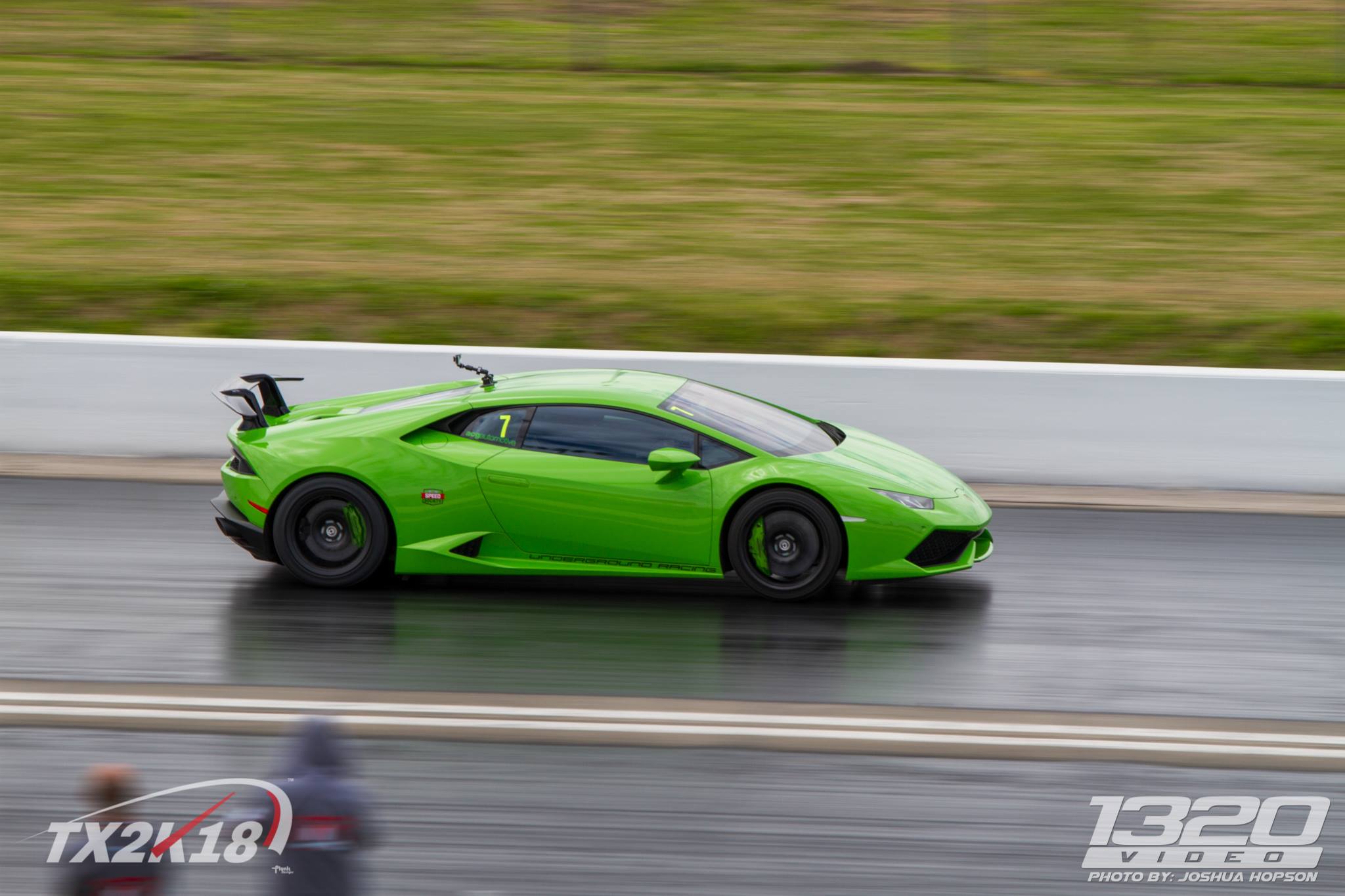 I remember when my brain could barely handle the idea of mass-produced streetcars being built to pump out 2000hp but somehow in only a few years, 2000hp seems like the entry level for serious roll racing competitors with the elite cars pushing the 2500 – 3000hp range on a consistent basis. Roll racing doesn't quite have the drama of a good ole heads-up drag race, but the raw power and top speed bring their own sense of drama. The class brought out a nice variety of impressive cars with Vipers, Corvettes, GTR's, Supras and so on flexing their muscle, but it didn't take long for a handful of Twin Turbo Lamborghini Huracans to separate from the pack by taking all 4 semi-final spots.
Underground Racing's teammates Ross Fowler and KC Howeth battled for the Unlimited class trophy. KC was easily the fastest qualifier and had just set the fastest top speed of the weekend by blasting to 229.74 mph in the semi's, but despite hitting 228 on his final pass, some trouble matching speeds in the 400ft roll before the lights turned green gave Ross enough of a head start to take the win, crossing the line at 221mph.
---
1/4 MILE DRAG RACING
Every year the event gets bigger and the cars get faster. That was no different in 2018. A few dozen R35 GTR's still filled up the staging lanes but a nice variety of class types provided a welcome depth and a highly competitive field of cars.

COBB was represented well with several GTR's and Subaru's running V3 Accessports. In 2017, FASTECH Motorsports 2009 GTR won the GTR2 Class and came back strong this year finally breaking into the 7's with the COBB 12-injector setup on the car. Nick Dixon qualified 3rd and drove the car to an easy win in round 1 with a 7.933 @ 174.75. With only one other car in the class posting 7 second passes, it looked like Nick was on his way to a showdown to defend his title, but some issues in round two resulted in an early exit. Nevertheless, the team set a new personal best, so I'd say it was a successful day. The car that eliminated Nick was also an Accessport tuned GTR. Omar Chaudhry consistently laid down times in the 8.4 – 8.5 range throughout the weekend in his 2015 car and made it as far as the GTR2 Round 3 Semi-Final.
Onix Garcia was piloting Kozmic Motorsports Accessport-powered 2010 GTR in the GTR 1 Class which restricts the cars to stock turbos. He also qualified third with a 9.98 @ 137. Most of the cars in that class still run low 10's, meaning Onix had a solid chance at winning. He made it into the semi-final round3, and despite a better top speed, a sluggish reaction finally being eliminated him against the second place qualifier, Meidan Klietmen.
We weren't quite able to repeat the COBB Accessport trophy success of 2017, but several cars proved that they have the speed to win. They'll come back to compete in 2019!
---
Subarus Playing with the "Big Boys"
When people think about TX2K, they usually think 2JZ's, GTR's, and Lambos but once again, several Subarus came out to play this year and made us proud with four cars setting personal best times in the 9 second or better range! All tuned with Accessports of course.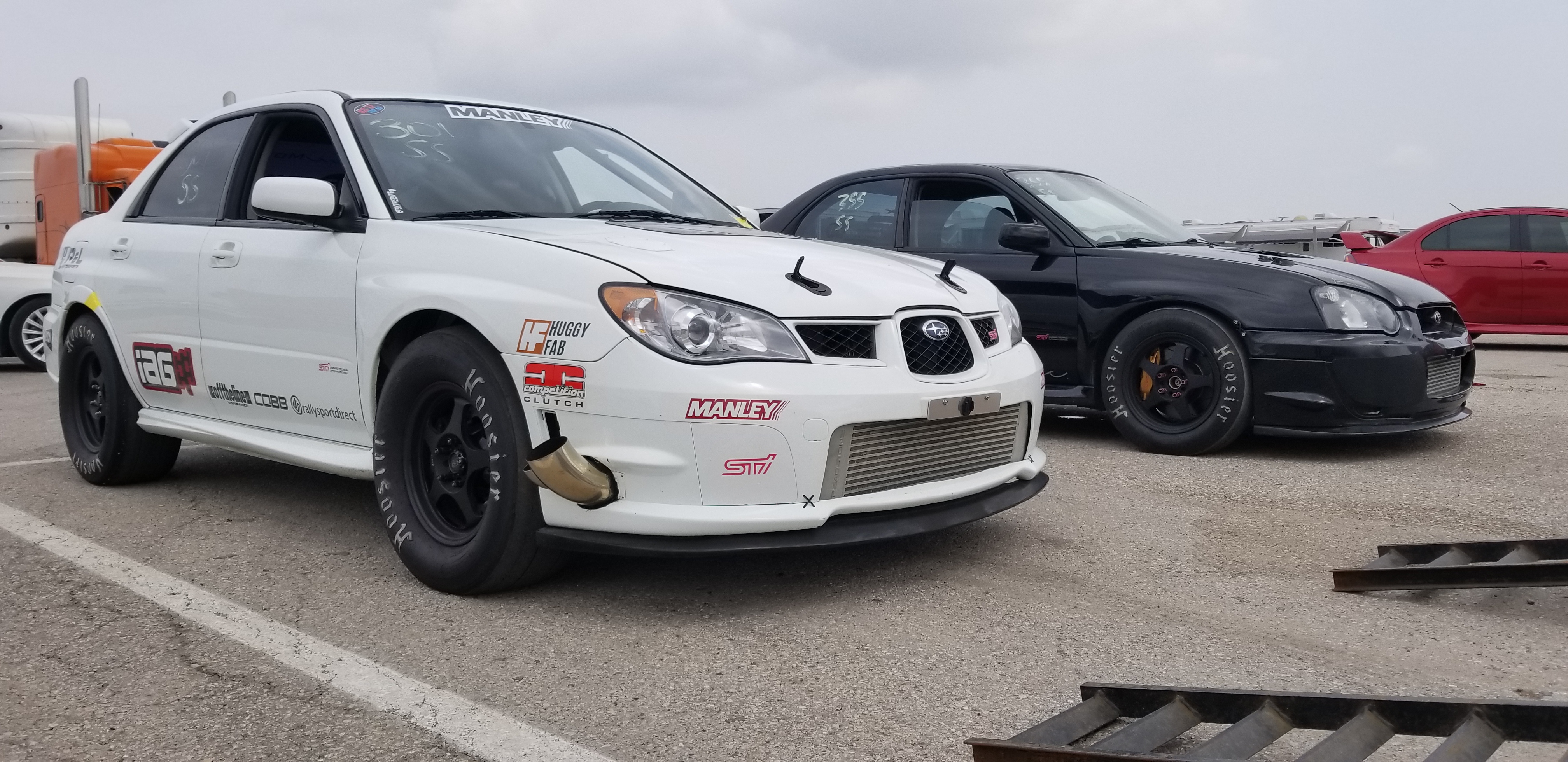 V8 Bait
CJ Synak and his white Hawkeye STi are TX2K veterans. CJ showed up with a recently rebuilt car and his eyes set on a new record. Mission accomplished! His aptly named "V8 Bait" STi has been consistently running in the low 9's for quite some time and he had no problem repeating that right off the trailer on Friday night. The next day a well prepped track and great driving landed CJ in the second qualifying position with an 8.79 at 165 which was both a personal record and a world record for the fastest STi running a factory Subaru 6 speed transmission.

FASTECH Motorsports 30 Day Build
Driving fast is one thing, building fast is another. FASTECH Motorsports has proven they can do both. 30 days before TX2K, this 2013 WRX was completely stock. Last weekend….it ran a 9.6 at 150mph…that's freakin' doooooope! Not bad for what was mostly just a shakedown weekend, we'll be keeping an eye on this car in the future.

NASTi Nate
Only a few months ago Nate Wielkiewicz snagged a nice check for winning the 2017 Subaru Nationals Unlimited Class Championship. He brought his STi down to Texas and set a new personal best of [email protected] while bangin' the limiter in 4th gear across the line! Also, one of my favorite moments of the weekend was seeing the reactions of people in the stands when CJ and Nate gapped two C6 Corvettes back to back in the first round of the stick-shift class eliminations. Subaru Power!

Larry "Legend"
Larry Becker wore a couple hats in Houston. He was basically a crew chief for CJ's "V8 Bait" STi but still had to time hold things down for his home state of Texas in his own car with a few exhibitions passes. His Subaru made the trip over from San Antonio, then proceeded to make a trip down the 1/4 mile in 9.8 seconds, a new personal best for the bright yellow blob-eye!

JR Tuned
Larry, Nate, and CJ's cars have several things in common…GD Chassis Subarus, sub 10-second speed, black wheels, V8 ego-crushing and so on. Plus they also all share the same COBB Protuner. Junior Barrios of JR Tuned and Prime Motoring in New Jersey have proven that they churn out a great recipe for really fast Subies!  #squadgoals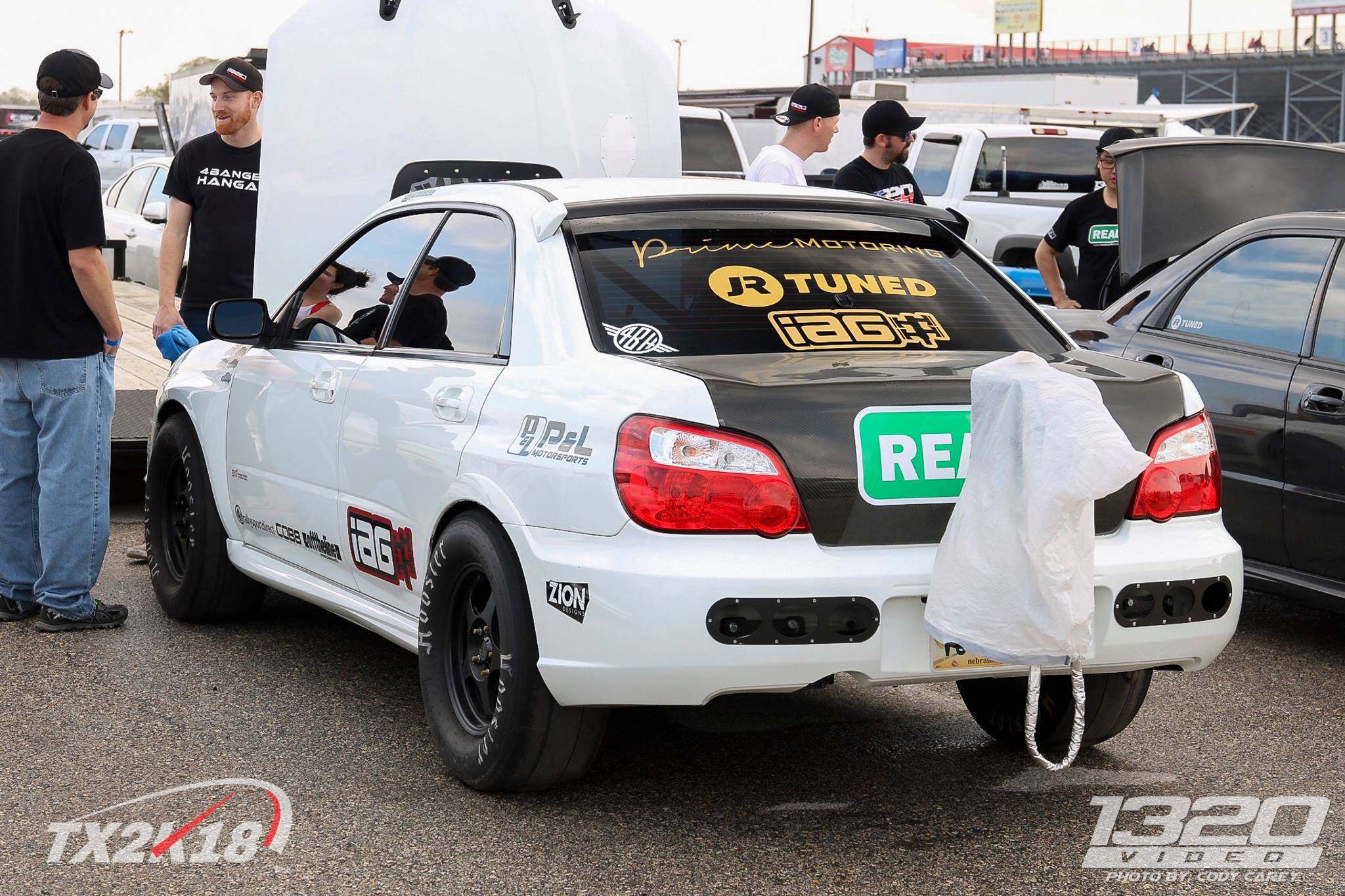 ---
Red Demon
Keeping with the four-cylinder trend. The car and team that absolutely stole the show over the weekend were Boostin Performances Red Demon. The red and black Eagle Talon isn't new to those that still follow the DSM and import drag scene but that didn't make it any less fun to watch. Devin Schultz and his team made the trip down from Illinois and quickly made their presence known by laying down a 7.338 in qualifying for the stick shift class, over a second faster than the 2nd place qualifier. They weren't done yet though. On Sunday in the second round of eliminations, the Red Demon bested it's own record again with a 7.047 @ 204.57mph!!! Only a few exhibition cars, GTR's, and 2JZ powered vehicles managed to produce better ET's in the high 6's. COBB doesn't tune 4G's but Boostin also tunes GTR's and Subarus on the Accessport. So amazing cars like this show off their skill and professionalism regardless of the platform.
---
COBB Booth + ProTuner/Dealer + Sponsor Booth Area + Fans
TX2K is serious business for many shops and private racers but at the end of the day, it's just racing and we do it because it's fun. A small number of people set some records and got some shiny new trophies but everybody in attendance had a good time whether trying to wrestle a fire-spitting machine down the strip or hanging out in the shade at one of the many sponsor booths just outside the grandstands.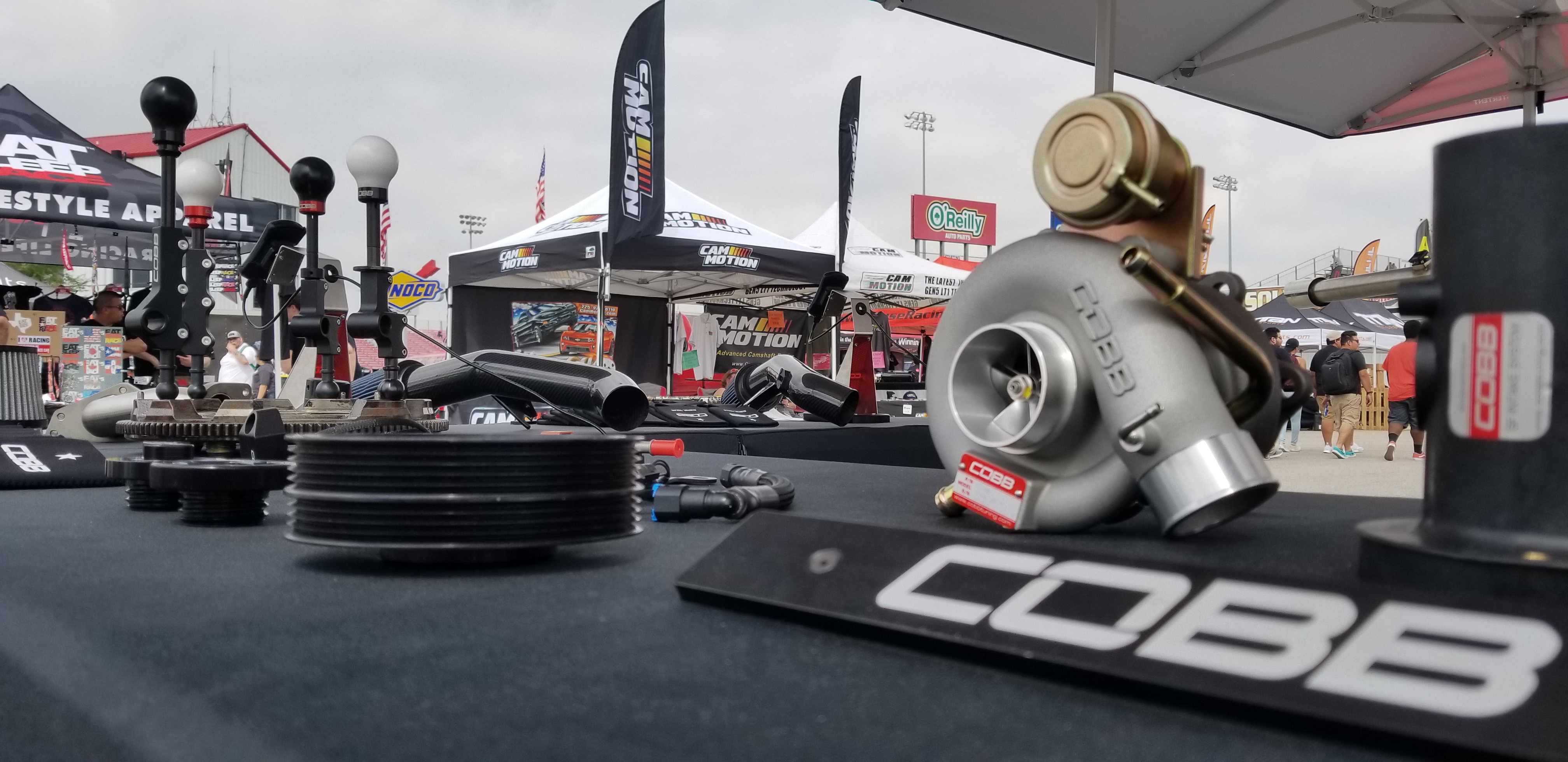 Sometimes I worry about the future of tuning…but the force is strong with these youngins.
COBB ProTuners showed up in force to compete and support their own customers.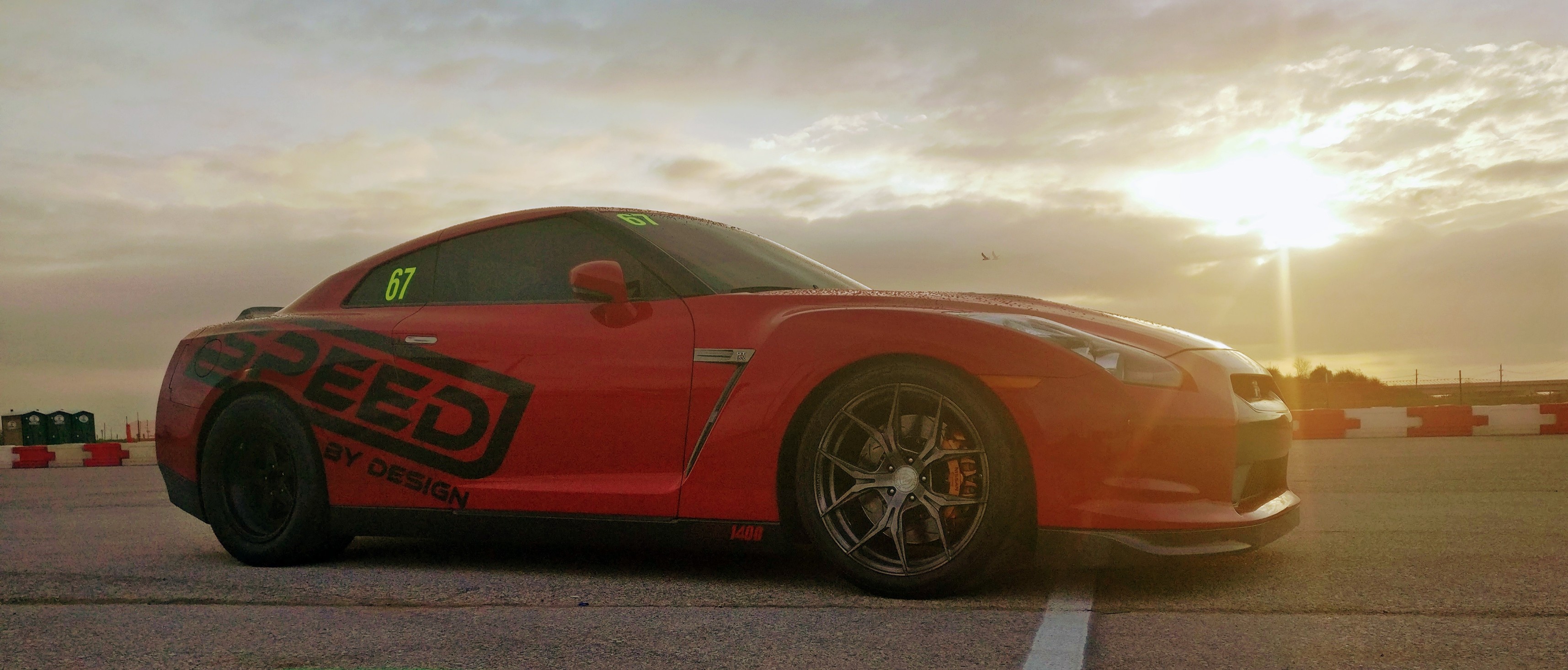 ---
Bonus Miscellaneous Photos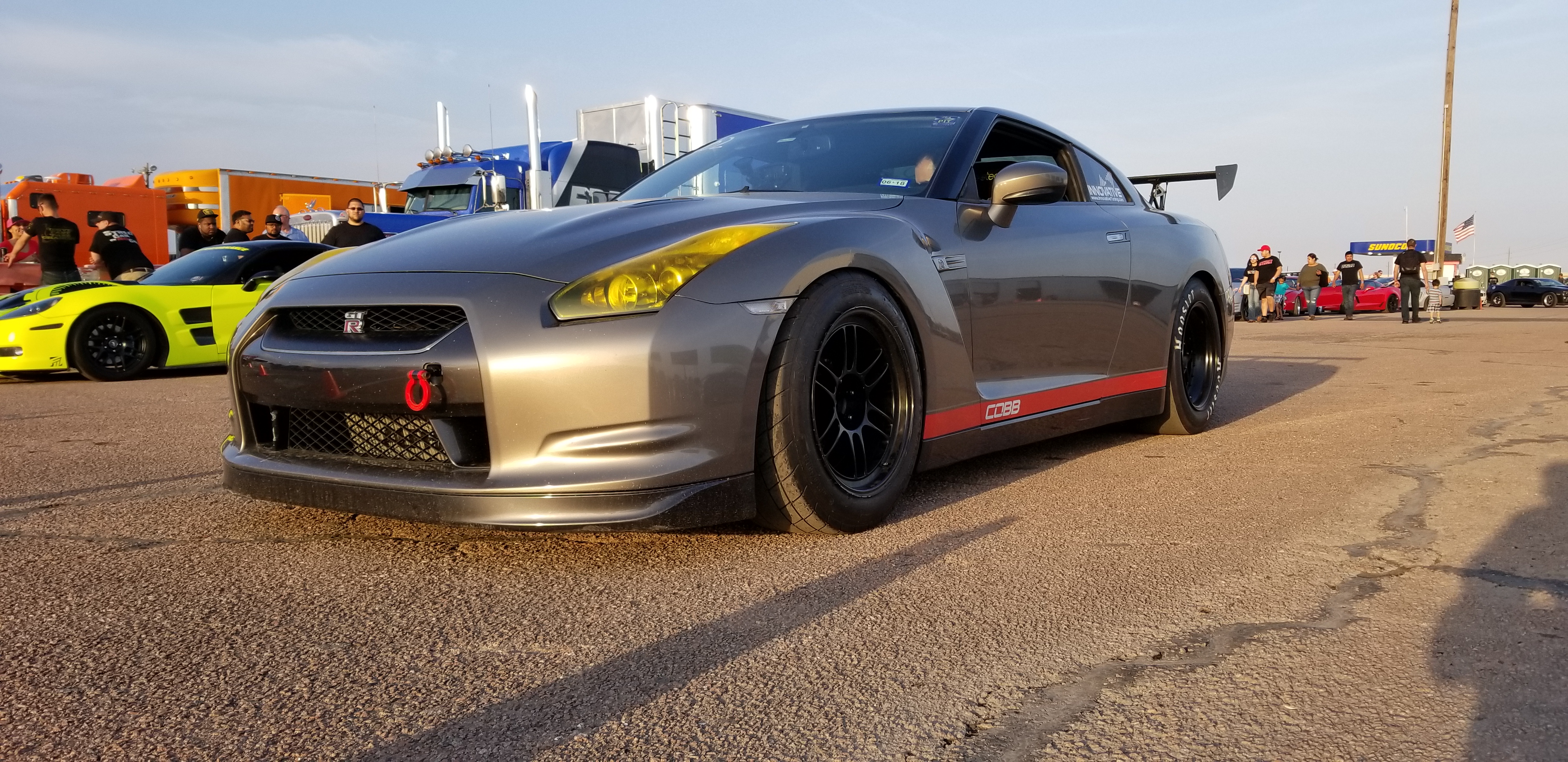 Additional Photo and Video credits to 1320Video