Gen2 Custom Features for 2015-2019 Subaru WRX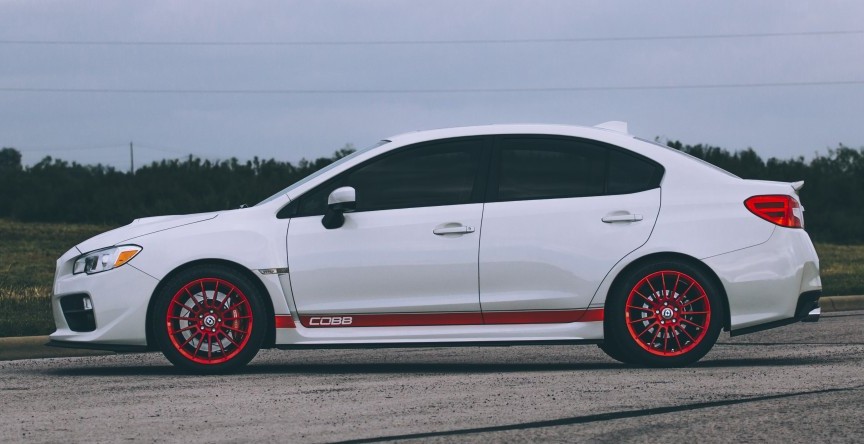 Our Subaru team is thrilled to announce a large update for all USDM 2015-2019 Subaru WRXs.   Nearly three years ago we released the first round of COBB Custom Features for the DIT 2.0L Subaru WRX 6MT.  That release was largely centered around seamlessly adding powerful Flex Fuel capabilities to the 2015-2019 WRX.  As the performance aftermarket for Subaru's 2015-2019 WRX continues to grow and push the limits of the factory ECU, we saw the need to also expand the capabilities of the Accessport and Subaru Accesstuner Pro HL software.  A new ECU type, dubbed CCF Gen2, is now available for ALL USDM 2015-2019 Subaru WRXs, including those equipped with a CVT transmission.
Vehicles Supported
2015-2019 USDM Subaru WRX 6MT
2015-2019 USDM Subaru WRX CVT
Accessport Firmware Version Required
---
COBB Custom Features – Gen2
COBB Custom Features are being expanded in a big way for 2015-2019 Subaru WRXs.  All of the features listed below can now be found within a new ECU type dubbed "COBB v4.0 CCF (Custom Features Gen2)".  A large change from our previous CCF release for DIT WRXs is the inclusion of support for cars equipped with a CVT transmission.  This ECU type is also based on Subaru's latest factory programming which includes improvements for longer battery life, and more.
Speed Density Tuning

The COBB Speed Density feature is a powerful yet easy-to-use solution that integrates Speed Density tuning into the Subaru engine control unit (ECU) and can be used to entirely replace or work in conjunction with the existing factory mass airflow (MAF) sensor. It is highly customizable and features such as real-time tuning aid in a speedy and efficient tuning process.  This tuning strategy is especially useful on vehicles that exceed the capabilities of the factory MAF sensor, or on vehicles where mechanical configuration causes inaccurate or noisy MAF readings.

Boost Gauge Wrap

This feature has been available on VA STIs and allows for the factory boost gauge to "wrap" to display boost values beyond the factory 24psi limit.  When wrapped, the gauge will display up to 44psi. The base value can be customized for easier on-the-fly monitoring.  You will need an aftermarket MAP sensor with the appropriate higher range in order to utilize this feature.

Boost Extend

In order to properly facilitate boost beyond the factory 24psi hard limit, several new tables and monitors have been created. These changes allow for higher limits for boost targeting, boost limits fuel cut, and boost monitoring. You will also need an aftermarket MAP sensor with the appropriate higher range in order to read beyond the factory limits.

Boost Smoothing

This allows for custom changes to separately filter out "noise" in the pressure reading used in boost control and SD without impacting other ECU functions that use manifold pressure.

IPW Extend

In order to facilitate IPW beyond a stock hard coded limit pre-fuel pressure compensation, custom code has enabled a new limit more than 10x the stock one, making it unlikely to ever be exceeded

Knock Sum Monitor

This new monitor increments when the ECU's knock signal algorithm perceives a knock event.  This is the same signal used by the the knock response systems (Feedback Knock, Fine Knock Learning, and DAM).  The overall count is not entirely relevant, instead the conditions of the log when the sum increments are more important.

Load Extend

The extended load tables have a new limit of 10.2 g/rev which should facilitate engines making ~1000 ft lbs of torque or less without requiring any skewing of load.

MAF Simple

The MAF Simple feature allows you to transition from the highly complex factory airflow model to a simple MAF calibration based airflow calculation at higher load/boost.  This makes tuning cars that are close to exceeding boost/load limits.
For details specific to these features, see our help documents below:
For now, these features are only available in Accesstuner Pro HL, so contact your preferred Authorize Protuner to have them added to your custom tune.  In the future, we will move these features to the end-consumer version of Subaru Accesstuner.
During testing of Gen2 CCF, we enlisted the help of a local Subaru performance shop, Kozmic Motorsports, to help put these features to the test on a high-horsepower DIT WRX.  To date, this is the only 9-second 1/4 mile DIT WRX.  Now that Gen2 CCF is available to all Subaru Protuners we can't wait to see more and more 9-second WRXs!