Porsche 991.1 and 991.2 GT3/GT3 RS Support
The letters "GT" are far from uncommon in the sports car world but I'm not sure there is any place where they have more meaning than when found attached to a car designed in Stuttgart Germany. Ferdinand Porsche famously said "I couldn't find the sports car of my dreams, so I built it myself." The various editions of the 911 GT3 represent that statement to the 10th degree…but that doesn't mean you can't still turn it to 11!
Introducing the Accessport for the 991.1 and 991.2 GT3 and GT3 RS!
---
Access your GT3's Ultimate Potential
The Accessport V3 is the world's best  ECU tuning solution for Porsche. The simple DIY plug and play connection to the car's engine management system via the OBDII port allows for any GT3 owner to apply improved engine and PDK calibrations to their favorite track weapon in a matter of minutes. Each Accessport comes with a collection of Off-The-Shelf maps for the engine computer as well as an optional upgrade for PDK tuning where applicable that combine to improve horsepower, torque, and transmission response and timing along with a list of unique custom features that will make you wonder how you lived without them before.
Part Number: AP3-POR-013

| | |
| --- | --- |
| Supported Models | |
| 991.1 GT3 (PDK) | 2014 – 2016 |
| 991.1 GT3 RS (PDK) | 2016 |
| 991.2 GT3 (MT and PDK) | 2018 – 2019 |
| 991.2 GT3 RS (PDK) | 2018 – 2019 |
---
Off-The-Shelf Maps
Typically it is difficult to find large horsepower and torque gains by only changing a tune on a naturally aspirated sports car and the GT3 911's don't make absurd power like their Turbo brethren. Yet, the results we have been able to efficiently and consistently produce on all of the 991 GT3 variants is a testament to Porsche's engineering and the enthusiasm and expertise of our own calibration team. There is no better bang for your buck method to modify your GT3 in order to get the absolute most out of such an incredible machine than what you can gain in a matter of minutes with an Accessport and one of our OTS maps. The results below speak for themselves.
Using 100 octane at the race track is certainly the best option for the best results, but do not worry. Every Accessport for a 991 GT3 or GT3 RS includes Stage1 OTS maps for 91, 93, and 100 octane to suit whatever fuel type is available. (95, 98, and 105 RON respectively for international ratings)
Plus you can easily change between each map in a matter of minutes as often as necessary so you are not stuck with only one octane choice.
Please CLICK HERE for our detailed ECU Map Notes
---
PDK Tuning
The Porsche dual clutch transmission is one of if not the best OEM street car transmission money can buy…but that doesn't mean it can't be a little bit better. The optional PDK upgrade for the Accessport allows for the owner to apply an improved calibration to the PDK as well as the ECU resulting in an enhanced shift schedule during high throttle driving conditions while maintaining the tame but crisp behavior of the stock setup for normal driving.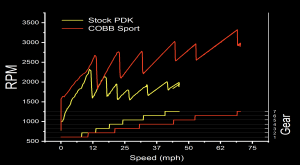 The stock PDK timing short shifts and achieves 7th gear at at only 40 mph producing a busy and non-sporty experience. COBB PDK Sport maps hold gears longer to achieve more rapid acceleration and a more performance focused behavior while still transforming the feel of the car even when not hammering down at full throttle. This mild change in shift behavior improves the car every moment its driven.
Please CLICK HERE for our detailed PDK Map Notes
---
Additional Features
The value of the Accessport extends well beyond the significant improvements in driving performance. A long list of advanced custom features make the Accessport much more than a simple "flash and forget" tuning product.
Live Gauges – Display real time engine parameters
to know exactly what's going on with your engine.
Datalogging – Record dozens of parameters in high
resolution to analyze between laps or track days.
Read Codes – Quickly check trouble codes without
the need of an additional device.
Reset ECU – Reset your ECU once the source of the
trouble code has been resolved.
Dyno/Roll Mode – Instantly enable a normally inaccessible
Porsche setting for driving the car on a chassis dyno.
PDK Relearn – PDK clutches gradually wear over time and
this feature allows you to recalibrate tolerances at home.
Change Maps Anytime – The Accessport can store dozens of
unique maps that can be changed quickly at any time and place.
Install/Uninstall – Unlike some other Porsche tuning solutions
the Accessport can be applied and completely removed from
the ECU at your discretion.
Custom Boot Screen – Upload any image you prefer as your
own custom boot screen to great you.
---
Custom Tuning
The OTS Maps offered with the purchase of an Accessport offer excellent performance improvements on all fronts but true to the nature of a GT Porsche…every RPM counts. For those that want to have the absolute perfect tune for their specific car for their favorite track and fuel options. The Accessport can be taken to one of our approved Porsche Protuners to have a custom one of a kind calibration created and saved to your Accessport to be applied to the car whenever you need it.
Use our Dealer Locator Tool to find the nearest COBB Approved Porsche Protuner or reach out long distance for an E-Tune!*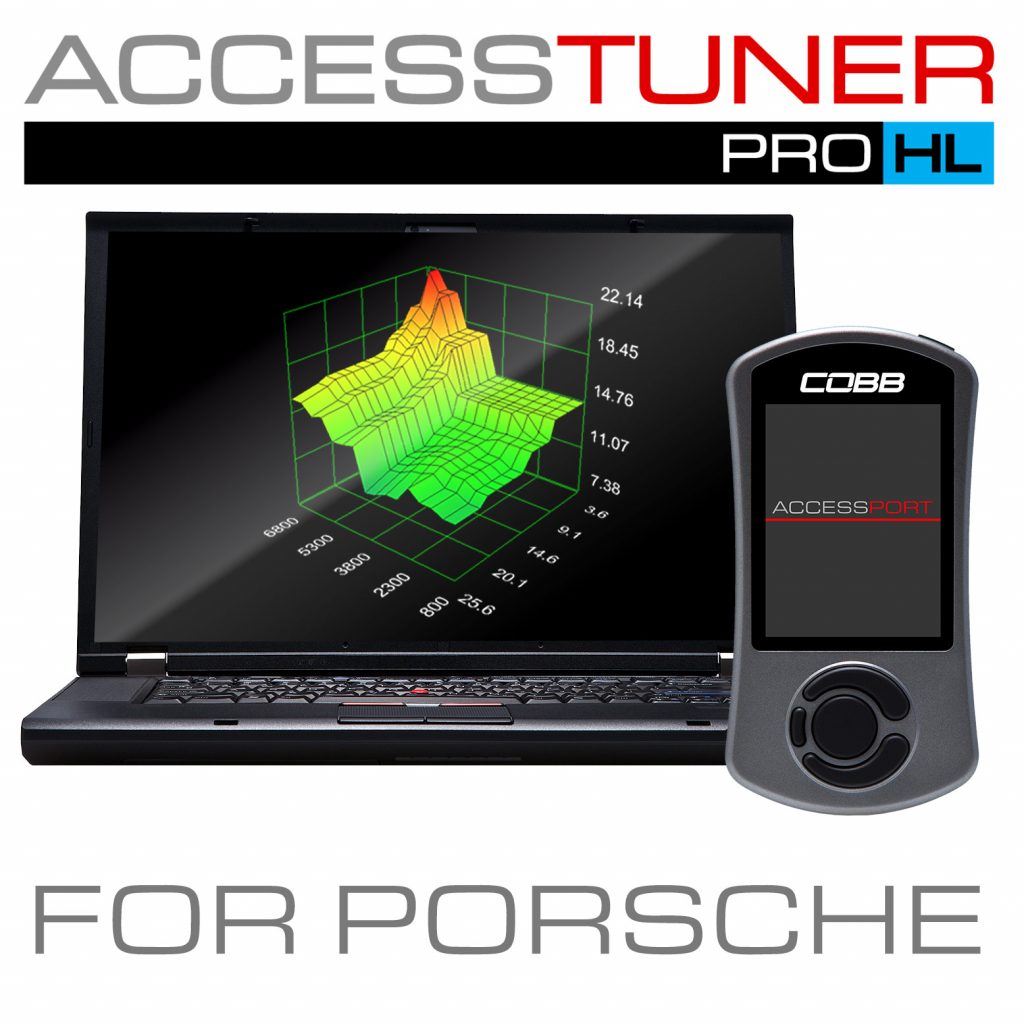 ---
Please contact our support team with any questions
Phone: 866-922-3059
Email: [email protected]