Ford
Ford Focus ST / Fiesta ST Accessport V3
$ 625.00
---
---
Description
Simple ECU flashing with gauge package! The new in-cabin mountable Accessport V3 has a large, full color, higher resolution screen which allows you to monitor up to six parameters in real time. Fully customizable from the look (multiple bezel colors), layout (set up race, street, or dyno gauge clusters), and mounting options (choose from 1,000s of standard vehicle mounts). And what's looks without brains? More processing power, memory, and storage to flash faster while saving all of your maps and logs. This is your new Accessport.

Warning! Installation of this Accessport over anything other than OEM or COBB software may result in ECU/TCU failure. Please contact COBB Support if you have any questions.
---
Why?
The Accessport is the world's best selling, most flexible, and easiest to use ECU upgrade solution for your Ford. Unlock power hidden within the vehicle by replacing conservative factory settings with more aggressive calibrations. Follow our staged upgrade path with pre-loaded Off The Shelf (OTS) maps or use custom mapping for any modification level. It's the last engine management solution you'll ever need.
---
Features
Ford Focus ST / Fiesta ST Accessport V3
Larger, full color, higher resolution screen
Customizable multi-gauge display
In vehicle mount, with on/off switch
Faster and easier to use with a familiar face
Interchangeable faceplates
---
Gallery (11)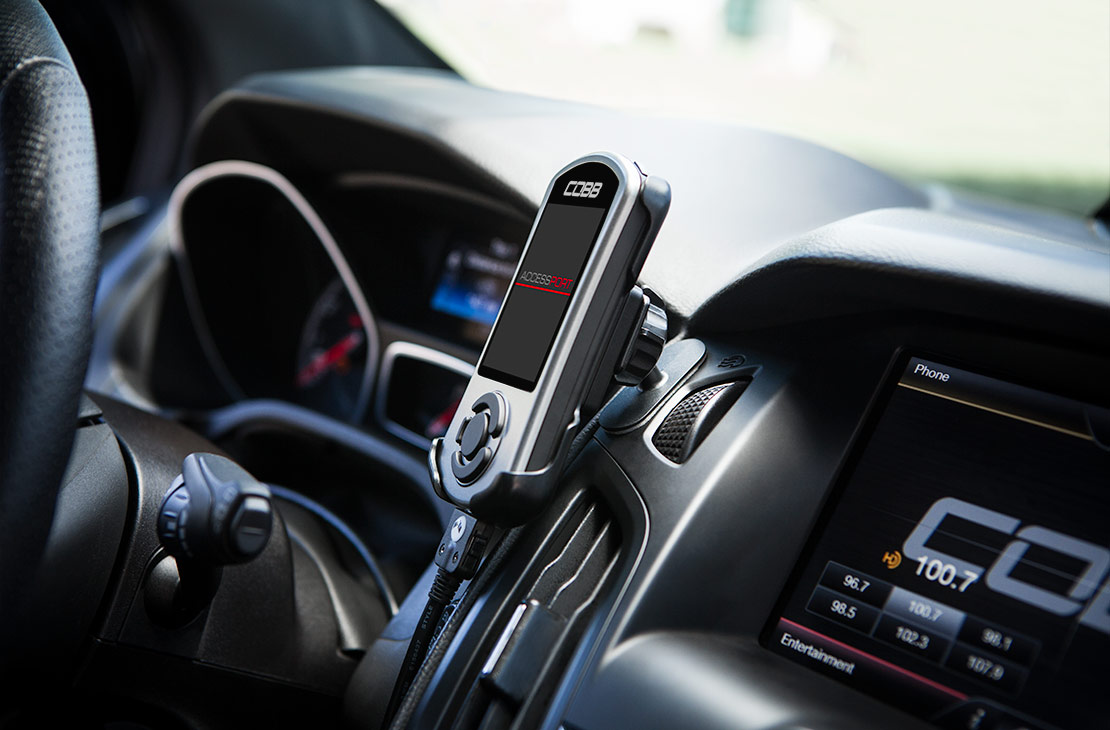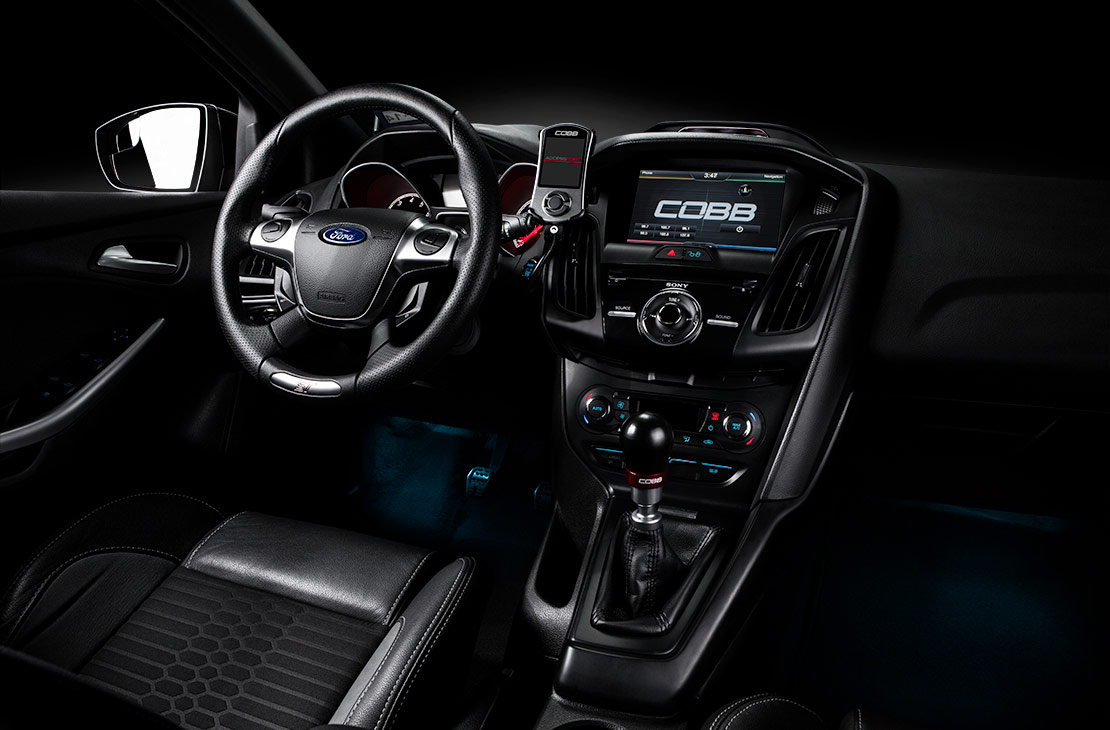 ---
Details
Simple Installation:
 Everything is included for the simple installation!  Intuitive on-screen instructions identify your exact vehicle and available maps.
Simple Uninstall:
 Revert your ECU to exactly as it was before with the easy to use Uninstall option from the main menu.
Troubleshooting:  Read codes, Clear Codes, Identify Vehicle, I/M Readiness, Keep Alive Memory, Memory Snapshot, Reset ECU.
Change Maps: 
Store up to 100 maps from our OTS map database or from your favorite COBB tuner and quickly switch between them for any need.
Gauges:
Use your Accessport as a gauge to monitor boost or any other live information, directly from the ECU.
Data Logging:
 Record multiple data channels simultaneously for in-depth evaluation of engine performance.  Stores up to 10 hours.
Performance Measuring:
 Welcome to your own performance evaluation suite!  Measure 0-60 mph time, 60 foot and ¼ mile ET's. and Trap Speed.
Shift Light:  
Set custom RPM warning lights for perfect shifts every time.
AP Manager: 
Use your PC or Mac to manage maps, download recorded datalogs, or quickly update your Accessport.  Download free from right
HERE
.
---
Ford Specific Features:
COBB Adjustable Traction Control: Adjust target traction slip on the fly (Slots 1-8) and maximize tire grip to best suit given track conditions (wet/damp/dry/street/slip/burnout/etc). Note: Feature must be enabled in ECU calibration for use. (Fiesta ST, Focus ST, Focus RS & Mustang Only.)
COBB Flat Foot Shift (MT Only): Improve shift times and keep boost built during shifts. Flat Foot Shifting can hold engine RPM at a set RPM between 3000-8000 RPM during shifting. This feature is enabled in COBB OTS maps. (Fiesta ST, Focus ST, Focus RS & Mustang Only.)
COBB Launch Control: Adjust Launch Control on the fly with 6 pre-configured RPM slots to dial in launch based on track conditions and vehicle configuration. Enabled in OTS Maps and configurable within Accesstuner Pro. (Fiesta ST, Focus ST, Focus RS & Mustang Only.)
COBB Change Map Slot: Map switching allows for instant changes to several tables inside the vehicles calibration without having to re-flash the ECU! Each "Map Slot" is grouped into a folder found inside the Map Switching Features group. When a map slot is selected by the driver, the ECU will use the corresponding values as defined in each folder. Further Documentation can be found here.
COBB Burnout Mode: Enabled in OTS (Off the Shelf Maps) This feature allows you to hold the car at a predetermined RPM and perform a burnout. Burnout mode prevents you from over revving the engine while performing a burnout! (Fiesta ST, Focus ST & Mustang Only.)
---
For specifics on these features please review the Ford User Manual located here.