Racer Recap: Brian Lock Takes AWD Modified Class at Redline Time Attack Round 6!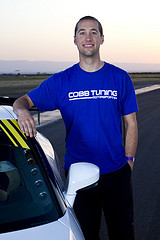 You always know the dedication it takes to run a motorsports program when the conditions are terrible and everyone is still working their tails off. This weekend at Willow Springs was pretty much as bad as it can get. At times the temperatures reached 108 degrees in the paddock. Over 50 gallons of fluids were consumed by the crew to try to stay hydrated and cool. Through all this though, I saw the same tireless dedication to their jobs as the crew has on any other weekend. We were a little worried about engine temps this weekend, but with a new carbon hood from AIT with louvers our crew was the ONLY thing that got overheated this weekend.
We had a lot of work to do this weekend on the GT-R. Every stock bushing in the suspension had been replaced with the ERP full spherical bearing kit. The difference this made was absolutely incredible. The GT-R became at least twice as easy to drive this weekend with the stability the ERP kit added. In previous events we had logged a huge amount of toe change under braking and on throttle. This made the car very hard to drive consistently, which in Time Attack is paramount only having 1 or 2 laps to post a your best lap of the weekend. You can even see the difference in my in-car video with how much calmer my inputs are on the wheel. Definitely one of the best upgrades we have made to the car all year!
Of course we would not even have a weekend without SSP. At the previous event, our AWD input shaft sheared in two, we had to find a solution to get the GT-R back on the track in a hurry! Kris rebuilt our damaged AWD clutch unit and sourced a new gear in only 2 days, got it over-nighted back to us, and saved our event. There was only one person I thought of calling when we knew our transmission was broken, and that was Kris at SSP. His experience with the dual clutch gearbox of the GT-R is unparalleled in the US, and he came through with flying colors.
Back to events of the weekend, we took another track record, and another overall AWD Modified Class victory. This wasn't an easy victory, however, with 034 Motorsports, Ryan Gates, and LIC/Takata in attendance, along with the very fast GT-R of Fontana Nissan with Mike Cronin Jr. at the wheel. It was a good thing we broke the track record by the margin we did this weekend because 034 Motorsport also broke the previous track record and was not far off our pace. In the record assault session they were as close to us time-wise, as Ryan was out at Autobahn Country Club. We were not sure how fast Ryan Gates could run as he was playing games with his competitors all weekend by refusing to run full hot laps in practice, however, his challenge never materialized.
At the end of the day were able to hold down first place and extend our margin of victory in the second Time Attack session by putting on a new set of stickier tires and I was able to put down a blistering 1:23.4 lap time. This was pretty exciting considering we were on par with last year's AWD Super Modified Class times. This car continues to amaze me with every event we go to.
Now it's time to get ready for two rounds that I believe will prove to be much more technical and difficult win for us. Spring Mountain and especially Infineon Raceway will be very different from Willow Springs with tight turns and hard transitioning corners, something GT-R struggles with its Lose Weight Exercise. We have the best crew in the paddock though, and an AccessPORT powered GT-R engine, so I am confident we will do well!