2015 STI Development : Staged Power Package Evaluation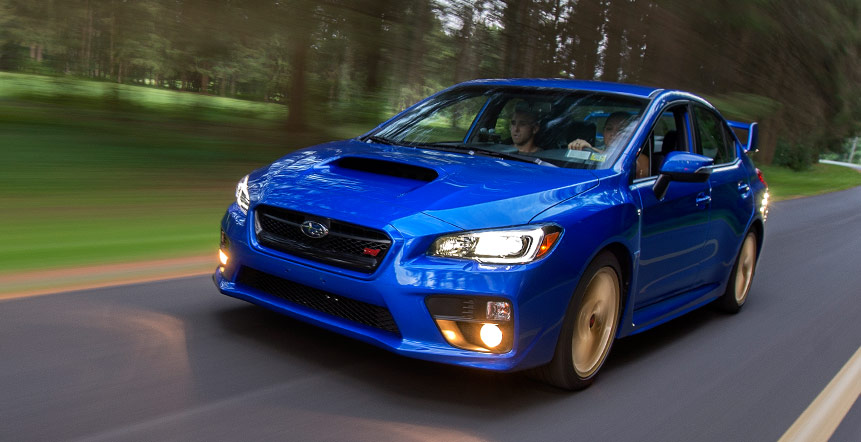 As you may know, one of our public commitments following the release of the new 2015 model year VA-series chassis code Subarus (2015+ WRX and STI) was to thoroughly explore each platform and quantify our findings whenever possible.  Because the 2015 STI retained a very similar mechanical configuration to the 2008-2014 STI (GR-series chassis code), many in the community have anticipated that hardware and tuning options would be identical to the current offerings.  The idea behind our testing was to discard any existing assumptions about how the 2015 STI may compare to its older brothers and make sure that we are providing hardware and tuning solutions that exceed expectations.
Two of the prevalent issues with the GR series WRX and STI have been a "Boost Creep" problem and a fuel system that is at or beyond capacity on cars that are equipped with a turboback exhaust, especially when combined with an upgraded free-flowing intake.  This topic was previously discussed here: Subaru Tuning : A Quick Look into Boost Creep.
The key item of significance here: Airflow increases must be met by increases in fuel flow – AFR is a ratio air against fuel, by definition, and thus they must increase proportionally with each other.  We've previously explored how adding an intake increases airflow on the 2015 STI in a previous article, available here: 2015 Subaru STI Development Update – COBB SF Intake Testing.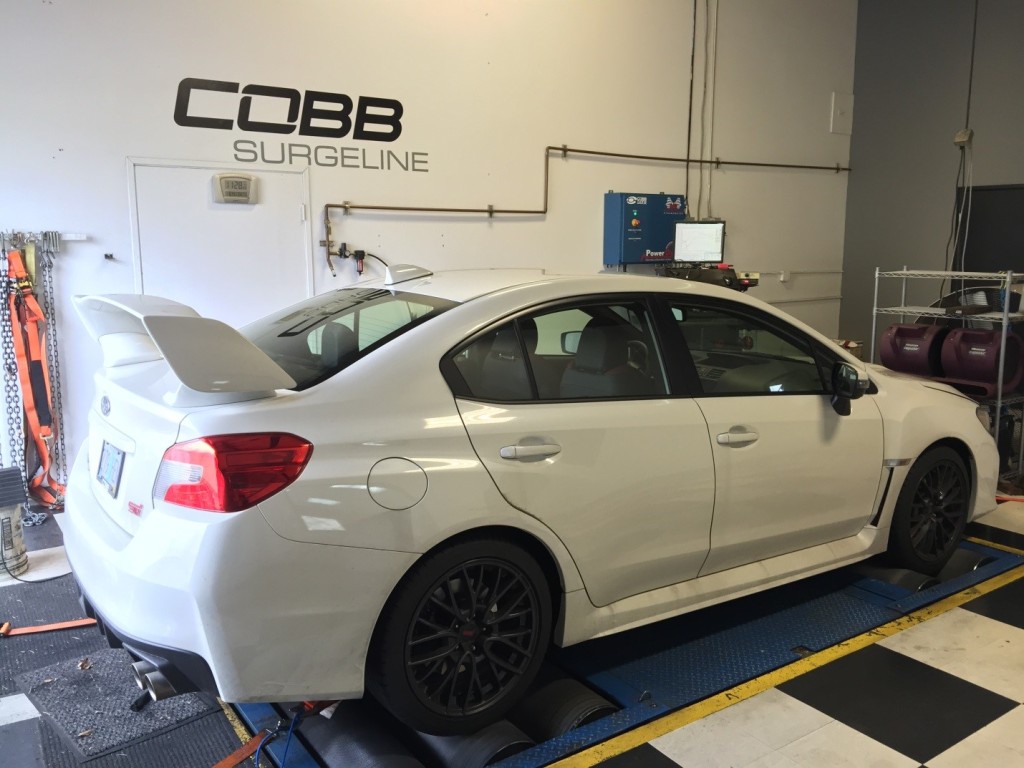 COBB Tuning's 2015 STI undergoing dyno testing a COBB Tuning Surgeline in Portland, OR
Goal:  Analyze fuel system performance when attempting to tune for a COBB Turboback Exhaust and COBB SF Intake System on a 2015 STI.  Will the factory fuel system be adequate to support this setup?
Vehicle:  COBB Tuning R&D 2015 STI (#2).  ~900 miles on odometer.  92 octane pump gas.
Method:  In order to gather numerical data for analysis, we collected datalogs from the car under wide open throttle (WOT) dyno runs, in the following tune/hardware configurations:
Stock (S#); Stock
COBB v340 Stage1 93 OTS (S#); Stock
COBB v340 Stage2 93 OTS (S#); COBB Turboback Exhaust
COBB v340 Stage2+SF 93 OTS (Experimental) (S#); COBB Turboback Exhaust + COBB SF Intake System
Conditions:  45-48 degrees F, Sea Level elevation.  COBB Tuning Surgeline, Portland, OR.
Background:  In general, while performing aftermarket tuning, a fuel injector is considered to be at their flow limits once reaching ~95% Injector Duty Cycle (IDC).  Beyond this, the amount of "off" or non-driven time for the injectors between injection events is inadequate for allowing the electrical coil within the injectors to fully discharge.  With this, the beginning of the next injection event comes earlier than anticipated, as the injector is already partially charged when the ECU begins driving it for the next injection cycle, and the net result is a flow non-linearity (usually demonstrated as a brief rich dip in air-fuel ratio).  After passing roughly 105% IDC, even with this rich-leaning non-linearity, the total window for injection in terms of time is now simply too short, and an inadequate amount of fuel is delivered to maintained the desired air-fuel ratio, so air-fuel ratios begin to go lean of targets.
What does this mean?  Past ~95% IDC, we mechanically lose control over fueling and air-fuel ratio will not be on-target.  Dangerous lean conditions will result past ~105% IDC.
Things to keep in mind:  Air density is a critical factor.  We intentionally tested in Portland winter months, where temperatures are cool and atmospheric pressures are high.  At elevation and high ambient temps, the concerns mentioned above become reduced as air mass is reduced.  Keep in mind, however, that it was still in the mid 40's during this testing.   Injector Duty Cycles could easily be 5-15% higher if the testing were completed in a much colder area around the United States, such as New England, which has seen a long period well below frozen this winter.
Results:  OK, time for the relevant stuff.  This chart shows the logged Injector Duty Cycle during a full-throttle dyno run for each of the aforementioned configurations.  We've added a red line showing the 95% threshold we would ideally like to stay below.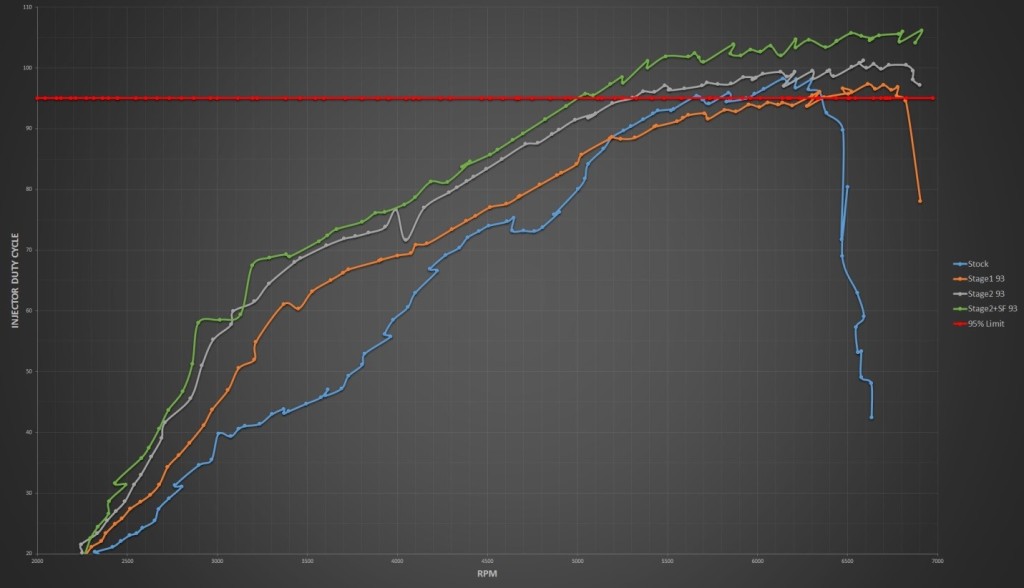 Graph of Injector Duty Cycle (Y-axis) against Engine Speed (X-axis) for each configuration
As we can see, the issue is already borderline on the completely stock vehicle.  Subaru targets an extremely rich air-fuel ratio and the 2015 STI has been observed to be the most powerful STI to date; one has to wonder why they have not upgraded the fuel system's capacity to match this.
With tuning (Stage1), we see that peak values are similar to stock.  We are targeting a leaner AFR but using more boost/airflow to make more power, so overall total injector usage remains similar.
At Stage2, we're really getting up there.  The fully upgraded post-turbo exhaust hardware facilitates more airflow and we use even more injector as a result.  No NASA scientists needed on this one!  However, while Injector Duty Cycle does definitively now exceed 95% for a good portion of the run, it stays around 100% peak.  We have lost control of fueling, but we probably are not going to induce lean conditions yet, meaning the engine should not be at any significant new risk.
Stage2+SF: Uh-oh!  Now that the intake side has been freed up, we're using a LOT more injector.  With Injector Duty Cycles peaking around 107%, we can no longer be sure that there is enough fuel available to keep a ball-park safe air-fuel ratio, let alone precise control over it.
As mentioned earlier, this would only get worse as ambient temperatures go further downwards.  While mid-40's is definitely cold for all of the Arizonians reading along, Michigan residents are likely nodding along in full agreement.  Much of the U.S. sees sustained temperatures well below 40 F during their colder periods of the year.
Summary:  So, where does this leave us?  In short, it means that we (COBB Tuning Subaru Experts) are not comfortable offering "Stage2+SF" as a released stage package for the 2015 STI.  We know this is likely to disappoint some and confuse others, especially since the package is still offered for the GR vehicles.   However, not all is lost.  Thanks to our partnership with Injector Dynamics, we are well-positioned to now offer OTS packages that include fueling system upgrades, which have typically been "custom tune only" territory for Subarus.  Be on the lookout for an upcoming COMPLETE Stage3 package for 2015 STI that includes fuel system solutions in addition to full turboback and intake hardware!