2015 WRX Tuning Results : 344 WTQ / 313 WHP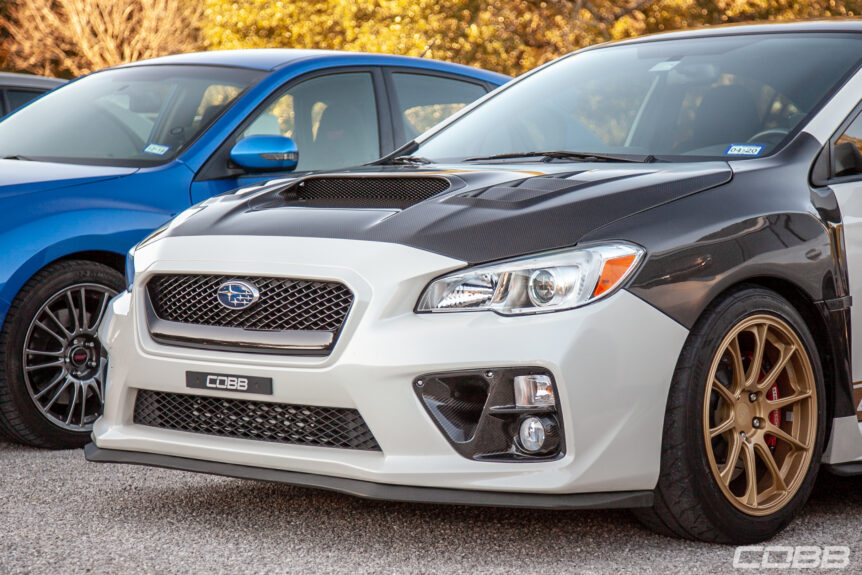 We have enjoyed seeing all of the 2015 WRX custom tune results being posted around the 'net and decided to jump in with our own after a bit of playing around with our car on the Austin R&D dyno today. While this combo of parts isn't likely to be an pre-configured OTS "StageX" package that is available from us, we try to do as much hard parts testing as we can to make sure we have a good understanding of the cars. It's important for us to have knowledge over how the car will react to common aftermarket upgrades. No records or anything crazy but this thing is definitely one quick WRX now!
We bolted up all of the airflow mods we have on-hand for the car and decided to see what she could do. A bit more time to continue refining the tune would have likely yielded even larger results, but I quickly "chickened out" after realizing how close we were to 350 wtq.  It is likely that the connecting rods will prove to be the long-term weak spot for modified FA20DIT cars, so we decided to call it an afternoon with our engine still intact for now.
Engine/Power Modifications on our 2015 WRX consist of the following: COBB Tuning Accessport V3, COBB Tuning Turboback Exhaust, COBB Tuning SF Intake/Airbox, and a COBB Tuning Front Mount Intercooler Kit, and a COBB Tuning 3-Port EBCS.
**5/8/2020 – Updated Dyno Chart***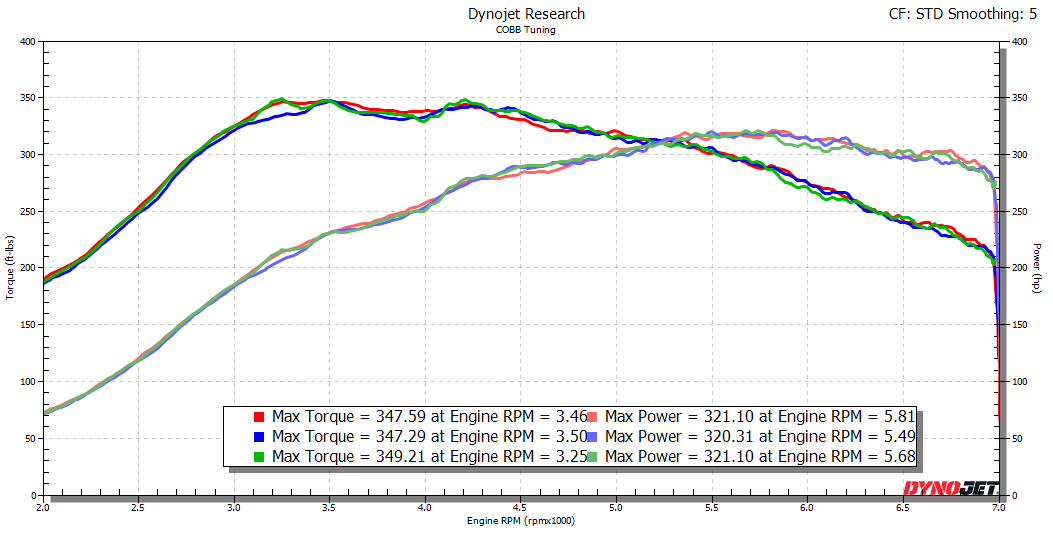 Results vs stock vehicle: +77 wtq (28.8%) , +62 whp (24.6%) 
At this point this car is now making a tad more torque and horsepower than a Stage2+Intake 2015 STI on the very same dyno — very impressive for a 2.0L with the diminutive factory turbo. We are slowly beginning to really like these cars now as the uncorking process continues.
Long term, this testing helped us identify some other areas of the factory ECU where we should focus our future reverse engineering (table/logic discovery) in order to provide the precise control and ease of tunability that the COBB Protuner network demands, even as the power numbers get crazier and crazier as new mods become available over time. We can't wait to keep pushing this platform and seeing what kind of amazing results you guys achieve over time!
Thank you for your support during the DIT craze!
Cheers
The COBB Subaru Expert Group