2017 WRX Accessport & OTS Maps Now Available!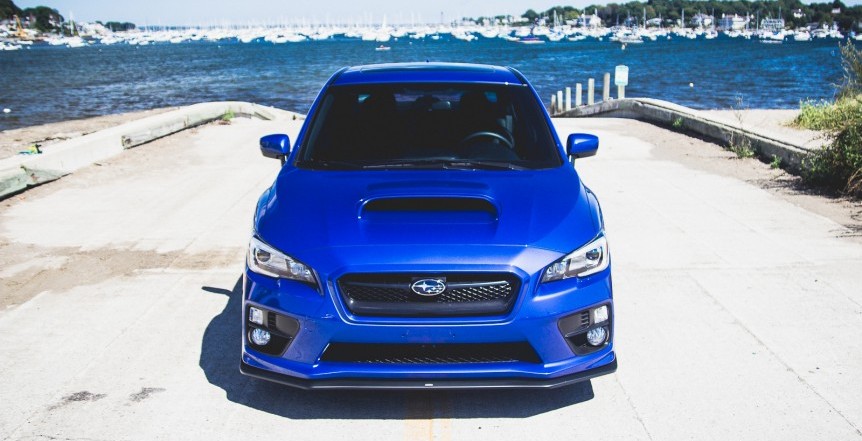 The COBB Accessport and Accesstuner software are now compatible with the 2017 Subaru WRX.  Owners can now enjoy all of the parts and features they've come to expect from COBB Tuning including the Accessport, Stage Power Packages, and Off The Shelf Maps.
Accessport Firmware Updates
All SUB-004 Accessports with firmware version 1.7.3.0-13238 or greater are now compatible with the 2017 WRX(6MT and CVT).  Customers who already have an Accessport can utilize Accessport Manager to update their firmware.
New Supported Vehicles:
2017 USDM WRX CVT
2017 USDM WRX 6MT
Firmware will include the same Off The Shelf (OTS) Maps that are available for the 2015 and 2016 WRX.
2017 WRX CVT OTS Maps:
Stage1 91 HWG
Stage1 91
Stage1 93 HWG
Stage1 93
Stage1 Economy Mode
Stage1 Valet Mode
Stage1+BigSF 91 HWG
Stage1+BigSF 91
Stage1+BigSF 93 HWG
Stage1+BigSF 93
Stage1+BigSF Economy Mode
Stage1+BigSF Valet Mode
2017 WRX 6MT OTS Maps:
Anti-Theft Mode
Stage0
Stage1 91
Stage1 91 HWG
Stage1 93
Stage1 93 HWG
Stage1 Economy Mode
Stage1 Valet Mode
Stage1+BigSF 91
Stage1+BigSF 91 HWG
Stage1+BigSF 93
Stage1+BigSF 93 HWG
Stage1+BigSF Economy Mode
Stage1+BigSF Valet Mode
Stage2 91
Stage2 91 HWG
Stage2 93
Stage2 93 HWG
Stage2 Economy Mode
Stage2 Valet Mode
Stage2+BigSF 91 HWG
Stage2+BigSF 91
Stage2+BigSF 93 HWG
Stage2+BigSF 93
Stage2+BigSF Economy Mode
Stage2+BigSF Valet Mode
Dynamometer Feature
The dynamometer feature is removed with this firmware update.  While the concept of this feature is appealing, unfortunately it often creates confusion and can be cumbersome to operate.
Data Log Presets
The Data Log Preset feature on the Accessport allows a user to save the currently selected list of data logging monitors so that they can be quickly loaded again in the future. This feature also integrates with Accessport Manager to allow sharing of Datalog Preset files to aid in remote diagnostics as well as customizing the Data Log Preset file's details.  For more information on configuring Data Log Presets, please CLICK HERE.
---
Accesstuner Pro Updates – 1.9.1.0-13238
New features for Subaru Accesstuner Pro are added vehicle support, Table Filter, Map Compare, and multiple workflow improvements.
New Vehicle Support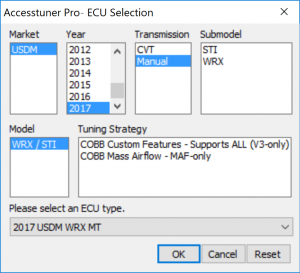 2017 WRX CVT and 6MT vehicles are now fully supported by COBB Accesstuner Pro.
Table Filter Feature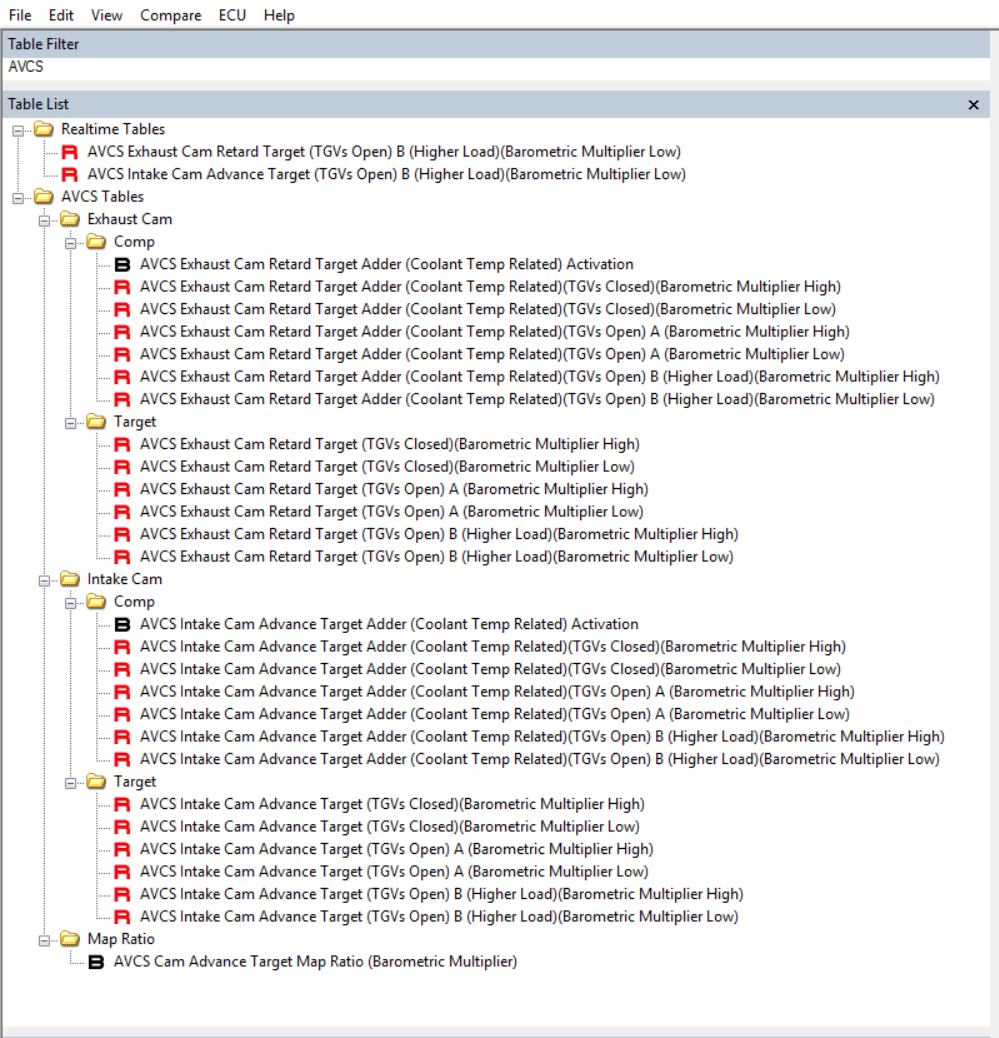 Users can now utilize the Table Filter feature to narrow down the list of tables.  By entering a search term in the Table Filter box, the table list below will automatically parse down to only include tables that include that term.
Map Compare Feature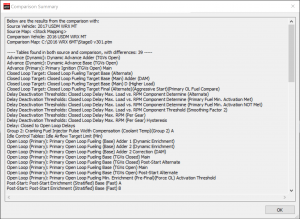 The Map Compare feature has been updated to allow for cross-vehicle map compare.  For example, users can now compare factory calibration data between from two different model year vehicles whereas before that was limited to matching vehicle types.
Workflow Improvements
Map Load Workflow

Accesstuner will now prompt users when attempting to load a map file that does not match the current definition file.  This prompt will allow users to switch definition files on the fly.  Previously, users would have to manually change ECU types after given the error.  This simply streamlines that process.
Added Beta Updates Option

Beta updates allow users to quickly diagnose any issues they may be having with the software.  The COBB software team may host special builds of software to address issues or test new features.  Please only utilize the Beta versions when suggested by COBB.
Release Notes Prompt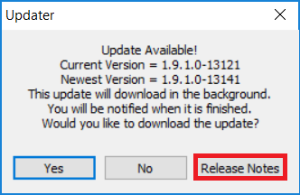 We have added a button to open the Release Notes for each software update right in the Updater prompt.  Users can now read the release notes before updating and decide if the update is necessary before completing the task at hand.