2021 USDM GTI and GLI Support
It's the final year of the Mk7 VW generation and COBB is here to send it off on a high note and we were able to kill two birds with one stone. As of today, COBB Tuning Accessport and stage package support for the 2021 USDM Volkswagen GTI and GLI is live!
---
Engine Tuning
The 2.0L turbocharged engine found in the GTI and GLI already serves to make the cars behave like a wolf in sheep's clothing in stock form but with the right set of simple and effective aftermarket tuning accessories. They become more like a rabid saber tooth tiger in sheep's clothing. There may not be a better bang for your buck tuning platform on the market and the Accessport makes unleashing that potential as easy as possible.
Unlock power hidden within the vehicle by replacing conservative factory settings with more aggressive calibrations. Follow our staged upgrade path with pre-loaded Off The Shelf (OTS) maps or use custom mapping for any modification level.
Click Here for Map Notes with details about each COBB OTS map and the features included with the purchase of an Accessport!
---
Stage Packages
Tuning the ECU with the Accessport is fun…but making even more power with high-quality bolt-on parts while tuning with the Accessport is even more fun! Our engineers rigorously test hard parts to find the perfect balance of VW performance parts.  Specific GTI parts require specific ECU calibrations and vice-versa, so to make it simple and easy, we offer several stage packages to make sure you get exactly what you need and save a few dollars with a bundle discount in the process.
Note: Some parts and packages may not be available for purchase in California. Please see our COBB Green Speed documentation for more details. 
---
Additional Parts
Each part is of course also available a-la-carte along with many other important accessories and upgrades catered directly to the MK7.5 GTI and GLI.
CLICK HERE to see everything available from COBB Tuning for the 2021 USDM GTI.
CLICK HERE to see everything available from COBB Tuning for the 2021 USDM GLI.
---
Customization
Custom COBB Features
Not only does the Accessport work to greatly improve power and response, it also comes with a set of custom features and tuning options to add even more value to the experience.

Custom Tuning
A major advantage in purchasing an Accessport is that it is pre-loaded with several Off-The-Shelf tunes for very specific bolt on modifications. But we also have a great network of highly experienced and approved COBB Protuners that allow you to have a one of a kind custom tune created just for your car using our Accesstuner Pro software.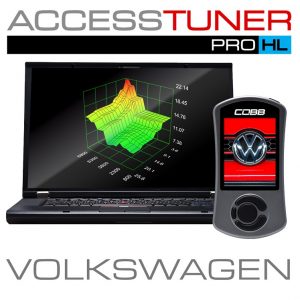 Contact your preferred Volkswagen Protuner to schedule a dyno session or plan to develop an "e-tune" remotely via email.
---
Please Contact Support for any questions!
Phone: 866-922-3059
Email: [email protected]