Subaru OTS Maps: High Wastegate, Low Wastegate, Normal Wastegate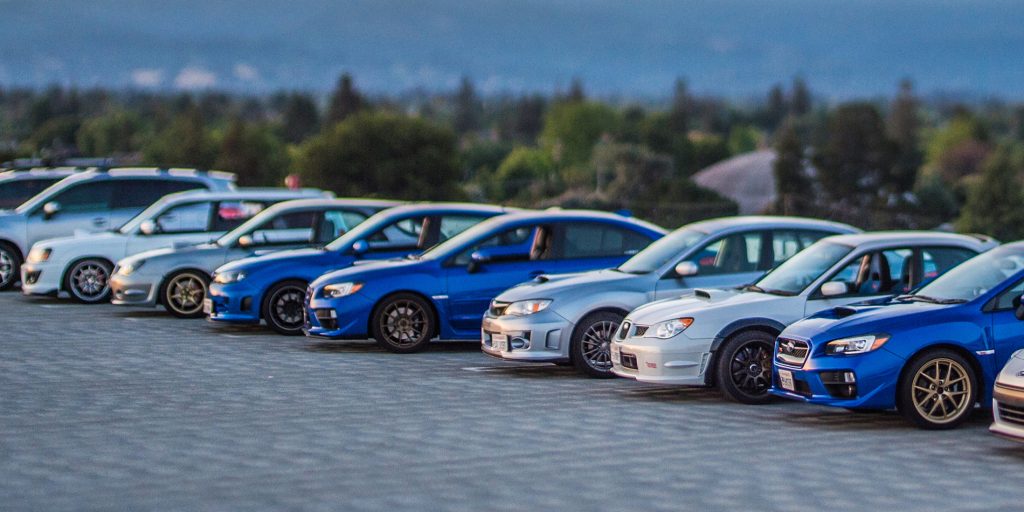 The COBB Tuning Accessport comes with Off The Shelf (OTS) maps designed to support any vehicle of a specific make and model throughout all climates and elevations.  For the Subaru platform, most vehicles have a wastegate option that can be chosen to better fit your car for its specific conditions.  Here we'll define the differences in these wastegate options and explain how to make sure you're using the right version OTS map for your vehicle.
If you've recently downloaded a map from the COBB website you may have noticed a dropdown menu presenting the High Wastegate (HWG), Normal Wastegate (NWG), and Low Wastegate (LWG) version of the OTS map you've chosen.  Each map has differences in wastegate duty cycle tables that allow a vehicle that may not be running target boost to run optimally.  You should start with the Normal Wastegate version of your OTS map.  Then, if you are overboosting or exceeding target boost, change to the Low Wastegate version. If you are underboosting or not reaching target boost, switch to the High Wastegate version.
The best way to determine if you are hitting target boost is to monitor the TD Boost Error parameter on the Accessport.  This parameter shown below is your target boost (including altitude and temperature compensations) minus your actual boost (negative values mean you are over the target by the amount while positive values mean you are under).  Ideally you want this value to be between 0 and 1.0 at wide open throttle (WOT), but –1.0 to 1.0 is acceptable assuming that you don't have any significant knock corrections (The figure's values below are not in this range so it is for illustration purposes only.  This is a vehicles idling since I wasn't able to take a screen shot at WOT).  This figure is only relevant in determining over/underboosting issues at Wide Open Throttle through peak boost.  Overboosting is more likely to occur in higher gears and with colder outside temperatures so verify boost levels during these conditions if you commonly experience them.  Some vehicles have an acceptable variance of 1.5 PSI so be sure to check the map notes for more details.  These can be found by clicking the "notes available" link on any map or found in the support section of the COBB website.
| | | |
| --- | --- | --- |
| | | |
There are certain situations where these maps are not the solution to the boost targeting issues you may be experiencing.  For instance, if there are mechanical issues present causing underboost, the HWG map will not be of any benefit.  The most common mechanical issues that may prevent reaching target boost are boost leaks due to a loose coupler, an aged turbo, a clogged downpipe, a failing wastegate, or a torn vacuum hose.  The same goes for mechanical problems causing overboost and the LWG map.  The most common cause for a vehicle overboosting, especially any 08+ WRX/STI, is a catless downpipe.  These mechanical issues can not be solved with tuning alone.  They each need to be addressed by repairing, replacing, or further modifying parts.
A quick note for those of you that live at higher altitudes.  It is common for turbocharged cars at higher altitudes to run less boost pressure due to lower air pressure and air density.  Your turbocharger has to work harder to compress a less dense air mass compared to the same turbocharger at sea level.  This must be factored in when determining if your turbocharger is running the proper amount of boost pressure and not being pushed beyond its efficiency range.  For example, if you live in Denver at 5280 ft and are trying to run a peak boost pressure of 15 psi, your turbocharger has to work the equivalent of making ~17.5 psi at sea level. There are barometric compensations within the factory ECU that lower boost targets as you climb in altitude in an effort to keep the turbocharger in its optimal range. The COBB performance maps utilize these compensations and therefore, it is perfectly normal for the final boost target to be lower than what is listed for your map.
To learn more about the Accessport or to get answers to any questions you may have regarding COBB Tuning products, please call our Customer Support Team at 866-922-3059 or send us an email at [email protected]