Super Lap Battle 2020 – Event Recap
Circuit of the Americas is the premier racing track in North America and in its second year, Super Lap Battle is establishing itself as one of the premier North American Time Attack events. There were no less than 11 cars competing at the event with an Accessport or other COBB Tuning parts improving their ability to race around the track. Proving that COBB Tuning is a premier brand as well.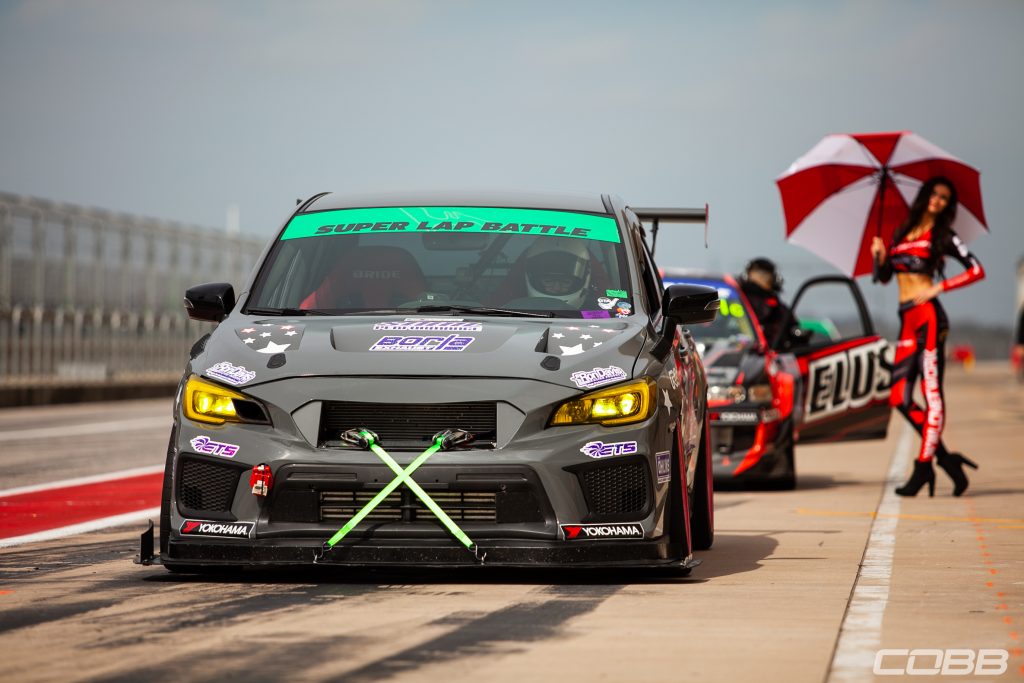 ---
Still Ticking!
Long term COBB fans will recognize this white Hawkeye STI.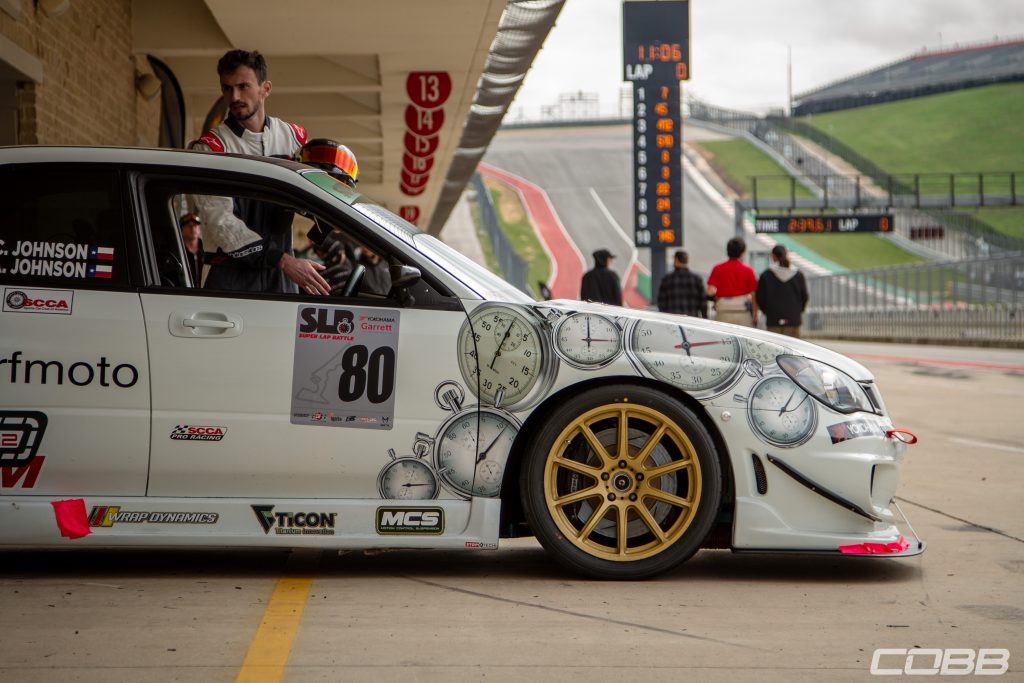 The good ole "Clock Car" has been on and off of the time attack circuit for over a decade now and has a long list of trophies to its credit. Now it has another.
COBB sold the vehicle a few years ago to a Chris Johnson, a former COBB employee and current owner of Performance Motorsports right here in Austin. Chris has expertly maintained the car and with the help of some incredible driving by Ryan Schimsk,  they teamed up to earn a second-place podium spot in Street Class with a time of 2:23.6. The Subaru probably had another second or two in it but Ryan was busy doing double duty. He also piloted a 991 Porsche to set the fastest overall lap of the weekend while taking first place in the Unlimited Class by flying around the famous F1 track in 2:15 flat!
Jackie Ding Alex Li was driving a very pretty MKV Supra that finally edged out Ryan's time on Sunday afternoon to win with a 2:22.5. But we're still very proud of what the old white STI can do, especially considering it only went on track for the first couple sessions of the weekend before stepping aside for its German boxer brother. Meaning it took nearly two full days for a single car in the entire class to catch-up.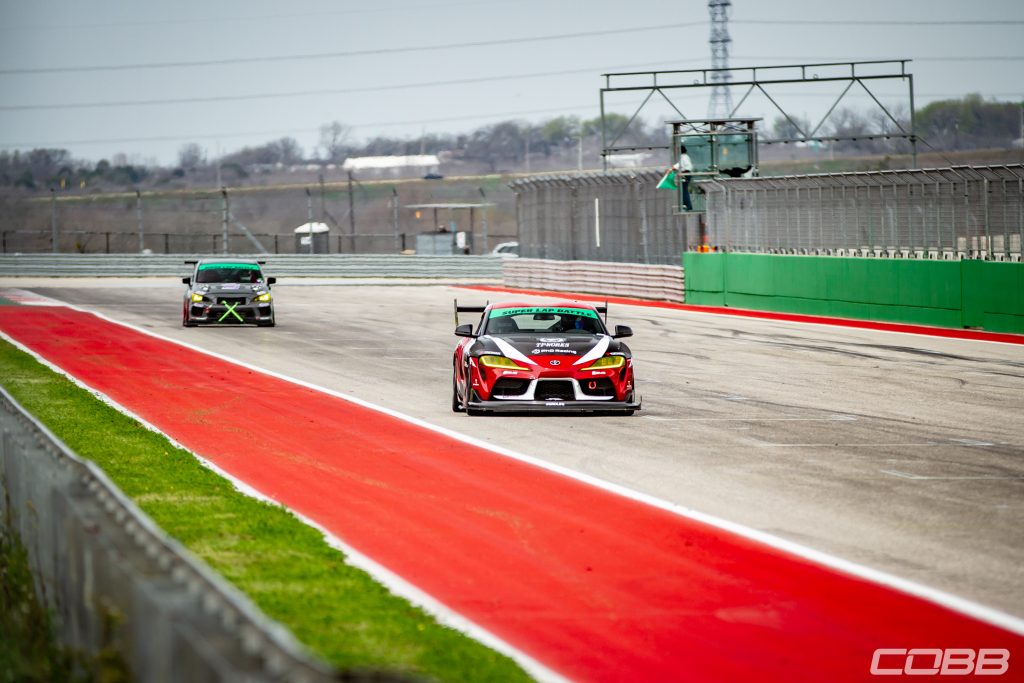 ---
Power Couple
Rumbling in at almost exactly one second behind Ryan and Chris to grab a well earned third place in Street Class was another popular product of Fuji Heavy Industries.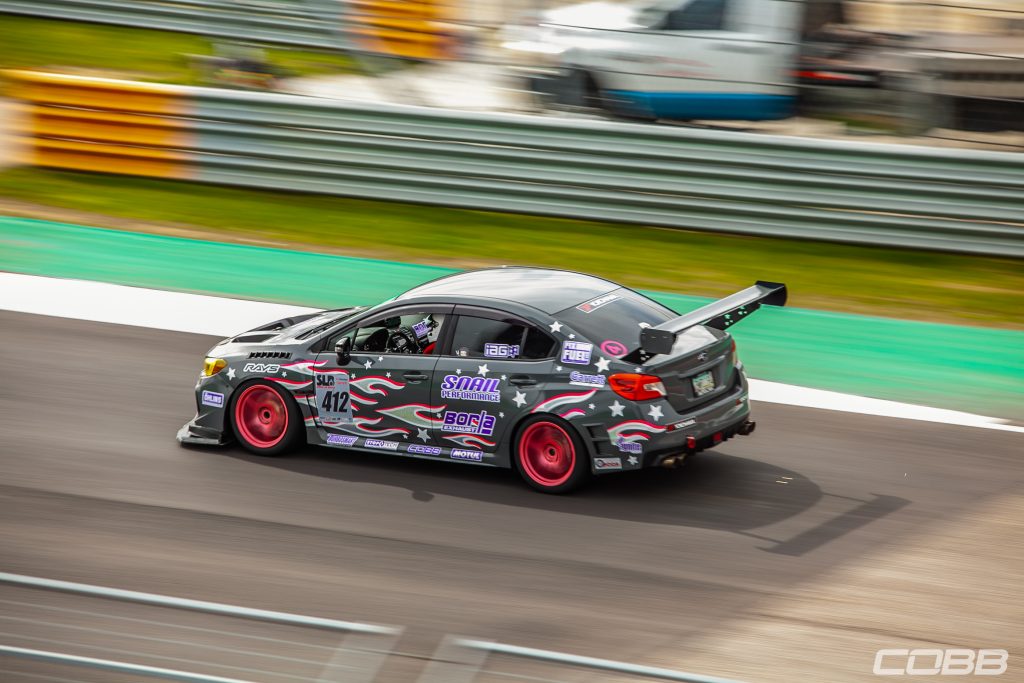 A broken trailer, a failed front splitter that was literally re-installed with various configurations of ratchet straps, and nearly rolling their Honda in the GLTC race due to a spontaneously self ejecting rear wheel could have all served as adequate excuses for a potentially failed weekend in Austin for Sally McNulty and Markos Mylonas. Luckily, the Subaru crew representing Snail Performance and COBB Tuning have been in the time attack world for long enough to know that that kind of nonsense isn't new.
The couple kept their heads down and stayed focused. Both are excellent drivers but in order to keep things consistent. Markos took the role of crew chief and spotter while Sally took the wheel. Along with the help of COBB's very own Badass Billy Brooks and a few other friends, the team blasted right past every roadblock to enjoy an extra satisfying champagne shower as the sun set on Sunday afternoon.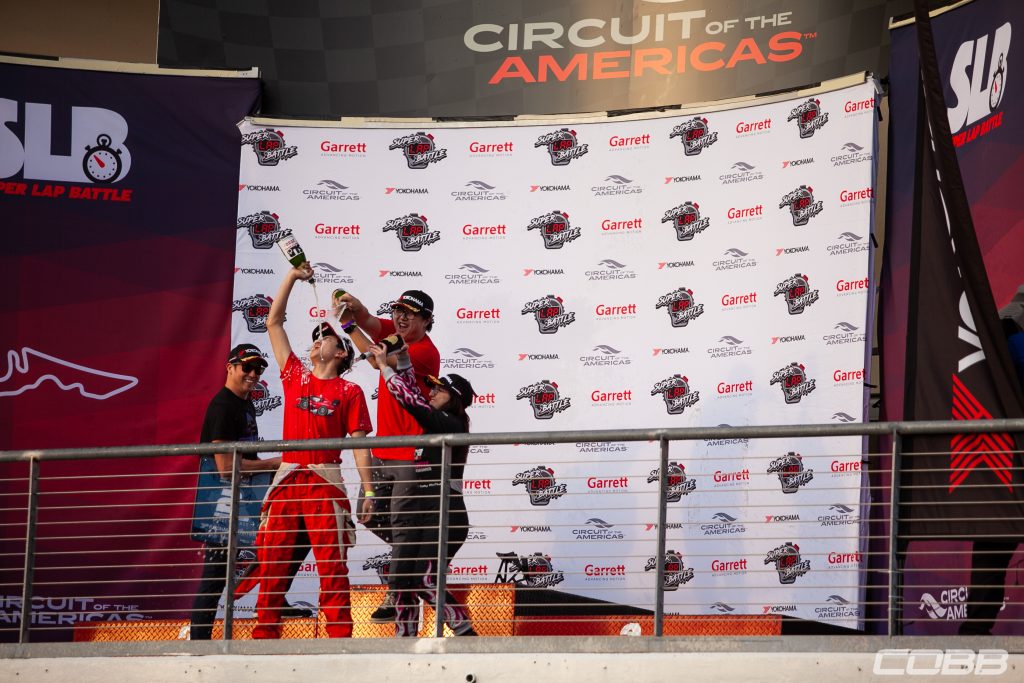 ---
Drunk on speed
I don't know what Zachary Sober's typical weekends are like but I know that at least once a year in February…behind the wheel of a bright orange Subaru…he likes to party!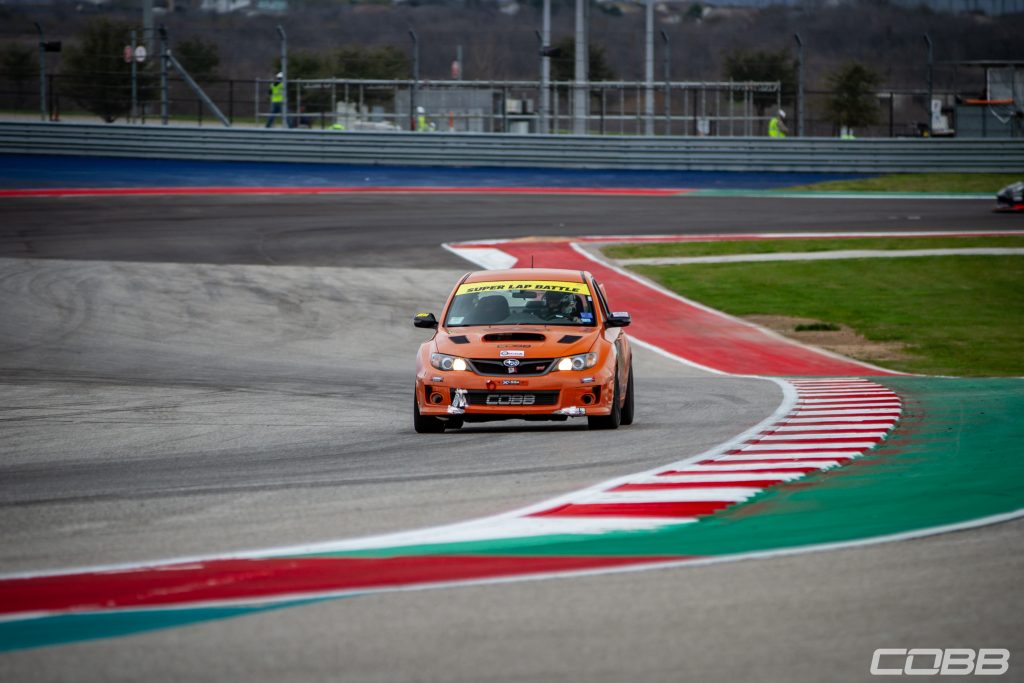 In 2019, Mr. Sober rolled into Austin with a modestly built Enthusiast Class STI and grabbed first place before making the short trip back to Houston. Since then, with the support of Kozmic Motorsports, Zach has turned up the power with a bigger turbo and other supporting mods but smartly kept the setup within the specs of Super Lap Battle's entry-level class.
So you'd assume that the returning champ with an even better build would return to best his own record. Well…he did….by a lot!
In the inaugural Super Lap Battle, a respectable 2:41 was fast enough to secure first place in the Enthusiast Class, but everyone knew that wouldn't cut it in 2020. So Zach smashed that old record, laying down a new best time of 2:28.7 ….but there was one tiny three tenths of a second problem in the form of a plaid clad man named Jenson Little and his very clean red Evo IX with exceptionally well-matched TE37s.
Jenson and his sleepily built Mitsubishi are really fast and so the classic STI vs EVO battle still raged on. The two cars had by far the most entertaining fight of the weekend. Nobody else in the class had a chance as the iconic AWD four-cylinder Japanese rally icons duked it out until Jenson finally eeked out the victory with an impressive 2:28.4
Naturally, we wanted the Accessport tuned Subaru to win but Jenson is a friend of the company, a local Austinite, and shared COTA Pit with us. Plus, we helped him put tape on the car to reduce drag. So if somebody was going to ruin the day, at least we kinda like him, and we deserve at least 25% credit.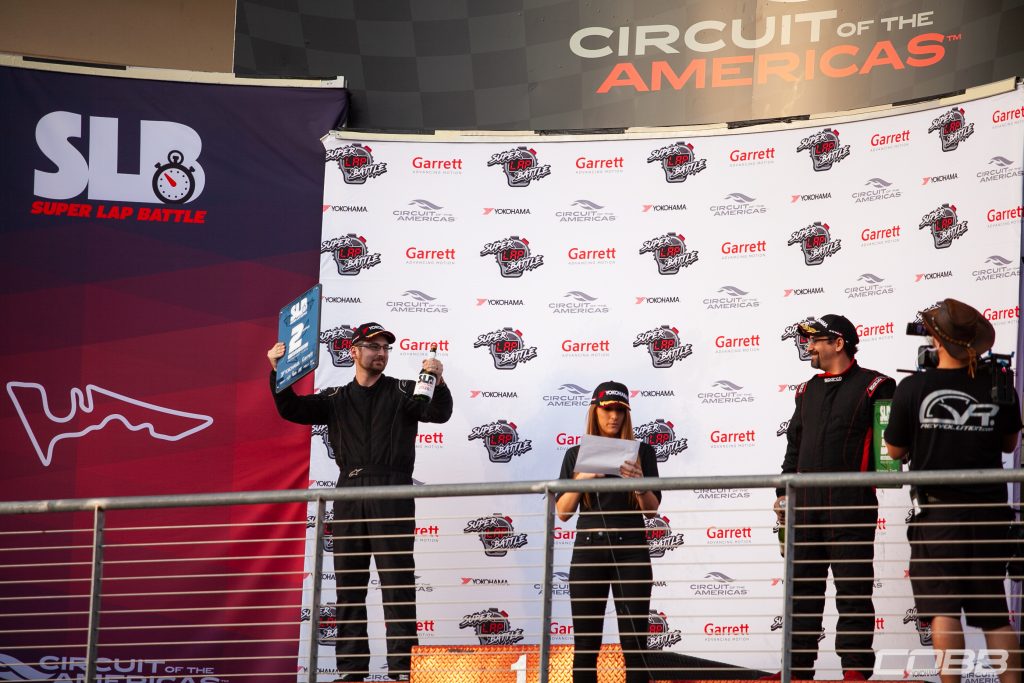 Ultimately… Zach was the real winner since didn't run away from the champagne celebration like a little baby!
---
Soooo close…
The Limited Class is always incredibly competitive and the smallest imperfections in the car or driving performance are what typically separates the pack by tiny margins. Unfortunately, that reality took a bite out of two more cars in the COBB family.
Mike McGinnis is a lead calibrator at COBB Tuning and long-time Time Attack veteran. In 2019 he debuted his R35 at COTA in the first Super Lap Battle and finish on the podium in third place.
With a rebuilt engine, improved fuel system, and more power. Mike expected to go even faster this year, and he did, but so did the rest of the field. The muscly Nissan gradually improved throughout the two-day event and finished with a 2:19.6. It was a better time than last year but the car needed to lap the track in just .3 seconds faster in order to reclaim third place. Ending up one spot off the podium by such a small amount was annoying but the good news is that the car definitely has a lot more to offer. Super Lap Battle 2020 was the first event for Mike and his GTR since the rebuild. It was still being put together only days before the event and Mike was literally finishing the tune at the track. So with no shakedown time and an overall setup that definitely isn't complete, we fully expect to see that car come back with a vengeance and add some trophies to the wall soon.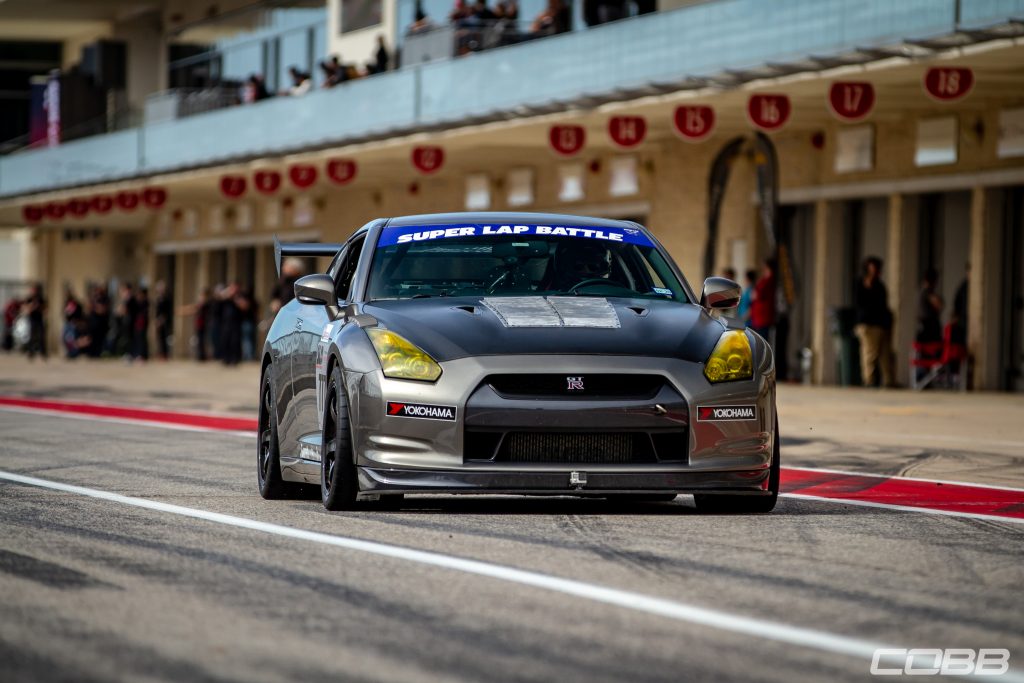 Less than a second behind Mike was Cody Miles in his Air-Lift Performance GD STI. The car is tuned on an Accessport by Paul at Yimi Sport and has always punched above its weight class. Defying norms by using air-ride suspension and competing in a class often loaded with cars making anywhere from 700-1000 horsepower means that Cody is a bit of an underdog but you wouldn't know it based on how he drives. The car is consistently fighting for and winning podium spots throughout the season. COTA is a high-speed track that heavily favors the big power cars that can hit massive MPH numbers down the straights. So even though winning at an F1 Track was very unlikely. Running a 2:20.2 and finishing 5th out of 14 very fast cars while being only about 1 second away from the podium is nothing to hang his head about.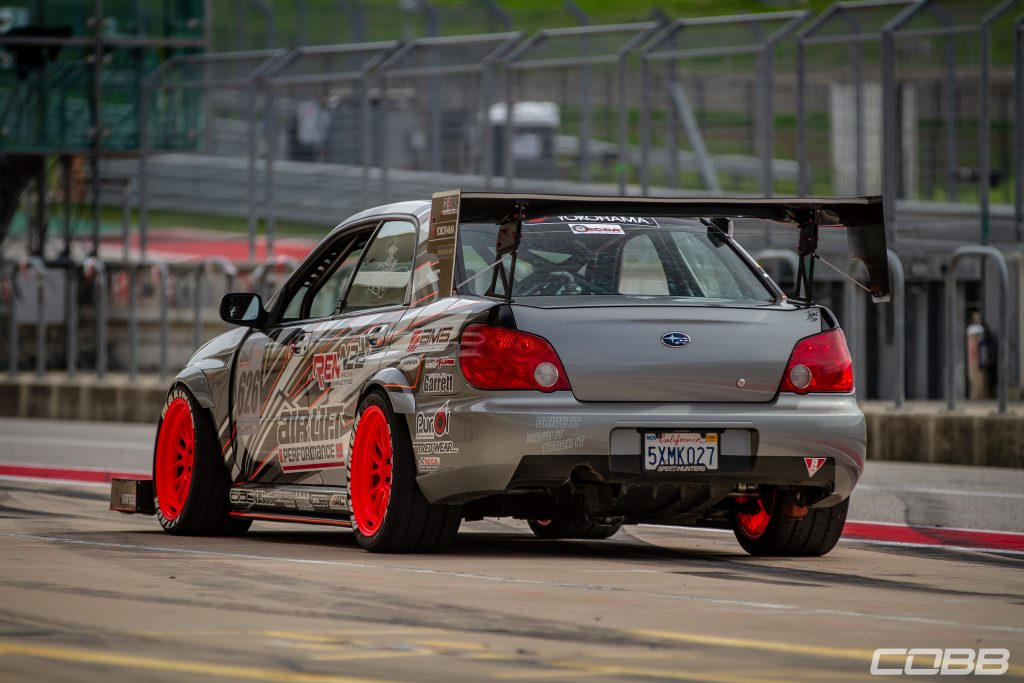 ---
Bonus Photos