Volkswagen/Audi 1.8T Golf, Sportwagen, Alltrack, and A3 Now Supported!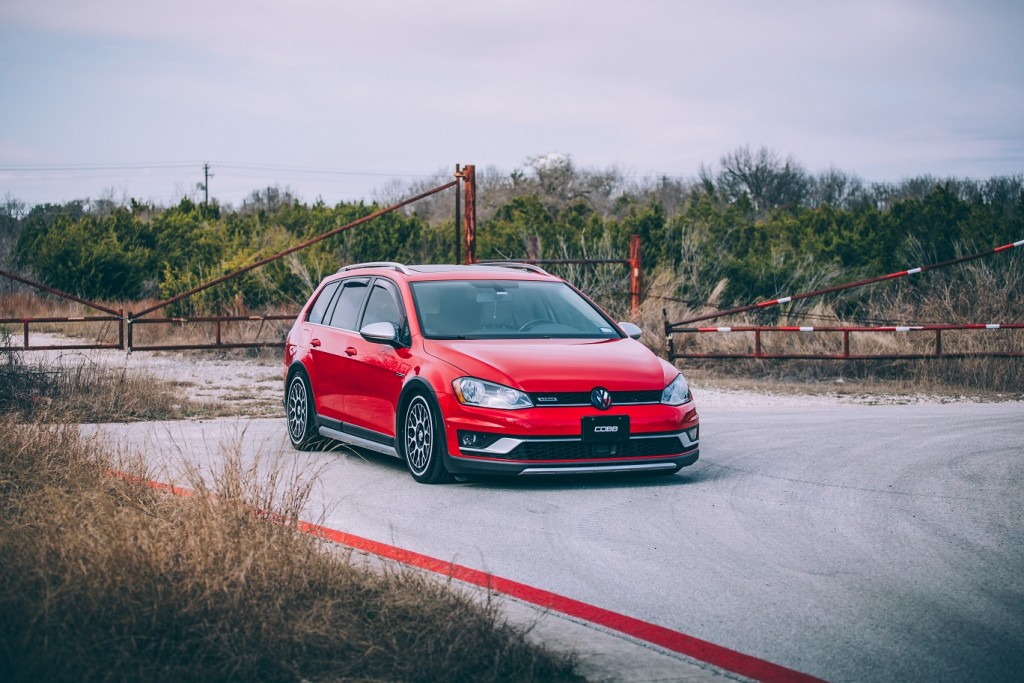 You asked for it.  We delivered.  Support has been added for all 2015 – 2019 Golf variant vehicles!  This includes ECU tuning with off the shelf maps and DSG tuning for vehicles equipped with a DSG transmission.  Supported vehicles include
2015-2018 VW Golf 1.8T

2015-2019 VW Golf Sportwagen / Sportwagen 4motion

2017-2019 VW Alltrack

2015-2016 Audi A3 1.8T
COBB Accessport for Volkswagen/Audi 1.8t
The Accessport provides handheld DME flashing that you can do in any location at anytime.  No special tools or dealer/tuner visits are required!  The Accessport comes pre-installed with Stage 1 Off-The-Shelf (OTS) maps for 91 and 93 octane for all 1.8t vehicles listed above.  The Stage 1 OTS maps provides significant power gains over stock outlined in the graphs below.  Note: Certain features like launch control and flat foot shifting are not available on the 1.8t models.
Stage 1 OTS Power Gains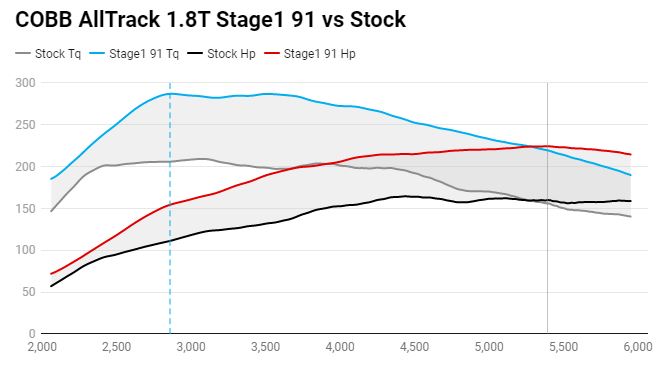 | | | |
| --- | --- | --- |
| | Peak Torque | Peak Horsepower |
| Stock | 209 | 164 |
| Stage 1 91 | 287 | 224 |
| Percentage Gain | 37% | 35% |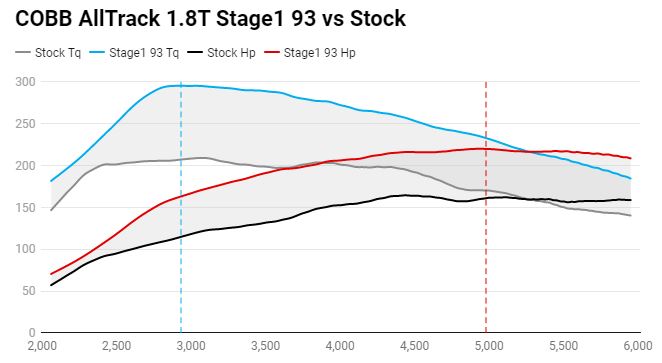 | | | |
| --- | --- | --- |
| | Peak Torque | Peak Horsepower |
| Stock | 209 | 164 |
| Stage 1 93 | 295 | 220 |
| Percentage Gain | 41% | 34% |
Keen eyes will notice that on the dyno runs shown, the 91 map makes more HP than the 93.  Slight variances are to be expected when it comes to dyno runs.  Both maps actually make about the same peak horsepower as the powerplant is not being limited by octane.  The limits come from the smaller stock turbo size where additional boost or ignition timing does not make additional power.
Note that these pulls were made with an all wheel drive Alltrack 1.8t.  Golf models with a traditional automatic transmission with a torque converter will likely dyno with slightly less output.  DSG front wheel drive vehicles may produce slightly more on a dyno due to less drivetrain loss.  However, each of these differences is negligible.
More details on available off the shelf maps can be found in the Map Notes.
---
Stage Packages
Stage Power Packages combined an Accessport and performance hard parts together in a simple, bolt-on, and flash a map solution.  These vehicles are currently limited to a Stage 1 package but there is a Stage 1+ package that includes an intake coming just around the corner!  These packages and the future packages that includes the intake both work with the Stage 1 OTS map.
Stage 1 Power Package for Volkswagen/Audi

Simple ECU flashing with gauge package! The in-cabin mountable Accessport V3 has a large, full color, high resolution screen which allows you to monitor up to six parameters in real time. Fully customizable from the look (multiple bezel colors), layout (set up race, street, or dyno gauge clusters), and mounting options (choose from 1,000s of standard vehicle mounts). And what's looks without brains? More processing power, memory, and storage to flash faster while saving all of your maps and logs. This is your new Accessport.

COBB High Flow Filters are designed to permit very high flow rates, minimize restriction, maximize filtration and provide a long life filter. Using propriety woven cotton and metal mesh with a precision molded rubber base, the COBB High Flow Filter ensures that only clean air passes into your engine for maximum efficiency. Why not treat your car to fresh air with a COBB High Flow Filter and let it reward you with increased power, fuel economy and money savings!

Stage 1 Power Package with DSG for Volkswagen/Audi

This package is the same as above but the Accessport on this package is able to install to both the Engine Control Unit and DSG / S Tronic Transmission Control Unit. Included ECU Off The Shelf Maps support common bolt-on engine upgrades. Supplied DSG Off The Shelf Maps offer transmission behavior akin to a wide range of driving style.
---
Additional Hard Parts
Redline Carbon Fiber Intake System

The Redline Carbon Fiber Intake seamlessly blends performance and aesthetics to bring the ultimate intake for your TFSI powered MQB VW/Audi. Constructed of hand laid carbon fiber and finished in a high quality gloss clear coat, the intake system's presence in your engine bay does not go unnoticed.

 
 Redline Carbon Fiber Engine Cover

The COBB Redline Carbon Fiber Engine bay for the Audi / Volkswagen A3, S3, GTI, Golf R is constructed of solid carbon fiber featuring a 2×2 twill weave pattern. It is finished in a durable, high quality gloss finish coat and is marked using our bespoke Redline badging. Satin black powder coated aluminum brackets make installation a breeze and hold the cover sturdy. Included black button-head hardware and COBB nylon washers preserve the carbon finish while holding the cover in place.

  
 Volkswagen COBB Knob

The COBB Knob is the ultimate complement to your manual shifter. With a shape and weight inspired by motorsports and materials chosen for comfort in both hot and cold climates, the COBB Knob is equally at home in racing competition or everyday use.

Rear Wiper Delete

Trying to clean up the rear of your wagon or hatchback? The COBB Universal Rear Wiper Delete replaces that sun-faded, out of place, rear wiper arm to give your car a unique look.
---
Custom Tuning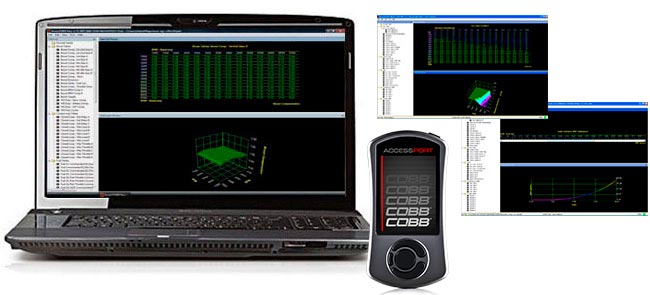 Ready to push the car a little harder? Have modifications done outside of a typical OTS map? We couldn't be any happier to let you know there is finally a solution: Accesstuner. A Protuner in our worldwide network can create a custom map for your exact car, your exact fuel, your exact climate, your exact modifications, and your exact driving style. Full control of the DME using OEM tuning tables and OEM tuning strategies melded with COBB Custom Features for the ultimate VW/Audi tuning solution.
Find your nearest Protuner by using our online Dealer Locator.