Mitsubishi Evo Accessport New Features and 2015 Final Edition Support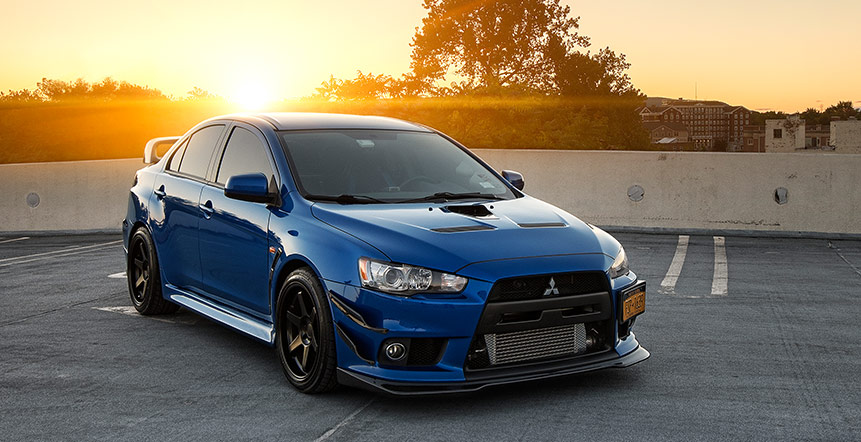 COBB Tuning is excited to announce another update for the Mitsubishi Accessport V3.  USDM 2015 Evolution X Final Edition vehicles can now take advantage of the power, control, and convenience of the Accessport that earlier model year Evolution X enthusiasts have been enjoying.  The Accessport will ship with pre-loaded performance maps to get new users up and running with the push of a button.  The maps specify the appropriate fuel grade required for each map to perform properly.  All previously sold AP3-MIT-002 Accessports can be used on USDM 2015 Evolution X Final Editions by performing a simple firmware update.  The Mitsubishi Accessports come with all of the same features released on previous versions including performance monitoring,  live data monitoring and data logging of several ECU monitors, as well as DTC scanning and clearing.
2015 Evo Final Edition enthusiasts can also take advantage of the recently released v403 maps. These v403 maps were developed to provide smoother response, enhance driveability, and address lean/over-boost issues.  Adjustments to idle tables to cure erratic idle issues have also been made. These maps come pre-loaded on the Accessport and can be downloaded from the Maps Section of the COBB website.  If you already have a AP3-MIT-002 Accessport you can also get these maps though a firmware update.
Accessport New Features
Users will now be able to customize the Accessport Start-Up Screen, read the status of readiness monitors, and restore OTS maps in the event that one is accidentally deleted.  If you already have a AP3-MIT-002 Accessport you can also get all of these new features through a firmware update.
Customizable Start-Up Screen – This feature can be seen below.  Check out this link for details and instructions on how to customize your own Accessport Start-Up Screen!
Inspection/Maintenance Readiness Reader – You can use this new feature to read emissions readiness test statuses of your vehicle.  To read the emissions readiness, select Troubleshooting from the main menu.  Then, scroll to I/M Readiness.  You will then see an extensive list of readiness monitors.  This feature can be used whether or not the Accessport is installed to the vehicle you are testing.
Restore OTS maps – This feature allows the user to restore all Off The Shelf (OTS) maps even if they have been deleted.  By using this feature you no longer need to uninstall and re-install the Accessport after a firmware update in order to get new maps.  It also prevents the need to visit the website to download maps directly.  This feature can be found under the Tune section.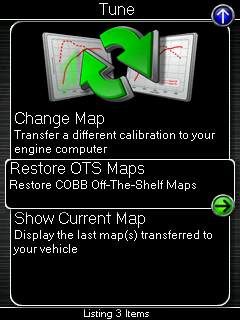 Accesstuner Updates
Custom tuning though Accesstuner is now available for the 2015 USDM Evo Final Edition.  There are also tons of smaller improvements added to make the software more intuitive and easier to use than ever.  Accesstuner allows you to create custom maps to accommodate any modifications you install.  This can be done with a visit to a Protuner near you.  Here is a direct link to our Mitsubishi Tuning Guide for helpful tips and a basic tuning strategy outline.
To learn more about the Accessport or to get answers to any questions you may have regarding COBB Tuning products, please call our Customer Support Team at 866-922-3059.