2020 Subaru WRX STI Support

Subaru's newest WRX STI is now completely supported within the COBB ecosystem.  The Accessport, bolt-on upgrades, Stage Power Packages, and Off The Shelf Maps make upgrading your STI a straightforward process.  Interested in taking your STI beyond the scope of our packages and maps, contact one of our Subaru Protuners for a completely customized tune!
Visit the 2020 Subaru WRX STI Vehicle Page for a full list of compatible parts.
---
| | |
| --- | --- |
| | The Accessport is the world's best selling, most flexible, and easiest to use ECU upgrade solution for your Subaru. Unlock power hidden within the vehicle by replacing conservative factory settings with more aggressive calibrations. Follow our staged upgrade path with pre-loaded Off The Shelf (OTS) maps or use custom mapping for any modification level. It's the last engine management solution you'll ever need. |
---
Subaru's updated factory air duct that directs air from behind the grill into the airbox of your 2019-2020 STI and 2018 Type RA is not compatible with the COBB SF Airbox.  To address this, a combo specific to these vehicles has been created.  This combo includes the Subaru factory intake duct from the 2015-2018 STI, allowing for a true bolt-on application.
Subaru SF Airbox STI 2019-2020, Type RA 2018
Subaru SF Intake + Airbox Combo STI 2019-2020, Type RA 2018
---
Our curated Stage Power Packages take the guesswork out of upgrading your STI.  With STI mods available to maximize the output of the factory engine and turbocharger, we've grouped them together in packages that define an ideal upgrade path.  Start with an Accessport and SF Intake/Airbox Combo or jump all of the way to Stage 3 with upgraded injectors and turboback exhaust.  Off The Shelf Maps are available for each defined Stage Power Package.
---
We offer a number of Off The Shelf Maps to accompany almost all of the available Stage Power Packages for your 2020 Subaru WRX STI.  Below are dyno charts to show power gains realized at each Stage with Stage1 providing a nice bump in power and torque over stock and Stage3 maximizing the efficiency of the factory turbocharger on pump fuel.  Each of these maps will come pre-loaded onto the Accessport and is also available as a download from the Maps Section of our website.
Please visit the Map Notes Page for a complete understanding of mechanical requirements for each Off The Shelf Map.
Stock vs. Stage 1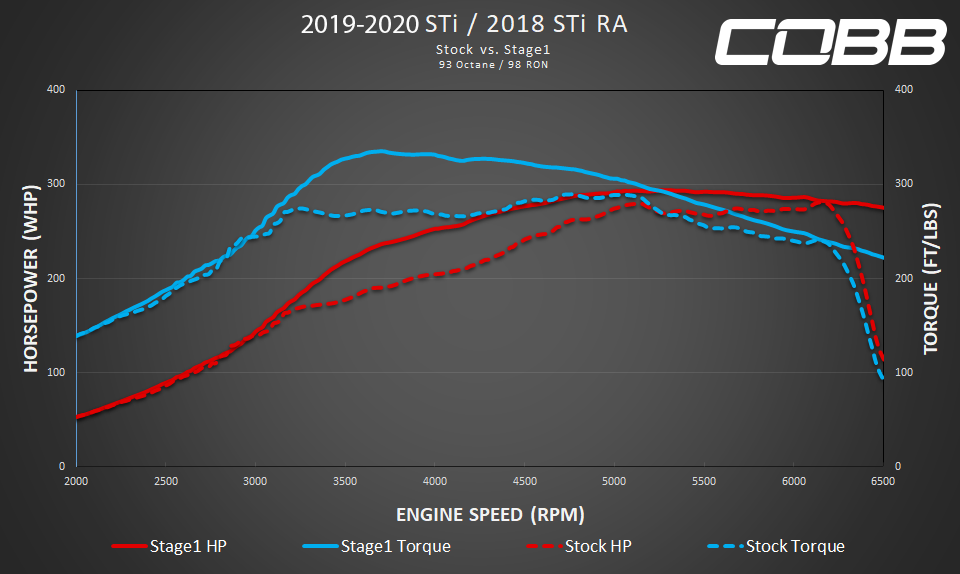 Stock vs. Stage 1+SF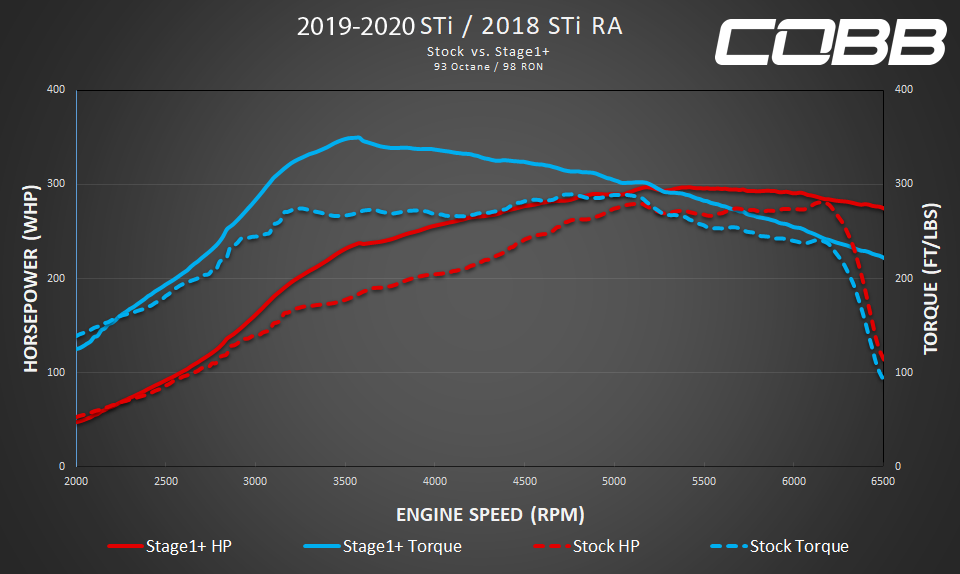 Stock vs. Stage 2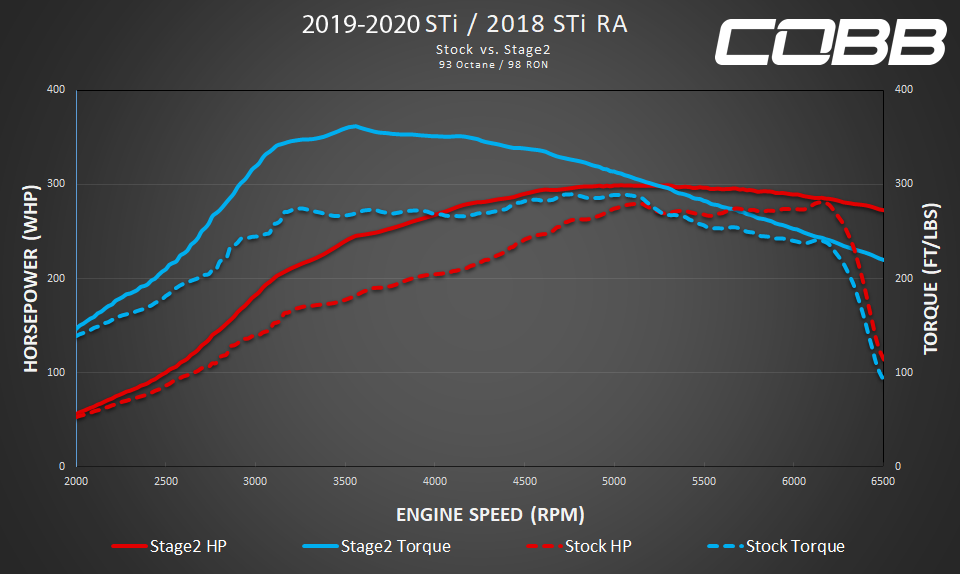 Stock vs. Stage 3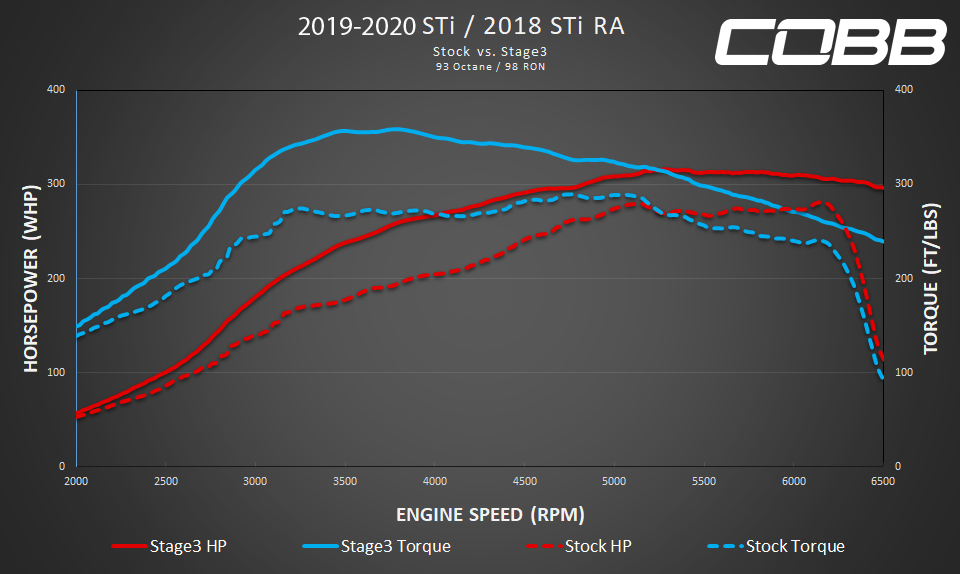 ---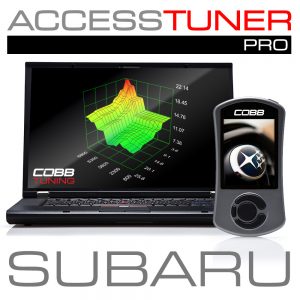 For those looking to take their factory fresh 2020 WRX STI beyond the scope of our Off The Shelf Maps, Accesstuner Pro HL now supports the 2020 STI as well.  Contact your preferred Subaru Protuner to have your car dialed in via custom tune.
---
Interested in more than just go-fast parts for your 2020 WRX STI?  We have you covered!  For a complete list of modifications available for your STI, visit the 2020 WRX STI Vehicle Page or click on any of the products below for more information.  Wondering which Subaru models we support? Check out our entire selection of Subaru aftermarket parts.